Back to selection
"THESE AMAZING SHADOWS" DIRECTORS PAUL MARIANO & KURT NORTON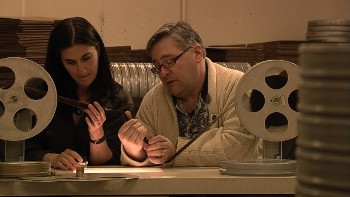 Although any cinephile worth his salt knows that movie watching is but a fleeting experience, few comprehend that it may be one they won't be able to repeat. The studios who produce films aren't museums — they're in the business of protecting their own assets, not our cinematic history. Without intervention, scenes, moments and entire back catalogues might be lost to the inevitabilities of decay.
Sundance newcomers Paul Mariano and Kurt Norton's These Amazing Shadows tells the story of the National Film Registry, a government-appointed body that each year adds another 25 films it deems "culturally, historically or aesthetically significant" to the Library of Congress. Through interviews with board members and notable filmmakers, they explore not only the films we love but how they shaped us.
For those who don't have the good fortune to be at the festival, it's available on IFC On Demand starting January 22nd as part of the IFC's Sundance Selects partnership.
Filmmaker: What got you interested in this particular topic?
Mariano: At the end of 2007, we saw a lot of the [films of the] National Film Registry, and I was fascinated because I had never heard of it. During a meeting with Kurt, I brought it up, and he wasn't familiar with it either. We thought it was a marvelous idea, the government acknowledging this wide range of films.
Filmmaker: I recently went to a revival of A Star is Born with Judy Garland. The new print uses publicity stills and audio to represent the missing footage the studio threw out while they were recutting it, and I remember being shocked that part of this really famous movie with these really famous stars is just gone.
Mariano: One of the most fascinating and yet frightening aspects of the project was the discovery that fifty percent of all films made in America before the '50s were lost. Ninety percent of silent films are just gone. There's this assumption that those films that were there are still there, and the reality is that they weren't. That propelled us into the whole concept of how preservation works.
Filmmaker: This is a difficult film to structure because it's about a topic, not one story. How did you find your story structure?
Norton: Neither Paul nor myself are film experts. We have no background in film preservation, so we dove in as cinephiles, people who love movies. We had a lot to learn about the list and what the whole thing was about…We just had to learn the subject, which was so much fun.. .Like most documentaries, our story was found in the edit room, working intently with our editors and producer… It really was a collaborative.
Filmmaker: It's not surprising that the National Film Registry focuses its attention around a list. Movie junkies love making lists, kind of the way baseball fans love stats.
Mariano: That's something that became apparent to us. Movie people love lists, and it gave substance and reason for the national film registry list — the list is a representation of the fact that we all have favorites.
Norton: The other thing about the list is that as you scroll through it, you get that visceral experience of [recognizing] a film title that you're fascinated with and thrilled by. It always becomes an interesting conversation because it reflects who you are. It's not just the list, it's what our favorite movies reveal about us as people.
Filmmaker: Since you're both movie junkies, I have to ask, what's your favorite movie on the list?
Norton: Actually some of our favorite films aren't on the registry. Paul's favorite –
Mariano: Two for the Road with Audrey Hepburn and Albert Finney, I adore it. It's such an incredible film, a great script, wonderful actors, but it also speaks to the issue of what a marriage is all about, a fantastic relationship and a fantastic film.
Norton: We're dedicating this year to get that film on the registry. Private citizens can nominate movies over email, so we're getting our friends and family to nominate.
Filmmaker: It must be interesting to see what people nominate. It says a lot about not just the movie, but about the people who loved it —
Mariano: Their belief is that our American film heritage represents our cultural heritage and that to save these films is to save a piece of America. It's something when we first started we didn't appreciate. Even cinephiles don't appreciate that our films represent who we were and what we aspire to be. It not only tells us who were were and what we wore, it also represents our ethos. To lose it is to lose a part of ourselves.  One of the other great things about the list is the tremendous diversity…. It's not just Hollywood classics, it's also news, reels, avant-garde works, documentary and home movies.
Norton: There's one film called Topaz, which is a home movie made inside a Japanese internment camp. The filmmaker, Dave Tatsuno, passed away a few years ago, but we met his daughter, Arlene who was born inside a Japanese internment camp. It was so moving to meet her and view this home movie, one of the few glimpses inside these camps that America didn't want anyone to see.
Filmmaker: Can you talk a little bit about your Sundance plan?
Mariano: We have a distribution deal with IFC which is for television, VOD and film sales in North America, and we are still working on a theatrical release, international television and educational.
Norton: We are part of the Sundance Selects that IFC has packaged together to be released on VOD during the festival. We'll be available to 40 million homes and were only one of five selected. It's incredibly flattering and encouraging. You work and you work, and you don't know if anyone is going to care. Suddenly, you're finished, and you're in Sundance. It's great, just great.