Back to selection
PARK CITY CRITIC'S NOTEBOOK #2: BEATS, RHYMES, ODDBALLS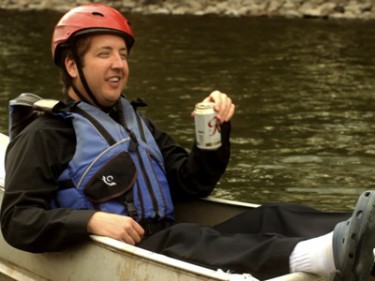 After its first weekend has drawn to a close, the 2011 Sundance Film Festival has seen a flurry of buying activity from movies both expected to sell for significant amounts (Jesse Peretz's My Idiot Brother, which went to the Weinstein Company for $7 million) and movies no one expected to go for as much as they did (Drake Doremus' Like Crazy, which without a significant movie star in it went for $4 million to Paramount). While I haven't seen either film, they both seem to have both their admirers and detractors. In a U.S. Dramatic Competition heavy on formally ambitious movies about marginalized communities, perhaps Like Crazy, a story of puppy-dog first love, seems like an easy sell. So to is Terri, Azazel Jacobs' follow-up to his much loved Sundance 2008 hit Momma's Man. Written by Patrick DeWitt, Terri is clearly less personal than Jacobs' previous picture, which was set largely in his parents' Tribeca loft, a location that doubled as a kind of living museum of the golden age of New American Cinema. Parents — or, rather, the lack thereof — figure prominently here too; Terri's title character is a massively overweight, melancholy teenager (Jacob Wysocki) living with his sickly uncle in a central California town. He occasionally tortures rats and strikes up a series of relationships, the most important of which is with his school's oddball assistant principal (a terrific John C. Reilly) as he navigates the seemingly unending difficulties of an obese late childhood. While less formally ambitious than Jacobs' early work and less touching than his most recent, Terri is nonetheless humble, funny and wise, and it contains the most honest depiction of the horrors of those first, awkward baby steps into teenage sexual contact that I've yet come across.
Also in the U.S. Dramatic Competition, Andrew Okpeaha Maclean's feature debut On the Ice doesn't quite live up to the promise of his great short film Sikumi, which won Sundance's Grand Jury Prize for short films in 2008. The story of a pair of Inupiaq teenagers in the vast tundras of Barrow, Alaska who unintentionally kill a drunken, crack-smoking friend during a seal hunt and struggle with the moral implications of a hastily but successfully executed cover up, On the Ice is a thoughtful and honorable story that allows us to glimpse a community not often depicted in mainstream media, but its cast of non-actors are simply not up to the task of conveying the complex emotional landscape that the story explores. Significant lines of dialogue in difficult, emotionally charged scenes are delivered in flat, unconvincing registers time and time again; rarely have I seen a film so undercut by its casting. There are some fascinating faces in this film and this is a milieu that clearly deserves more cinematic representation; one hopes Maclean, obviously a director with a strong idea of what to do with a movie camera, revisits this place, perhaps without the duress that this tale of accidental crime and the impossibilities of redemption placed on his green cast.
Some of my colleagues at Filmmaker have already raved about Miranda July's latest in this space, but The Future really is a singular film. It is a sneakily moving, formally audacious, by turns a playful and dead serious magic realist movie about the travails of an underemployed white Los Angeles couple in their mid-thirties, and it transcends the gentle, West Coast "I want a romance" whimsy that powered July's 2004 breakout Me and You and Everyone We Know. July's dialogue really sparkles here and she conjures a last shot that is reminiscent of and in its own way as haunting as the finale of a completely different kind of film, Francis Ford Coppola's The Conversation. Incorporating thematic elements found in some of the tales from July's 2007 collection of short stories No One Belongs Here More Than You and clearly leaning heavily on her background in performance art, The Future is a fully formed work, one that knows the ambiguities and anxieties of modern relationships and getting older and manages to explore them with a droll, comedic and altogether satisfying sensibility.
In the Midnight section, both Todd Rohal's The Catechism Cataclysm and Michael Tully's Septien contain elements of Southern gothic and horror, but both movies are big-hearted, smile-inducing oddities, demented takes on the buddy comedy and family reunion drama respectively that contain terrific work from their mutual co-star, Robert Longstreet, who is ubiquitous in this year's Midnight section; he's in four of the eight films! Rohal's follow-up to his equally bizarre Slamdance 06′ success The Guatemalan Handshake has Longstreet as an ex-metalhead of some repute who takes a long journey into the strange and stranger with his goofy Priest friend (Steve Little). They tell stories about gun-toting grandmas, take a long winding canoe ride and encounter a pair of Japanese girls living out their own version of Huckleberry Finn (this one, like Alan Gribben's recent released version of the tale, deletes the term "nigger," but I don't think anyone will mind). Eventually somebody's head explodes, but in the meantime expect to laugh a lot and digest a series of incredibly campy, religious-themed metal tunes.
Hammer to Nail editor Tully (for whom I occasionally contribute) follows up his 2006 narrative debut Cocaine Angel with an oddly touching story of a family of half crazy, unexpectedly heartwarming men in rural Tennessee, living in the aftermath of their parents's deaths and long ago sexual abuses at the hands of a football coach, who suddenly must cope with the reappearence of their gasoline-huffing, basketball and tennis-hustling younger brother, played by the director himself with a scruffy, exquisitely long beard and 1,000-yard stare. Pitched firmly between oddball comedy and hillbilly fraternal freakout, the picture features magnificent work from Longstreet and Onur Tukel as a pair of the Brothers Rawlings, which come to think of it, would make a great title for a sequel.
Finally, actor Michael Rappaport's U.S. Doc competition entry Beats, Rhymes, Life: The Travels of A Tribe Called Quest is better than it's VH1's Behind The Music-esque vibe might suggest, but it gets bogged down while examining the rifts in the relationship between the seminal New York hip-hop quartet's primary MCs, Q-Tip and Phife Dawg. Rappaport got incredible access to all the principals and cleanly exposits their importance to the genre through an assortment of talking-head interviews with contemporary hip-hop luminaries like Quest?love and Pharrell Williams. James Blagden, the man behind the terrific Dock Ellis short film that took Sundance and YouTube by storm last year, contributes some neat animated sequences that draw heavily on the aesthetic of the group's album covers and wacky clothes, but the movie could probably use another ten minutes of trimming. A.J. Schnack, no stranger to terrific docs about musicians, contributed some additional editing; he should contribute a touch more.