Back to selection
SUNDANCE 2011: HAPPY HAPPY REFLECTIONS ON A QUEER YEAR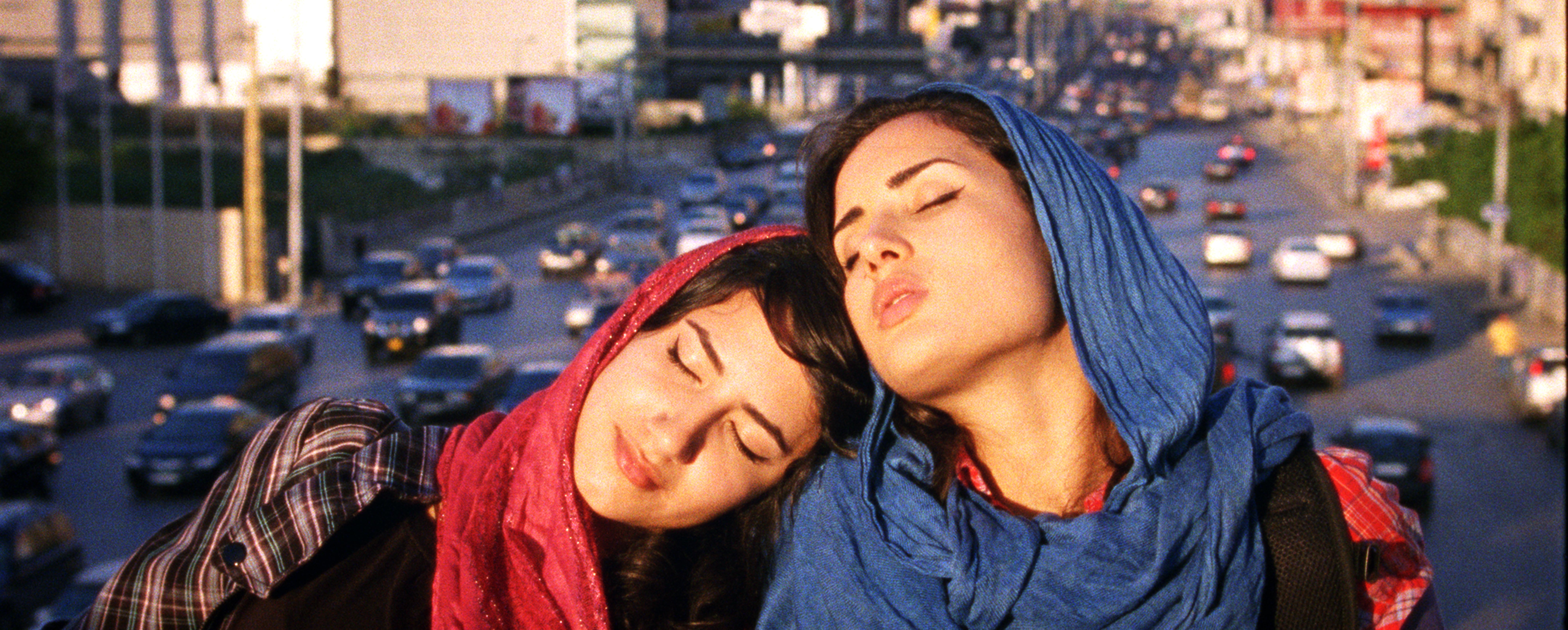 Circumstance by Maryam Keshavarz
Fresh off the whirlwind opening weekend of the 2011 Sundance Film Festival, here are my admittedly skewed impressions of this year's cinema extravaganza — which seemed queerer than ever despite (or perhaps because of) my being unable to see many of the LGBT films on view. Fear not. I have a well-developed facility for chiming in relevant commentary on films I've never seen, and at least one worthy observation on the presentation of the LGBT films at this notoriously queer "straight" festival. So here from the perch of January is a glimpse at the queer year in film ahead.
On the "Queer with a capital Q" end of the spectrum sits Madeline Olnek's spectacularly titled Codependent Lesbian Space Alien Seeks Same (pictured above) — which caused great philosophical reflection amongst one group of lesbians at Sunday's Outfest Queer Brunch who concluded that, truly, aren't we all space aliens when you really think about it? Also sharing that end of the scale is Dee Rees's unapologetically lesbian opening night film, Pariah (a similar label for us to claim?) conveying the struggle of a closeted butch African American lesbian torn between her conservative family life and the pleasures of community amongst her friends. The other out and proud films of the year include: Fenton Bailey and Randy Barbato's poignant and illuminating portrait of Chaz Bono's transition from female to male, Becoming Chaz (acquired by the Oprah's OWN Network, look for it in May); David Weissman's devastating portrait of the early days of the AIDS crisis in San Francisco, We Were Here; the French-Algerian drama, A Few Days of Respite following a gay Iranian refugee couple who arrive in France where they are helped by an older woman (played by legendary French actress Marina Vlady); and Gun Hill Road, Rashaad Ernesto Green's La Mission-esque tale of a macho ex-con (Esai Morales) coping with his newly transitioned daughter Vanessa (formerly Michael) on his arrival back home to the Bronx. The film was enthusiastically described by one industry exec after the premiere as "the most accessible trans film ever made."
These films aside, there was a notable absence of the LGBT words in many festival catalog descriptions, which one might attribute not so much to some strain of homophobia as to the festival programmers' desire for a film to be seen on its complete merits.
Case in point (and not tagged in the LGBT genre category on the Sundance website) is the terrifically entertaining Norwegian drama, Happy, Happy. And now, how to convey the tremendous gay resonance of this film without ruining the plot? Let me just say the film forcefully depicts the consequences of societal homophobia and living in denial. Plus it's exceptionally well acted and has irresistibly quirky acapella interludes, which are a stroke of genius. Of the innumerable LGBT-themed stories I've seen depicted in hundreds of LGBT films over the past twenty-five years, I've never seen this one. Whatever your sexuality or gender, you must see this movie.
My other top pick of the festival (also not described as lesbian in the festival catalog) is Maryam Keshavarz's Iranian drama, Circumstance (which was acquired by Participant Media just a few days after the premiere). Here is a film that both embodies and transcends the label: "lesbian film." All the elements are here — great script, an enormously talented and confident director and a skilled cast that includes the charismatic young actresses Nikohl Boosheri and Sarah Kazemy (pictured above and soon to be swooned over by teenage girls across the globe). The film effectively immerses us in the experience of two teenage girls navigating the wild Iranian underground scene as they grapple with their attraction for one another against the backdrop of an impossibly homophobic society (and an increasingly fervent fundamentalist brother). Again, truly a must-see movie.
One of the biggest films of the festival, Kevin Smith's Red State also (with good reason) sidesteps the gay mention in the Sundance description — though it was included in the official Sundance list of films with LGBT themes. See the full list HERE.
A scan of Red State's mainstream reviews, in the afterglow of its Westboro Baptist Church protested premiere, reveals that the "gay" angle is in fact the film's depiction of rabid homophobia and hypocrisy amongst the film's religious fundamentalist characters. While garnering mixed reviews on the film itself, Smith successfully grabbed the attention of attending media and touched a timely resonant chord amongst filmmakers with his on-stage diatribe against traditional film distribution models and his announcement that he will release the film himself. Movieline critic Alonso Duralde pretty much summed up industry sentiments with his observation that, "Whether or not Smith is a visionary or a lunatic remains to be seen."
The last film in the "gay relevance arising out of the thoughtful portrayal of homophobia" category is the sure to be cult classic, Shut Up Little Man! An Audio Misadventure — in which two straight guys eavesdrop on the rantings of their neighbors (a gay man and his homophobic roommate) in San Francisco's Lower Haight neighborhood. Sadly, another LGBT film I was unable to see at Sundance — and yet can confidently proclaim to have had the best promotional campaign in town with their series of quote-bearing buttons including such tremendous dialogue from the film as: "If you wanna talk to me then shut yer fuckin' mouth" and, my personal favorite which I proudly sported on Main Street: "Don't call me 'Goodnight' you cocksucker."
I spent the whole (fucking freezing cold) long weekend in Park City trying to develop some meaningful analysis on this observed phenomenon of euphemisms and creative phrasings around LGBT content — to no avail. Maybe it's just understandable that filmmakers would like to have larger audiences see their work, and to have industry buyers in attendance at Sundance not pigeonhole them before actually seeing their films. Here's hoping they ALL get distribution and are coming soon to some kind of screen near you in 2011.
Jenni Olson is director of e-commerce at WolfeVideo.com and has been writing about LGBT film since 1986. She is also a filmmaker and proud to have had her work shown at Sundance several times: 575 Castro St. in 2009; The Joy of Life in 2005; and Trailer Camp in 1996. This piece is cross-posted on both FilmmakerMagazine.com and AfterEllen.com — whichever one you're NOT reading warrants your attention as well.