Back to selection
BRENT GREEN BRINGS "GRAVITY" TO THE KITCHEN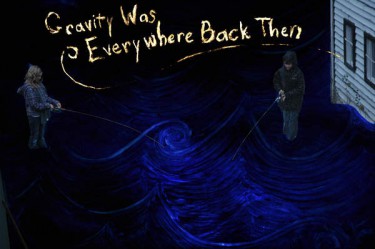 Brent Green is one of Filmmaker's favorite young artists, a wholly original animator and performer who has become something of an art world star on the basis of his idiosyncratic, low-fi short films and live events. Tonight and tomorrow he brings the full evening live version of Gravity is Everywhere Back Then to New York's The Kitchen. From The Kitchen's website:
Inspired by the real actions of the eccentric Leonard Wood, filmmaker Brent Green brings to life this love story like no other in his first feature-length film. Shot entirely on the full-scale town he built in his backyard, Green combines animation and stop-motion in an ethereal opus to lovers and tinkerers everywhere. In these performances, Green provides the live narration along with live music by Brendan Canty (Fugazi), Green, Drew Henkels (Drew & the Medicinal Pen), Donna K, Michael McGinley (the Bitter Tears and lead actor in Gravity Was Everywhere Back Then), Alan Scalpone (the Bitter Tears), and cellist John Swartz.
Brent was one of our 25 New Faces in 2005, and he's the subject of a feature story in January's Art in America by Saul Ostrow. Ostrow writes:
Brent Green (b. 1978) works in the tradition of artist as mythmaker, as teller of tall tales. If Mark Twain were with us today, he would probably be engaged in endeavors comparable to Green's films—works that focus on characters tragically consumed by their obsessions, due to their woefully imperfect understanding of themselves and the ways of the world….

…[Gravity Was Everywhere Back Then] uses live actors to spin a fantasy based on the true story of Leonard Wood and the idiosyncratic house he built in Louisville, Ky.

Green, as voiceover narrator, informs us that Wood began building one bizarre addition after another onto his house when his wife, Mary, was diagnosed with cancer. His hope was that this "healing machine," the fruit of his labor and faith, might somehow save her life. After Mary's death, Wood—to distract himself from his loss and sorrow—continued to work on the house for the next 15 years. Green visited the house following Wood's own death, just before a neighbor, who found the structure unsightly, bought it and tore it down. The artist built the version we see in the film as well as four neighboring clapboard houses at his studio in rural Pennsylvania. His reconstruction of the Wood house, having been made to travel, now serves as an installation piece, usually accompanied by the film.
Green exhibits and performs the piece tonight and tomorrow at The Kitchen on West 19th St. in Manhattan. This show is not to be missed. From Green's website, here are the other upcoming dates:
Feb. 20th- Silvermine Guild Arts Center, New Canaan, CT (live show)
Feb. 22nd- VOMA, Johnstown, PA (short-films live show (not Gravity))
Feb. 23rd- University of Akron, Akron, Ohio (short-films live show (not Gravity)
Feb. 24th- MOCAD, Detroit, MI (live show)
Feb. 25 and 26th- Punto de Vista Documentary Film Festival, Pamplona, Spain
Feb. 26th- the Walker Arts Center, Minneapolis, MN (live show)
Feb. 27th- Zinema 2, Duluth, MN (live show)
March 1st- University of Wisconsin, Milwaukee (live show)
March 5th- True/False Film Festival (live show)
To tell you more about Green, I've posted the article he wrote for our Spring, 2010 issue in which he talks about building his movie's fantastic environments. Check it out and then experience Gravity at one of the shows.