Back to selection
WIM WENDERS + MIRANDA JULY IN A BERLIN CITY SYMPHONY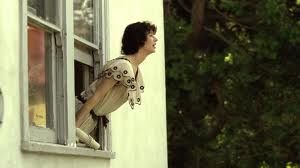 As Filmmaker readers know from our Jamie Stuart festival coverage, we prefer cinematic approaches to fest reportage over point-and-shoot talking heads. (Although expect none of the former and more of the latter from me at SXSW this week.) Jamie has his very distinct style, and via Nowness, it's nice to see another set of filmmakers doing something different with festival coverage. From the site:
For today's exclusive story, NOWNESS contributors and filmmaking partners Carlo Lavagna and Roberto de Paolis set out to chronicle the 61st annual Berlin International Film Festival—and came away with a highly imaginative tribute to the host city itself. Lavagna's girlfriend, aspiring filmmaker Claude Gerber, joins the intrepid duo as they hop from Berlin's infamous nightclubs to Treptower Park's abandoned funfair, encountering famous friends along the way: filmmaker Miranda July, in town to promote her second feature, The Future, and the movie's lead actor, Hamish Linklater; eccentric artist Julius von Bismarck; and maverick German director Wim Wenders. Soundtracked by Marlene Dietrich and Düsseldorf electropunk outfit D.A.F., the short film is stocked with cinematic riffs: "The opening scene mimics Truffaut's The 400 Blows," says Lavagna, "except the Eiffel Tower is replaced with the TV tower in Alexanderplatz." Check back tomorrow to see the filmmakers' interview with Wenders, for whom Berlin is the ultimate home. "Wim told us he tried to live in LA, in San Francisco, but they were all too beautiful to be true," says De Paolis. "He said he loves Berlin because it's too true to be beautiful."
Berlin Film Festival 2011
on Nowness.com.