Back to selection
Fanny, Annie & Danny — A Hammer to Nail Review
(After winning multiple awards during its festival run — including the Emerging Filmmaker Award at the 2010 Starz Denver Film Festival — Fanny, Annie & Danny screens for one night only, Tuesday, March 29, 2011 (for *free*, no less!) at the reRun Theater in New York City. Visit the film's official website to learn more.)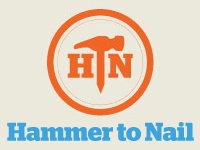 If there's one universal truth about families, it's that as cozy and loving and supportive as they can be, they can also be cruel and irritating and patronizing and infuriating and maddening and fisticuffs-inducing and… that will suffice for now. That truth is ratcheted up to excruciating levels in Chris Brown's scalding hot satire Fanny, Annie & Danny, in which one five-member family gathers for a pre-Christmas Day Christmas dinner only to reach an inevitable climax that makes Home For The Holidays seem like a tame little tea party.
Fanny (Jill Pixley), the eldest offspring, is more than a little bit "off." When she isn't obsessively washing her hands, she works in a factory and disturbs her group home housemates by practicing the recorder at six in the morning. Annie (Carlyle Pollack) is an uptight dental assistant who is engaged to a good-natured stoner named Todd (Nick Frangione). Danny (Jonathan Leveck) is "in the music business"—aka, he's the low-rent manager of a teenage punk band. Their lives aren't great, but they aren't terrible either.
Until today, that is.
They say bad things happen in threes. For Fanny, Annie, and Danny, that rule most certainly applies here: Fanny is kicked out of her group home while the factory where she's worked her whole adult life is closing (though her caring boss has given her a $9,000 severance check); Annie has learned that her dentist is hiring a new assistant and she's worried that this means she's gonna get kicked to the curb; and Todd is dropped for misuse of band funds and threatened by one of the kid's mothers to come up with $20,000 or he's in serious legal trouble.
Meanwhile, in the homestead where these struggling adults used to be children, their grating mother Edie (Colette Keen) verbally assaults her weary husband Ronnie (George Killingsworth) like a chalkboard-scratching drill sergeant. To escape, Ronnie hides in the garage, pining over his days as a soldier in Vietnam, where (if I read this correctly) he was in love with another man and liked to dressed up as a woman. Of course, these moments of respite are few and far between, as Edie won't give Ronnie more than a few moments of peace before launching another aural napalm blast. The next day, when the children arrive, Edie's abuse reaches a new low.
With Fanny, Annie & Danny, writer/director/cinematographer/editor/songwriter Brown has achieved something quite impressive. He's produced an abrasive and hard-to-swallow experience that is also consistently compelling and funny and sweet. As over-the-top and gratingly cartoonish as these characters can be, there remains a universally recognizable air to the proceedings that is disturbingly familiar and surprisingly palatable. It's a trick that will be lost on many viewers, who will be driven to the point of wanting to shout at the screen, "Would you all just SHUT UP!" But that's Brown's point, and it is how he uses these potential liabilities to his advantage that makes Fanny, Annie & Danny such a twisted delight.
The most interesting way in which Brown effectively subverts viewer expectations is his approach to the soundtrack. Usually in a film like this, most directors lean on the easy crutch of a repetitive score to build tension. Yet here, Brown abandons a traditional score altogether. Instead, he uses a deceptively restrained sound design palette to up the uncomfortable ante and raise the stakes. Surrounded by an otherwise "quiet" soundtrack, the natural sounds that subsequently burst forth place viewers on an increasingly sharper edge and seem even more grating and fierce and loud: Factory machines, passing trains, paper shredders, answering machines, ticking clocks, garbage trucks, car engines. Combined with Brown's rhythmic editing and the shouting matches between family members, you might just want to jump out of your skin—which is when Brown's got you exactly where he wants you.
It's exciting to encounter the work of a filmmaker who isn't afraid to push buttons or challenge viewers but who isn't taking this stance simply to be antagonistic. Yes, I'd bet actual cold, hard cash that Fanny, Annie & Danny is more abrasive than anything you've seen in a long time, but it also happens to be a memorable micro-budget achievement that has a tender, excruciatingly funny heart.
Filmmaker has partnered with our friends at Hammer to Nail for a weekly "Pick of the Week" post that will be exclusive to our newsletter and blog for a long weekend, at which point it will go live over at Hammer to Nail as well. In the meantime, be sure to visit www.hammertonail.com for more reviews and lots of other great editorial.