Back to selection
The Madness Of Full Metal Jacket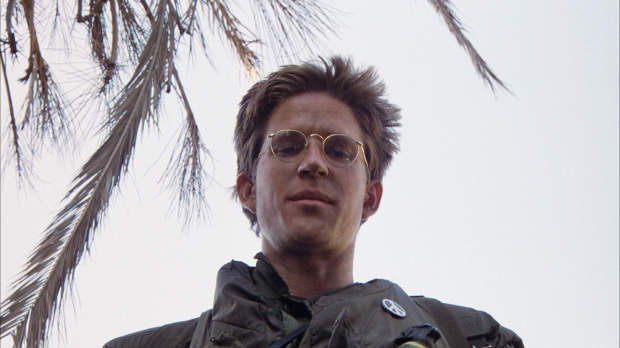 "Matthew, don't allow yourself to ask "Why is he doing this to me?" Wonder why is he doing this to himself."
The blown-to-hell chaos of productions like Apocalypse Now, Fitzcarraldo and Jaws are often evoked as legendary examples of disasters turned into classic motion pictures, but after reading Matthew Modine's Full Metal Jacket Diary, I get the feeling that was par for Stanley Kubrick.
It's one thing to hear stray anecdotes about life on his films, but it's something quite different to swim through a first-person account of an entire project — an account that isn't even a memoir but a digested arrangement of actual diary entires written as it all went down.
I recently grabbed a copy, one of only a few hundred remaining, from the original 2005 run of 20,000, and devoured it in one night. It's not a rigidly detailed portrait like Taschen's The Greatest Movie Never Made, but more an impressionistic experience mixing text and photos taken by Modine on set and elsewhere. That said, between these two books, you couldn't ask for a better example of how Kubrick operated as a filmmaker from pre-production through shooting; the first phase seemed ruthlessly controlled and pedantic in his acquisition of research, the second was completely freeform.
Full Metal Jacket was in production from August 1985 through September 1986, including a 3-month break while Lee Ermy recovered from a car accident. Those who recall reading about The Shining and Eyes Wide Shut in newspapers know it went the same way on those films too. Full Metal Jacket took so long to make that Oliver Stone was able to convince investors to fund Platoon based on Kubrick making a Vietnam film, and he beat Kubrick to the punch, sucking a lot of air out of FMJ's release six months later.
Considering that Modine is a true ambassador for FMJ, regularly conducting Q&A's at screenings and even developing a FMJ iPhone app, the most revelatory aspect about his experience on the film is how utterly miserable he seemed while making it — it dragged and dragged, there was no real shooting schedule, they'd shoot on any given day whatever Kubrick felt like shooting, and he'd never explain his intentions: shoot, reshoot, shoot, reshoot…
The stories relayed include, among others: Modine arguing with Kubrick about whether he could leave the set to be with his wife during childbirth; the camera crew measuring Kubrick's camera placement within an eighth of an inch, and after several attempts at the setup without his satisfaction, they were forced to spend an hour chipping away at concrete debris to get it right; Kubrick spending an entire day doing master takes of the troop meeting the moped hooker, then redoing the shot the following day because he didn't like the exposure; Modine and D'Onofrio getting into a feud and respectively setting up a punching bag and free weights in their dressing rooms as a show of masculine strength; time after time, Kubrick would say a scene only required two-to-three days of shooting, then they'd still be at it weeks later; Kubrick locked in a port-o-potty and giving directions to an AD to where he was without explicitly saying where he was because he didn't want to reveal his situation over the radio; even actors threatening a mutiny because Kubrick repeatedly violated union rules.
Whereas another "perfectionist" director like David Fincher is also known for doing a high level of takes, his approach compared to Kubrick's is almost antithetical. Fincher predesigns everything, and shoots until he gets what he wants. Kubrick, on the other hand, never knew what he wanted — he was making it up as he went along, searching for the answers to questions only he knew, creating refined order out of complete entropy. The one thing they agree on is that multiple takes are necessary primarily because actors don't know their lines.
Can you imagine working with a filmmaker whose every production would be considered by normal definition a "runaway production?" In this light, the book's most sympathetic portrait is reserved for Kubrick's longtime assistant Leon Vitali — chain-smoking, always clutching a stack of papers to his chest, always remaining calm. At a screening of Barry Lyndon, in '07, during a Q&A with Vitali, Modine's wife, Cari, in the audience, referred to him as a "genius enabler."
If you're a Kubrick obsessive like me, Full Metal Jacket Diary is a must-have. You'll truly question the fine line between genius and insanity.
From our Fall 2005 issue, more about Full Metal Jacket Diary.