Back to selection
JAY DUPLASS TALKS KEVIN GANT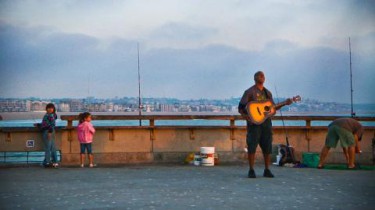 While I usually avoid Q&As (due to my impatience with too many audience members making statements rather than asking actual questions) I'm glad I stuck around after the screening of Jay Duplass's short biopic Kevin, if only to meet the doc's admirable director and arrange for an interview later. Unlike other filmmakers attending this year's Arizona Int'l Film Festival, Duplass wasn't in Tucson to publicize his film, per se, so much as to promote its subject Kevin Gant (who also showed up to treat us to a post-screening acoustic set), the Duplass brothers' musical hero in the early '90s who seemingly vanished from the Austin scene and into obscurity way back in 1995. Due to an insurmountable time difference — Duplass is based in L.A. while I'm reporting from Amsterdam — we spoke briefly via email about several issues both onscreen and off that Kevin the doc and the artist himself bring up. Also, check out Duplass's Kickstarter campaign for a feature documentary on Gant, now in its final hours.

Filmmaker: Kevin truly is a fascinating and charismatic character — so much so that I wanted to see more of him. Are you looking to develop the short into a feature at some point? Will you be filming his comeback tour?
Duplass: We are continuing to film him, and thinking about whether or not it will become a feature documentary, and how that might look and feel. There are so many more fascinating Kevin stories from his past that would be great fit in if we had a bigger movie.
Filmmaker: What I love about Kevin is that as a director you honestly wear your subjectivity on your sleeve. This isn't cinema verite by any stretch of the imagination. You've gotten involved with your subject on a personal level, using the film as a means to an end — staging Kevin's musical comeback. In the doc you even discuss having reservations about becoming so involved in the story you're shooting. How have your feelings changed (or not) over the process?
Duplass: Well, we were lucky enough that Kevin's "comeback" is happening organically as festivals seem to want him to play after the film. As far as my involvement is concerned, I've just become more comfortable with the fact that I am genuinely a part of the story. For me, it's what happened is first a life experience that Kevin and I shared, and a movie second. So, once I truly embraced that and focused on Kevin and not the movie, I stopped worrying so much about whether I was following cinema rules or whatever. I guess it also helps that many people have commended my involvement — sort of the opposite of what I expected. The pats on the back were really nice, because I was worried when I started.
Filmmaker: After the Arizona Int'l Film Festival screening of Kevin we chatted briefly and I remember you mentioned your frustration with the fact that too many doc biopics follow someone famous rather than more obscure individuals. I don't think that's the case with foreign films (the outstanding Romanian doc The World According to Ion B. comes to mind), though you're probably right in terms of English-language flicks. Can you talk more about this as it relates to Kevin?
Duplass: I think it has to do with my obsession with anonymous people, and their private lives, and what motivates them to do what they do. Even with our studio work with "famous" actors, we're trying to represent real people, so it irks me sometimes that portrait docs about famous people are the ones that seem to get the most attention. That being said, I can't complain too much because it gives me a niche to celebrate the unknowns. Kevin's story is so moving and compelling, that to me it was a bonus that no one knew him. Because of that there's more for them to discover.
Filmmaker: I also recall an audience member at the AIFF post-screening Q&A asking a loaded question about directing for Hollywood. I think you quite rightly took the high road in expressing your gratitude for the studio work that pays the bills and allows you to make a passion project like Kevin. So what do you think is the general feeling among indie filmmakers who shuttle back and forth to L.A. nowadays? Enthusiasm, resentment, resigned? All of the above?
Duplass: I think honestly it's an ebb and flow. You make a studio movie, and all you want to do after is make a piece of art in your basement that nobody can judge until it's done. And then when that little piece of art is done, and not many people saw it and it cost you ten grand, you're pretty fired up when a studio comes knocking and wants to re-instate your health insurance and pay you a nice chunk of change to make something really cool. And honestly, there are some things I can't do without studio help, like our latest film Jeff, Who Lives at Home.
Filmmaker: Kevin really is one of those rare 100% organic artists, which, unfortunately, a lot of problems in his life stem from. The world isn't built for pure uncompromising souls. Are you at all worried that he won't be able to handle a career revival? (Personally, I'm both entranced by and terrified for him, which I guess is another reason the film works so well!)
Duplass: I do worry about the 100% factor, as you so accurately call it, sometimes. But considering his demeanor when I found him compared to the spirited, excited, more confident person he is now, I don't worry about it too much. He is extreme about employment, and I understand it. The way he describes it is, if the inspiration comes, and he's at work, it's too heartbreaking to miss out – and he's not honoring his contract with the creative forces in the universe. So if he's in creative mode, he needs to be 100% available. The good news is Kevin is solid, and if he ever needed to go back and get a job, he can do it no problem. That being said, I believe in him and want to support him, and am complicit in his attempt to do his music full time, so that's why I'm pushing so hard to raise funds for his tour on Kickstarter.