Back to selection
Buck — A Hammer to Nail Review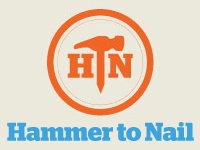 On its simplest level Cindy Meehl's documentary Buck tells the story of the cowboy Buck Brannaman, a horseman who travels the United States conducting clinics for "horses with people problems." First-time director Cindy Meehl met Buck at one of his clinics, and wanted to share his wisdom with a wider circle than the ardent fans he's built among "horse people."
A wise cowboy, eh? It doesn't help that the film opens with iconographic Western shots: a cattle herd, a yellow sun, and galloping cowboys, all underlined by David Robbins' thrumming score. I admit I was a bit skeptical. The census shows that Americans are increasingly clustering in cities: our new frontier is dense, urban, and ethnic, more closely mirroring my own experience. I did used to ride horses, but I was nine, and in suburban New Jersey those lessons are confined to a dingy ring. I rode in formation with commuters from the city, making small, joyless jumps over the crossrails. That sort of riding lacks the epic sweep of the Western trail, but it left me with a respect for the intelligence and skittish power of horses, which came back to me while watching Buck. I had forgotten how much those riding lessons had taught me about fear. The first time I fell from a horse it took me two weeks to overcome my terror. In his wry, musing way, Buck mentions several times that the biggest challenge of training horses is learning to control your emotions. Watching Buck at work, I began to recall that feeling. On the surface this film is a deceptively simple tribute (low and wide-angle shots abound), but Buck has a presence that lingers.
The film begins by following Buck on his rounds. He is a wanderer, spending the better part of his year hauling his trailer from town to town and clinic to clinic, and he both embraces and complains of the loneliness of the road. He takes his wife and daughter along for the ride when he can, but mostly he's surrounded by his students. Both professionals and hobbyists, they have come to Buck for help "breaking in" young colts. We get a lot of footage of Buck in the ring with these groups, and the director wisely gets out of the way and lets Buck do the talking. At first the colts resist, throwing the equine version of a temper tantrum, yanking on the lead rope and lashing out with their legs. But it's incredible to watch how Buck, within a span of minutes, has the horse gently following his commands. He talks about developing a "feel," which is a mystical combination of touch, energy, and mental projection, an invitation for the horse to begin trusting his human rider. It's clear that Buck is more shaman than gruff disciplinarian (he is literally the "horse whisperer," a consultant and body-double on Robert Redford's film adaptation of the novel), but he laughs off the notion that he can speak to the horses. Still, you half expect the camera to pick up an aura around him.
Though loose on narrative, the film traces this power to Buck's troubled upbringing. He and his brother Smokie were child performers, trained by their father to do rope tricks; Buck was a pro by age six. This hustle brought them a mild form of celebrity, the apogee being a Kellogg's commercial. Unfortunately this wholesome façade hid their father's cruelty. He was a violent drunk who beat his sons mercilessly, and when their mother died they were deprived of their sole protector. Buck was eventually rescued by an observant gym coach, and was sent to live with a large foster family on a ranch. At eighteen, a chance encounter with horseman Ray Hunt inspired Buck to begin working more seriously with horses.
But the past is clearly not the focus of this film. We get a few lines from Buck's foster mother and his wife, but his teenage daughter Reata is the most tangible proof of his healing. The film cuts frequently to candid interviews with Buck's disciples, longtime students and, briefly, Robert Redford. They have that guru glow in their eyes when talking about Buck, which prompted another skeptical twitch from me. But something inexplicable happens when, in scene after scene, you see both horse and rider transform in Buck's quiet presence. His approach succeeds rather well with the horses and it completely undoes certain people. The film's dramatic peak is an extended sequence with a particularly troublesome horse. The colt had a difficult birth and poor training, and has grown into a vicious and uncontrollable beast. Buck confronts the horse's owner, and, in a few sharp sentences, lays bare what years of therapy probably couldn't.
Speaking of gurus, another documentary of a similar ilk that emerged from this year's festival circuit is Vikram Gandhi's Kumaré. Though Vikram begins as a seeker, who travels literal and physical distances in search of wisdom, he grows disillusioned with the faux gurus he encounters. Channeling the trickster, he decides to transform himself into Sri Kumare, a false prophet, and takes on a host of disciples. Much like Buck, his methods eventually force his students to confront themselves. What is it that drew these two stories from the ether at this moment? They would make an interesting double-feature (compassion or deceit as the path to wisdom: discuss). But though I enjoyed both films immensely, Buck had the more numinous effect. On the crowded express train home I was surprised to find myself unconsciously using Buck's techniques on a rather aggressive commuter. If that's what I take from Buck — the ability to control my irritation on the subway, a bit more empathy for my fellow man — that's an immeasurable gift.
Filmmaker has partnered with our friends at Hammer to Nail for a weekly "Pick of the Week" post that will be exclusive to our newsletter and blog for a long weekend, at which point it will go live over at Hammer to Nail as well. In the meantime, be sure to visit Hammer to Nail for more reviews and lots of other great editorial.