Back to selection
RASHAAD ERNESTO GREEN, "GUN HILL ROAD"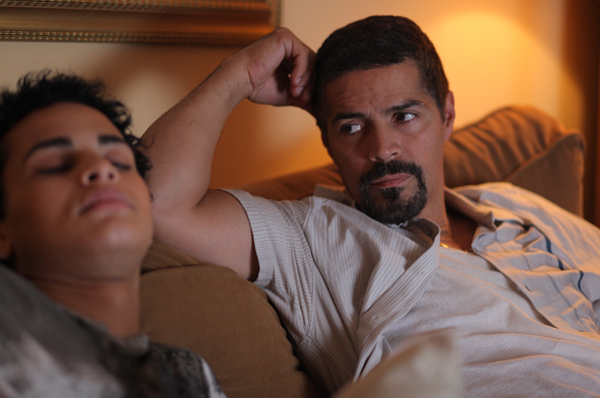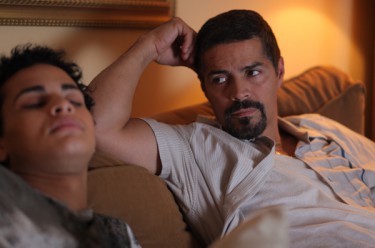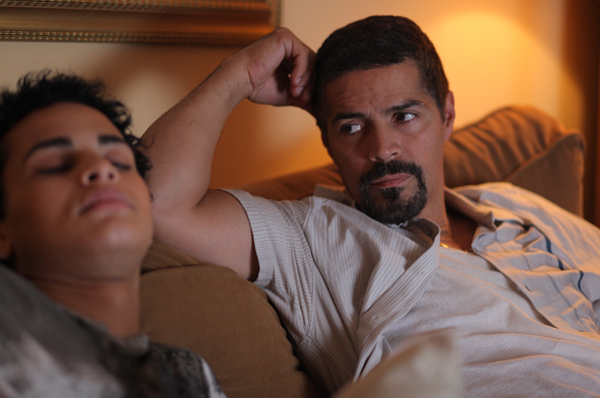 Originally posted on Aug 4, 2011 in our Director Interviews section of the website. Gun Hill Road is nominated for Breakthrough Actor.
Rashaad Ernesto Green's stirring Puerto Rican tranny drama Gun Hill Road concerns a Bronx teenager in the midst of transitioning from Latino to Latina whoseworld is turned upside down by the return of her long absent father. Green gives us a fully developed familial antagonist in Esai Morales' patriarch, fresh out of Rikers, who is adjusting to civilian life. His masculine self-image (already assailed by sexual assaults while incarcerated) is quickly hindered by the realization that his son dresses in women's clothing and behaves in an effeminate manner. Green is bravely willing to risk his audience's affection for his characters at several points in the narrative and doesn't offer any hope of false redemption. Although it perhaps received less attention than Dee Rees' Pariah, a film it strongly resembles in its exploration of an outcast LGBT teenage minority from New York City's outer boroughs who struggles to find familial acceptance and dabbles in poetry, Green's feature debut was still acquired at this year's strong Sundance Film Festival. It is being released by the ambitious new distribution company, Motion Film.
A 2011 NYU Graduate Film School grad, Green had a stunning run of success on the short-film circuit before turning to features. In his HBO Short Film Award-winning Premature, a classically built narrative short about a Bronx teenager who, having found no support for her pregnancy from either her disaffected family and brutal community, resorts to drastic, near-tragic measures to free herself of responsibility, or his 2009 Sundance-approved four-minute short Choices, a one-shot formalist wonder that stays with you well after it's over, you get a sense that Green is someone who wants to say vital things about responsibility and the nature of modern working-class families on the margins of urban life. Gun Hill Road opens this Friday in New York.
Filmmaker: You worked as an actor for a while; how does that play into your decisions as a filmmaker?
Green: I spent the better part of ten years at NYU. I went to its three year MFA acting program and had no thoughts of being a filmmaker until I spent about three years in the industry and then came back to film school. My education as an actor set a great foundation for me to jump behind the camera. In that program I learned how to act. I learned how to talk to actors. I built a terrific pool of actors I could call upon once I became a director, just by being in the industry and working with people. When I came back to school, I thought I would be behind the eight ball. I thought, "I'm going to be in class with kids who have had a camera in their hands since they were five years old. I am really going to have to work my butt off." Which I did. I didn't realize how much of an advantage I had as a result of being trained as an actor. It not only informed my ability to direct actors, but it also informed my writing. I write from the perspective of an actor. I try to write story arcs and scenes that actors like to chew on.
Filmmaker: Your prolific short film work at NYU led to your selection for last year's 25 New Faces. Did the shorts also open doors for you that led to Gun Hill Road?
Green: It was everything. The short films gained a lot of exposure. Premature, especially, traveled the world. At the film school, it was great to have that support; the professors were really behind me from the start. It opened my eyes to the world of cinema in a way I hadn't come across before. As a result of having one short film after another succeed, I attracted the interest of an investor, Ron Simons of SimonSays Entertainment, who I had met a few years previously in a show we had acted in. He produced a film called Night Catches Us. We met before he was a producer and I was a director, but then we went off to our separate crafts. After seeing my short films, he took me out to lunch one day and asked me what I had in store, what was next for me. And I had a feature script ready to go. I gave it to him, and he said, "Let's do it." That was most of it. There were grants through NYU and other grants I applied for that were the seed money to get us off the ground, but the rest was a producer who was interested in my work as a result of the short films.
Filmmaker: Beyond growing up in the Bronx, what were some of the initial reasons you decided to tackle the themes of Gun Hill Road ?
Green: It's inspired by someone in my family.
Filmmaker: Not being necessarily a part of the LGBT community-
Green: How would you know? [laughs]
Filmmaker: How presumptuous [laughs]! Was this a challenge you openly sought, writing with authority about this kind of character?
Green: It was a challenge, of course. To start, it was inspired primarily by the person from my family, who has become the character Esai [Morales] portrays in the film, the father who is having trouble with the issue. The first rendition of the script was through his perspective entirely. At that point, when I first wrote it, the [other] character wasn't necessarily transgender; she was thinking about it. It dealt more with coming out as a gay male. As I began to delve deeper into the story and find out the details, as I met and befriended some transgender females, their stories blew my mind. I had to present that world. I didn't realize how difficult it would be, but I was attracted by the challenge. At first I balked and said, "I don't know if my audience would be ready for this. Maybe I might want to play it safe so it could be more broadly appealing, but the character kept speaking to me, dragging me into the depths of her humanity.
I needed to tell this story and to do it I need to do a lot of research, so I spent a lot of time on Christopher Street, down at the piers, etc. It really opened me up to a new world. Hopefully, that is what people are responding to in the film — the humanity that I learned from getting to spend time with people you wouldn't necessarily think you could care about in that way. People pass them by with sneers and snickers, but when you hear their stories and look into their eyes, it's so clear that they have not chosen to be this way. Once we open our eyes and hearts to them, we find ourselves relating to, identifying with, having compassion for and empathizing with people who are like us in so many ways. We want to support them. A lot of these kids are without homes. A lot of them are living in shelters or on the street because their families were not able to understand that this is not a choice. Their families were not able to support that transition in their lives, when they fully realized who they are.
Filmmaker: You cast a transgender woman with no previous acting experience, Harmony Santana, as your lead. How did you find her?
Green: I spent a few months in the streets of New York, basically searching for someone would be the genuine article. I knew pretty early on I would need someone who was experiencing for themselves at least some part of this transition, who was either already transitioned or was thinking about it. Someone who believed themselves to be a female. It's a world of a difference. To be a young gay male and have experience with drag, for example, is much different than to be a young female who was biologically male. I wasn't going to find this person through the tradition forms of casting.
Filmmaker: Did you have a more traditional casting process before you decided to cast your net wider?
Green: No, I knew for that role specifically we would have to find that person, so I was doing both simultaneously — casting for other roles and searching for this one. Esai Morales, whom I wrote the role of the father for, was already cast. After spending months in clubs until 4:00 AM, down at the piers at night, the bars, dance workshops during the day, LGBT organizations, Facebook searching, I was at a Queens pride parade last June and I saw what appeared to me to be a young Latina male. I was going up to any youth that day and asking them if they knew someone who might fit the description of this character. We had flyers, and we were passing them out. We didn't get any e-mails or calls from those flyers at all [laughs], but it helped us in the sense that I could go up to her and tell her who was in the film. She stood up and said that she wanted to audition. I was a little confused, because what I saw was a boy, but when she took off her sunglasses I had to take a step back. What I saw was this angelic, androgynous and beautiful face stuck on the body of this boy. It was a shocking sight because she was so clearly "in between." She told me that she was at the beginning of her transition, that she was Puerto Rican and Dominican, which was a perfect mix of Esai and Judy Reyes culturally. She had lived in the Bronx and always dreamed of acting. So I was like, "You know what, that's cool, but you still have to be good." [laughs]
Filmmaker: Did you put her against Esai and Judy in a casting session?
Green: We didn't have them in New York yet. I brought her in with a reader. When she came in she was on time. At the point she came in, the producers were on my back saying, "Rashaad, like last week you needed to find this person, there's no more time. You need to find the person who is going to play this role, we need to vet them, and we need to get the casting director to approve them. You have no film without [this actor]." All I could respond with was, "I haven't found them yet."
Filmmaker: How long until you were to begin shooting at this point?
Green: About five weeks. I had a couple of "B options," but they weren't really options.
Filmmaker: How was it working with her compared to the most experienced performers? Was it tough to blend them?
Green: Different actors require different things. With Harmony, we had to build her vocabulary. She had never acted before so I had her train with a friend of mine for a month. They had to dig into her past and bring up her own history and emotion and backstory — what she had gone through with her father for example. We had her do a journal, create her own poetry, things like this. With Esai, I didn't have to do that. He's a professional actor so he knows to do that for himself. Basically, for Harmony, the trick was making her feel safe. Her being herself naturally is extremely intriguing, but for her to be herself in front of a camera was something we had to trick her, coax her into doing. She would tighten up as soon as you would ask her to do a scene or put words into her mouth that were not necessarily her own. She would perform, and I didn't necessarily want her to perform. I wanted her to behave as if this were happening to herself. I didn't want her to put on any character; I wanted her to reveal her own spirit.