Back to selection
Drive-In Memories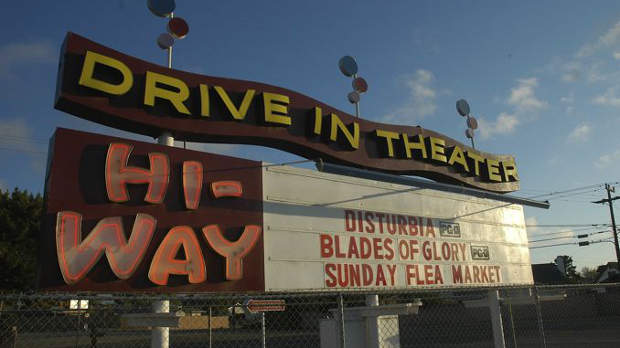 Has there ever been a more American idea than watching movies while sitting in your car? With the temperature hovering over one hundred and the humidity up there to match it, my thoughts go back to my childhood. I grew up in Washington D.C., with this kind of heat every summer. It always meant one thing to me: the drive-in movies. My babysitter used to put me and my two sisters in the back of her pick-up truck and head off to the drive-in. Parked and waiting for the sun to set, tiny fireflies would blink against the darkness.
The drive-in theater was invented by a man named Richard Hollingsworth, who wanted to combine his two favorite things: movies and cars. His first experiments involved his own driveway, a projector mounted to the hood of his car and a makeshift screen made from some fabric nailed to two trees. He opened his first drive-in in 1933 in Camden, New Jersey. People loved it. It hit its height of popularity in the '50s and '60s. As time went on the cost of the real estate involved in maintaining and operating a drive-in became prohibitive. Using that amount of land for a summer-only business just wasn't realistic. Slowly, drive-in theaters started closing down. The popularity of the drive-in also declined. The VCR and the color television were bringing movies right into people's living rooms.
I'm hard pressed to find a drive-in anywhere these days. When I lived in Los Angeles I would sometimes drive three hours north to sit in my car, parked in a monument to American nostalgia, and watch the movie begin. (Pictured above: The Hi Way Drive-in theater in California.)
Alix Lambert's feature length documentary The Mark of Cain was nominated for an Independent Spirit Award and aired on Nightline. She went on to produce additional segments of Nightline as well as produce seven segments for the PBS series LIFE 360. She wrote Episode 6, season 3 of Deadwood: "A Rich Find" (for which she won a WGA award) and was a staff writer and associate producer on John From Cincinnati. She is currently in production on two feature length documentaries: He/She/He (about gender identity in Albania and Samoa) and Mentor (about teen suicide and bullying at Mentor High in Mentor Ohio). She just completed, in collaboration with David McMahon, a feature length documentary: Bayou Blue (about serial killer Ronald Dominique in Louisiana). She recently received an NEA consortium grant in order to produce two new works that will be presented at RealArtWays in Hartford Connecticut.