Back to selection
JACK FERVER PRESENTS FASSBINDER'S "BITTER TEARS…"
Because Rainer Werner Fassbinder's The Bitter Tears of Petra Van Kant is one of my favorites by the late German director, I'm reprinting here this email from Ira Sachs, whose IFC Center Queer/Art/Film series is screening the film tonight at 8:00 PM. It's being presented by choreographer Jack Ferver, who has written a fantastic intro to the film.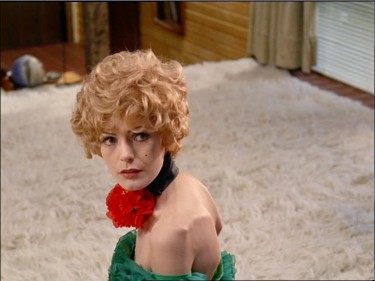 Dear Friends of Queer/Art/Film,
"That little girl's finger is worth more than the lot of you."

For this month's August screening, we're thrilled to finally be able to present a film by the visionary gay German filmmaker Rainer Werner Fassbinder, especially one as rich and rewarding as the queer classic The Bitter Tears of Petra Von Kant. Featuring the astonishing Margit Carstensen as a lesbian fashion designer who manipulates her assistant, daughter, mother, and lover– it's beloved by our guest presenter, critically-acclaimed choreographer Jack Ferver, who calls it a "wickedly funny, sexy, and gorgeous film about how insane we can all be." Sumptuously filmed by longtime collaborator Michael Ballhaus and featuring Fassbinder regulars Eva Mattes, Hanna Schygulla, and Irm Hermann. Guest presenter Jack Ferver has made a name for himself as a dancer and choreographer of cinematically themed performance pieces (Rumble Ghost) and parodies of nouveau-lesbian camp classics like Notes on a Scandal (Notes!) and Black Swan (Swan!), and will no doubt have plenty to say about this terrific dramatic film.

WHAT: Jack Ferver presents THE BITTER TEARS OF PETRA VON KANT
WHEN: Monday, August 22 at 8:00p
WHERE: IFC Center – 323 6th Ave. at W. 3rd St.

JACK FERVER on THE BITTER TEARS OF PETRA VON KANT:

The Bitter Tears of Petra von Kant was my introduction, probably like most, to Fassbinder. It is the film adaptation of Fassbinder's play. Therefore it, unlike what films often do and part of what quickly made them outstride live theatre, keeps it's action to one location. Inside Petra's atelier, the psychology of its protagonist unfolds. Petra never leaves. She tells stories, she flirts, she screams, she apologizes, she smashes things and herself. She desires total control over her life and other people. She is disappointed. She is the every(wo)man. I don't make work about hope or how wonderful life is. Artists are the stomach of society. I make work about the more indigestible themes of the human psyche: obsession, power struggles, psychosexual battles. The Bitter Tears of Petra von Kant (and actually most of Fassbinder's work) inhabits and comments on these darker natures with razor precision. It is also a wildly pleasurable and humorous film. It is esthetically sumptuous. There is a sense of delight as cruelty unfolds. I think that is important in performance. You are seduced into bed with the subject matter. This film isn't some droning, boring thesis about how sad the human condition is. It is a wickedly funny, sexy, and gorgeous film about how insane we can all be.