Back to selection
Five Questions with The Patron Saints Directors Brian M. Cassidy and Melanie Shatzky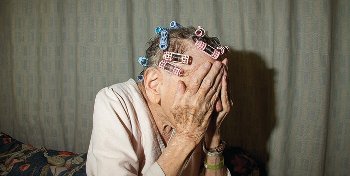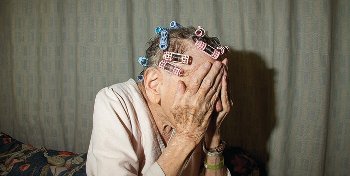 Photographers-documentarians Brian M. Cassidy and Melanie Shatzky use dark humor and unconventional storytelling techniques to look at patients living in a nursing home for their debut feature, The Patron Saints. Known for their Hurricane Katrina short God Provides and their photography highlighted on their site, piegonprojects.com (two reasons why we selected them for our 25 New Faces of Independent Film in 2007), Cassidy and Shatzky's unique eye of making the ordinary look extraordinary has us excited in seeing this premiere at TIFF.
Filmmaker: Tell us a little about what your film is about?
Cassidy/Shatzky: The Patron Saints is a hyperrealistic glimpse into life at a nursing home.
Filmmaker: What motivated you to tell a story about life in a nursing home?
Cassidy/Shatzky: A feeling that we might be able to depict an aspect of life that is rarely, if ever seen on film. A lot of people have a tendency to deny that this stage of life exists, because it's frightening or sad. As a result, residents often live in even greater solitude because their existence is too difficult for us to accept. As artists/filmmakers, we attempt to reveal or make visible these unseen areas of life. Early on in this process we both saw the potential for making a portrait or a kind of dirge that could deal with the subject matter in ways that could be at times very intense, but also tender and even humorous.
Filmmaker: Were there any inspirations (directors or films) behind the style of your film?
Cassidy/Shatzky: Mostly, we were trying to connect to our own intuitions, the rhythms of the place and the people who lived there, the mood or whatever else was going on. We both have a background as photographers and tend to favor work that on first glance might be difficult to deal with head-on but which also has a tenderness or a strange beauty. Photographers like Diane Arbus, Roger Ballen, Nan Goldin and Richard Billingham come to mind. Also the writer J.M Coetzee.
Filmmaker: What was the biggest challenge in making the film?
Cassidy/Shatzky: From the outset, we set up some rules for the film — its structure, how the camera would move, how narration could and could not function. This meant that we had to spend a great deal of time making things work within a very narrow and specific framework. It took nearly four years to make a film that feels like it spans about four days.
Filmmaker: What do you hope audiences will take away from your film?
Cassidy/Shatzky: We just hope that people are moved in some way.