Back to selection
" I Love Nothing More Than to Kidnap an Entire Cast and Crew, Dragging Them Off to the Wilderness to Make a Movie": Five Questions with Your Sister's Sister Director Lynn Shelton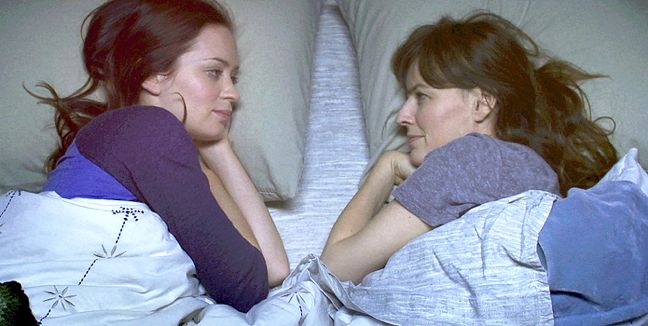 With Your Sister's Sister, writer/director Lynn Shelton brings a top-flight cast (Emily Blunt, Rosemarie DeWitt, Mark Duplass and Mike Birbiglia) to an isolated island cabin on Puget Sound for a tale of grief, romance, and sibling rivalry. Duplass plays Jack, still reeling over the death of his brother a year earlier. Iris (Blunt), his best friend and dead brother's ex, suggests he get his bearings at her father's cabin, and there he's unexpectedly confronted by Hannah (DeWitt). Needless to say, things get complicated in this latest from one of independent film's most compelling new auteurs.
Via email we asked her about quick schedules, isolated places and, of course, sisters.
Filmmaker: Like your second film, My Effortless Brilliance, this feature takes your characters to a removed location, where their dramas unfold. What attracts you to this kind of set-up, and what role does the location play in this film?
Shelton: I love nothing more than to kidnap an entire cast and crew, dragging them off to the wilderness to make a movie. It is my fantasy scenario. It means that, for the duration of the shoot, there's really no retreat from the film's world back to "the real world." Everyone gets to hang out together after the work day is through, bonding over lovely dinners and bottles of wine and campfires and saunas (and midnight screenings of the original Conan The Barbarian!) and it makes our time on set together that much more familial and comfortable and, therefore, fruitful.
As for how the location relates to the story of this film, it's essential in this case. Being physically removed from the civilized world helps the characters feel less confined by the normal strictures of that world, which aids in propelling the story forward at its outset. And, ultimately, being stuck in the same house on a remote island together acutely intensifies the resulting tensions between the characters as the drama unfolds.
Filmmaker: Did your way of making films have to adapt in any way to the presence of Emily Blunt and Rosemarie DeWitt, both of whom are coming off of large-scale Hollywood work? Did it have the same level of improvisation?
Shelton: Well, first off, we really lucked out in that Emily and Rosemarie are the most incredibly down to earth, lovely, charming individuals. They were both completely amenable to the "summer camp" feel of the whole experience, dining and hanging out with our small crew; they fit right into the family. So that was amazing. On set, they were completely game and total troopers when it came to the improv and it really helped to have Mark there because he's so generous with his fellow actors and his confidence as a veteran improviser was really catching. To give the gals more of a sense of ease, I had prepared a 70 page "script-ment" with lots of written dialog (as opposed to the 10 page outline that I had prepared for Humpday.) I made it clear that they shouldn't feel tied to the dialog but that it was there if they wanted to use it. I think it was nice to for them to have a jumping off point, at the very least.
Filmmaker: How about in terms of the physical production? Were you able to work with a similarly pared-down crew as your previous film, or was it bigger?
Shelton: Humpday had a ridiculously small crew, with DP Ben Kasulke functioning as his own gaffer, and Nate Miller functioning as the rest of the G&E department as well as the assistant camera dept. I knew there would be at least a few more bodies on this set because I really wanted to do some proper lighting for one thing. Jeremy Mackie had gaffed for us on the MTV web series $5 Cover Seattle and I knew he could create amazing results with limited time and resources plus he is a total mensch. Also, on Humpday, I did most of the B camera shooting (we work with A/B cameras about 95% of the time in this process) and I felt like I wanted to let go of that responsibility for this production, so we added a full time B camera operator, Ryan McMackin, who is awesome. There were a few more folks to round out those departments and to help out our production designer, John Lavin. But again, because Humpday had such a micro-crew, even though we doubled our numbers for this go, that isn't saying much. The set of Your Sister's Sister still felt really intimate and small compared to the average feature film set.
Filmmaker: What interests you in the idea of sisters? Do you have a sister, and did your own relationships shape the drama of this film at all?
Shelton: I have a stepsister whom I love very much. There has never been any tension between us that I can recall, probably because she came into my life when I was about sixteen years old and we never actually lived in the same house growing up together, so it's all pure love between us. But I have observed many many complicated and multi-layered sibling relationships around me through the years and have always been completely fascinated by them…the special bonding and deep longing to connect, complicated by sometimes surprising veins of competitiveness, resentment, jealousy.. you name it. It was really rich territory to dive into and explore.
Filmmaker: What's the one element you were most concerned about going into this film, and how did you deal with it?
Shelton: Far and away the most stressful element of this production was the limited amount of time that we had to shoot it in. I had this incredible cast, an amazing crew, a perfect location, and I was absolutely terrified that it would all be for naught because I wouldn't be able to get the movie in the can with the allotted amount of time that we had. I mean I was terrified. I pretty much didn't sleep the whole time over the stress of this and I had a kind of nervous breakdown in the middle of the shoot over it (although not on set, thank god!) Our schedule was already drum-tight and then, when we had a last minute cast change (Rosemarie came in to replace another actor), we lost two or three days out of our two week shoot because Rose was still in production on United States of Tara and we had to fly her back to LA twice during our production so she could put her days in down there. I dealt with it by working as quickly and as efficiently as I ever have as a director. And I worked equally hard to keep the actors protected from all that drama. I just wanted them to be able to show up and do what they do best.