Back to selection
TORONTO: THE PATRON SAINTS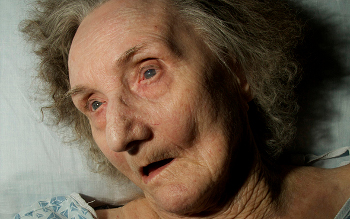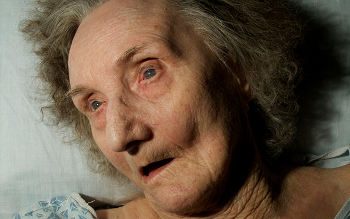 The second shot of The Patron Saints is a slow pan across a wide swath of no-man's land, the sad sound of a prairie wind reinforcing the impression of emptiness. Suddenly the camera stops moving at the sight of a building, several stories high, looking as if it were plunked down on Auntie Em's farm in Oz after the tornado. There are no signs: This feels like the middle of nowhere.
Thanks to five years of work by filmmakers Brian Cassidy and Melanie Shatzky, we are able to experience what is inside, meeting and observing the residents whose privacy, like the location of the structure ("somewhere in the U.S.," says Shatzky), the directors protect. This is a nursing home. Most of the residents are quite old and suffer some form of dementia. That early shot anticipates the mode the co-directors opt for: an abstraction of the isolation that separates these individuals from a society that has no use for them.
This is an extremely potent documentary, one which provokes an emotional response in the spectator without exploiting the subjects, who wouldn't otherwise exist outside that structure's walls. (It is being shown in Toronto in the Canada First section, a forum for first films by Canadians; although the couple lives in Brooklyn, Shatzky is a Montreal native.) A lucid but physically disabled younger resident, James, provides a voiceover narration, which gives us information about the home and the back stories of some of the residents.
"James was our guide," says Shatzky. "He was like an outsider inside." "We found a complementary way for his narration to play off the imagery," adds Cassidy, who served as cinematographer. ("When Brian's shooting, he's already incorporated my photographic concerns," Shatzky explains.)
"By not telling what led to James's paralysis, it becomes about a state of confinement on a larger level," says Cassidy. "By denying viewers certain factual specifics, it forces them to take ownership, to see it as part of their own experience. Shatzky elaborates: "Our concern was more about what happens to the mind and body at the end of life."
We encounter a woman with a fake cat, a raging Hungarian man, a woman in a wheelchair speaking over and over about her son's impending visit, a blind, mentally damaged woman who had been raped and beaten by her brother, a senile man whose daughter rubs his face lovingly, residents with tics, a woman repeating Hail Marys again and again. All sorts of challenged people populate this institution, most of them from the working and lower-middle classes.
I ask if they anticipate criticism that they might be exploiting the residents, most of whom can't think for themselves, almost in a manner akin to the photographs of Diane Arbus?
"We were given permission from families or, if there were no family, administrators," Shatzky explains. "Over the time we shot this, the residents enjoyed being paid attention to, especially those without grandchildren. It's a greater indignity to ignore them. The worst thing is to deny their visibility." "We have no aspirations to be photojournalists," Cassidy chimes in.
Cassidy, 34, and Shatzky, 35, met while studying photography and video art at the School of Visual Arts in New York. They say their work focuses on mood and feeling. In other ways, they complement each other. "Melanie's work had a stasis," says Cassidy. "Mine was more kinetic." Shatzky found herself drawn to medical settings in her artwork. "I did a photography project in Montreal in a hospital-type setting," she says. "I was repulsed by the pastels. Things were meant to be pleasant, but for me there was an undercurrent of unpleasantness. The home in The Patron Saints didn't have those pleasant mauves and turquoises. It didn't pretend to be something else. And it did not feel depressing."
Cassidy, who grew up in the small town of Hopewell Junction in upstate New York, had hands-on experience in his early twenties working with patients with many of the same problems as the nursing home's residents. "I worked with developmentally disabled adults," he recalls. "I was in that world. I saw the extremes of people in institutional settings. One of my jobs was to take people grocery shopping. A woman asked me how I could bring people like that out into the world, where others, including her children, could see them. That kind of attitude stayed with me. I want to portray people as they are. You can use contradictory energies to reach people. I know how they are. It gets under their skin." Arvo Part's My Heart Is in the Highlands, both haunting and beautiful, serves as a perfect soundtrack coda.
The couple is currently in postproduction on their first feature, Francine, starring Melissa Leo. Strangely, its subject is almost the opposite of The Patron Saints. "It's about a woman incarcerated most of her life who struggles to connect with people after she gets out," says Shatzky. "She connects with animals." Adds Cassidy, "There is a lot of anxiety, a fragile foreboding." Stay tuned.