Back to selection
The Blue Velvet Project, #17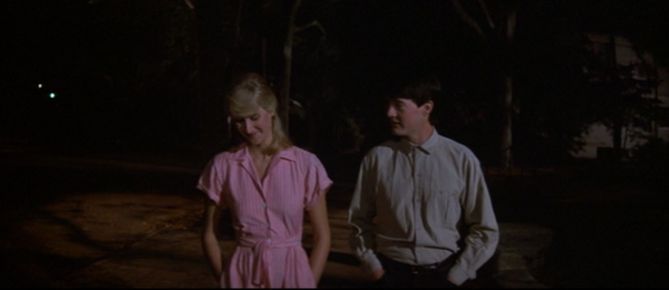 Second #799, 13:19
"Jeffrey can connect different worlds," David Lynch has said. "He can look into Sandy's world, he can look into Dorothy's world, he can get into Frank's world." The secret subtext to this scene is Life Begins for Andy Hardy (1941), starring Mickey Rooney and Judy Garland, number 11 in the movie series, where Andy learns that adult life is dark and impure and trip-wired with temptation and so struggles mightily to gear-shift his life into reverse. Andy, in New York, away from his future wife Betsy Booth (Judy Garland), is tempted by the "wolfess" Jennifer Hicks (Patricia Dane) who gives him a dose of truth:
Don't tell me. I've known dozens of them. You've gotta learn darling. A lot of people put on a big show about right thinking and right living and right this and right that. And you're young—you believe them. Then when you grow up you find that they preach one thing and do another.
The surprise of Life Begins for Andy Hardy isn't that Andy chooses against the cynical truth that Jennifer offers, in her black hair seductress soft-focus falling-off-a-cliff-into-ecstasy beauty, but that the movie gives her radical ideology (the secret ideology of human nature which is the work of capitalism to convert into virtue) persuasive and powerful voice. Which is to say: Jennifer is right.
In this Blue Velvet frame, their hands hidden in the universal sign of hands-off courtship, a gaze unmet by a gaze, Sandy and Jeffrey stroll the nighttime neighborhood, as if catching up on a past they never shared. The black-ink night for owls. The long-slow path of seduction. Sandy keeps her secret in her turned-away smile. They are moving toward "Lincoln," where Dorothy lives. Where evil visits.
If this moment had a soundtrack it might have been this, also from 1986, Dinosaur Jr., churning through "Tarpit" from the 1:32 mark to around 3:10. Well, all hell breaks loose, the very same hell beneath the feet of Sandy and Jeffrey.
Over the period of one full year — three days per week — The Blue Velvet Project will seize a frame every 47 seconds of David Lynch's classic to explore. These posts will run until second 7,200 in August 2012. For a complete archive of the project, click here. And here is the introduction to the project.