Back to selection
IFW: MEETING JUNKIE
Hi. My name is Gillian Robespierre. I'm a writer/director attending the 2011 IFP Emerging Narrative project forum with my script Obvious Child. It's a romantic comedy with an abortion. Yes, it's a comedy.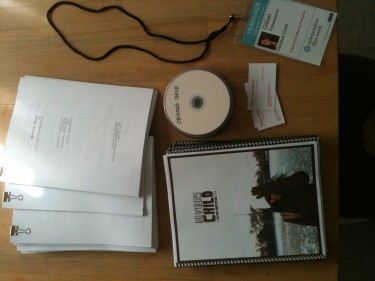 I just got home from three crazy days of m-f'ing meetings. I'm hopped up on caffeine and adrenaline. I won a grant, thank you Rooftop! And a picture of me meeting with Sundance Institute's Rachel Chanoff made it into the Filmmaker Magazine Blog! It looks like Rachel is telling my fortune. I hope she sees a puffy Northface jacket in my future to wear at Sundance. I averaged five meetings a day and thought I would be a total mess, but I discovered I love meetings! I had no idea I was a closet meeting junkie. I love the rush of shaking a stranger's hand, hopefully washed. I love gesticulating when I get excited and I love nodding my head with a crooked smile when they talk. I'm a nerd and I practiced a one-minute pitch the night before. It actually came in handy, but I didn't overuse it.
The entire experience was amazing, but there were two highlights. First, I got to hear 15 pages from my script read out loud by SAG actors to an audience that didn't consist of my friends and family. It was great to hear what worked and what bombed. There were four other scripts chosen for the Narrative Reading Series, and I have to say it was a real pleasure to hear them and not have to fake liking them — because they were all amazing! Also, the actors did a wonderful job.
Second, IFP escorts! A brief overview of how the whole thing works: 20 or so numbered tables are set up in a medium to small room. At each table an IFP participant meets with a film Company for 30 minutes. And when your time is up, you're notified by one of the IFP volunteer escorts, who then rotate out the tables for the next meeting. They were all extremely nice and equipped with a massive spreadsheet of all of the participants' schedules. I had back-to-back meetings planned, but needed to take a quick bathroom break. An escort, Victoria, told the company I was meeting with next that I was running a little late and then cut the bathroom line for me. She literally asked the woman waiting in line if I could go first. Luckily, the woman was extremely kind and obliged. It was the nicest thing anyone has ever done for me. I felt so VIPee.
Now that I'm home, I'm going to eat everything in my refrigerator, take a quick nap, start my follow-up emails and dump out the contents of my bag.