Back to selection
MORE IS MORE: THE NEW YORK FILM FESTIVAL (PART ONE)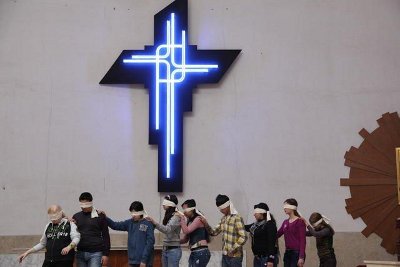 The New York Film Festival is "the most famous and prestigious in the country," according to the website of the Film Society of Lincoln Center. It may well be–though I think San Francisco and Telluride might balk at the statement. And the term the country only technically leaves out Toronto. Superlatives aside, this 49th edition, quite a good one overall, is nothing if not admirably ambitious.
No longer can the NYFF be accused of replicating Cannes, or of including a disproportionate number of gallic films. What is called the Main Slate, the core of the festival, is, however, top-heavy with Euro and North American fare. There are only two films from Latin America, and, though the Near East is very well represented (Iran, Turkey), that's as Asian as it gets. I don't know what all the selection committee had to pick from, but nothing from Japan, Korea, China, Hong Kong, or Thailand? On the plus side, an effort has been made, with mixed results, to include in the Main Slate films that have not been around much, by directors who have not been canonized on the circuit.
Besides the Main Slate (22 features) and Galas (five), we have Special Events, Special Anniversary Screenings, and, a wise addition, Special Presentations: Documentaries. Simultaneously, a fabulous 36-film series celebrates the upcoming 100th anniversary of Japan's Nikkatsu Films. The expansion of the NYFF, which means room for some good and/or relevant films that might not otherwise make the list with the big guys and gals but deserve an audience nonetheless, is a positive response to charges of elitism over the years, though being part of Lincoln Center has fed into that. (It also begs the question: Can the Film Society top all this for next year's 50th NYFF?)
The Special sidebars are promising. Two of the best films I've seen so far are the three-part German TV project Dreileben, in Special Events; and, in Special Presentations: Documentaries, Tahrir (pictured above), a welcome human look from an Italian documentarian at the in-progress Egyptian revolution. Neither is made in 35mm or for the big screen, so their projection is a true sign of the democratization of formats.
Naturalism, or its offshoots, is the common denominator among a majority of the titles in all of the strands. Let's begin with a look at four films that opt for the opposite direction, eschewing realism in favor of stylization. Note: Several of the following descriptions are extremely close to the ones I used on this blog when they premiered in Cannes or in my coverage of Toronto for the upcoming print issue of Filmmaker.
Next week I'll survey most of the remaining titles.
Roman Polanski's enjoyable Carnage could be a made-to-order opening night film. Its four major stars will show off their flawless auras on the red carpet to satisfy press, general public, donors, and sponsors, yet the spectacle will not be marred by the presence of a director (I don't think the term aura is applicable) who, for obvious reasons, might dim the wattage. This is a stylized adaptation of Yasmina Reza's Paris-set play, God of Carnage, now relocated to Brooklyn–stylized in its honoring its stage origins. Polanski lets you know right off that you will have to suspend your disbelief as if you were attending the theater. In the opening, extreme long shot, we see one boy strike another in the head with a stick against a patently fake backdrop of the Manhattan skyline. We never see the boys again, and the director has quickly dispensed with any sense of location credibility. This allows us to focus almost entirely on the four adults affected by the violent action, which has cost one kid two incisors.
The victim is the son of Penelope Longstreet (Jodie Foster) and her husband Michael (John C. Reilly). The perp is the maladjusted child of Nancy Cowen (Kate Winslet) and her spouse Alan (Christoph Waltz). From the two couples' civilized effort to write in tandem a conciliatory statement in the Longstreet's unpretentious apartment, the repartee, movements, and gestures of the four inch more and more toward overt hostility: It's Who's Afraid of Virginia Woolf with less alcohol but with effective doses of humor. Yet none of this is linear: All four characters constantly shift their alignments and alternate between passive and aggressive behavior. The characters negotiate the thin line between stereotype and full-bodiedness. Class tensions cloud their interaction (the Cowens are high-powered and wealthy, the Longstreets lower-middle class), but what really gives the enterprise momentum is the unraveling of each marriage before a pair of total strangers.
All four performers are outstanding: Foster as a pinched-mouth, earnest neurotic, Reilly as a relatively complacent working Joe, and Winslet as a controlled investment banker (her projectile-vomiting scene is bound to become a classic of hilarity). But it is Waltz, an Austrian talking without a trace of a German accent, as a pompous workaholic attorney for such despicable business interests as negligent pharmaceutical companies, who steals the show. Let me clarify: This is exemplary ensemble work, but Waltz's graceful vocal modulations and mutable facial expressions reveal a knack for comic timing, and an intelligent charm that matches that of George Clooney, perhaps Cary Grant.
Lars von Trier's Melancholia is a masterpiece of more overt stylization. Artifice infects, as usual, even the plot. Kirsten Dunst's Justine is a depressive, as was von Trier at the time he made it, but the film is less about her psychological condition and the impending end of the world (will the earth collide with the planet Melancholia?) than about her up-and-down relationship with control-freak sister Claire (Charlotte Gainsbourg).
Von Trier divides the film into two sections, each titled with one of the sibling's names. In the first, we observe Justine's rapid decline in one evening from radiant bride at a beautiful wedding dinner at Claire's estate to a maniacal nightmare, with Claire futilely attempting to restore order. In part two, a sad, nearly catatonic Justine returns for nurture to Claire's home. Yet when Melancholia enters our atmosphere for what the siblings realize is the imminent end to life on earth, the unbalanced, seer-like Justine, not Claire, is the one able to manage their response.
In the exceptional Israeli film Footnote, director Joseph Cedar shifts techniques, appropriately, at different plot points, calling attention to form. This is a mature tale about the competition between an ignored, introverted Talmudic scholar (Shlomo Bar Aba, perfectly cast as a Philip Roth-like schlemiel) and his more well regarded, extroverted son (Lior Ashkenazi), an expert in the same field. There is little evidence of oedipal competition until the father is inadvertently told he has won the coveted Israel Prize, which in fact was meant for the son. The two begin to tear at each other ferociously. Their battle is simultaneously dark and funny, and very, very Jewish.
Pedro Almodovar's The Skin I Live In is a disappointing campfest. Simplistic in its narrative and execution, it features Antonio Banderas (like Penelope Cruz, terrific in a Spanish-language picture) as an underground plastic surgeon who takes his revenge on the young man who raped his daughter and caused her death: He imprisons the violator and, over time, transforms him into a woman. By film's end, she has become his lover. Sad to say, but the narrative marks a regression in the gifted filmmaker's body of work.
A model hybrid of seemingly effortless form and true-to-life action is the astonishing Miss Bala, by Mexican director Gerardo Naranjo, by far one of the best films in this year's NYFF. I considered his earlier works (Drama/Mex and I'm Gonna Explode), both of which focused on teens, too heavy-fisted, even overly laden with testosterone. Could it be that with Miss Bala, which is about grown-ups (even if most are gangsters), as well as putting a young woman (and her POV) front and center, he has, in the best way, softened his creative hand? The play of light and darkness pushed beyond conventional boundaries, constant pans and reframing that respect characters and their dilemmas without the insistence of a directorial presence, reflect Naranjo's new maturity and more subtle aesthetic. Hungarian cinematographer Matyas Elderly, who worked in his home country with the smooth, unhurried Kornel Mundruczo (Delta and Tender Son), has facilitated this growth.
Laura (Stephanie Sigman) is a poor but beautiful 23-year-old woman in Tijuana who serves as mother of the house for her younger brother and father. She hopes that winning the Miss Baja California pageant will help her earn money, her noble goal paying to educate her kid brother. In a seedy nightclub with her best friend, she is the only witness to a massacre of clients by members of the notorious drug cartel, the Star Gang. Its nondescript leader takes a shine to her, but also realizes she can be of practical as well as sexual use: Her innocent countenance makes her perfect for drug and money transfers between Mexico and the U.S. Sigman is for me a bit of a problem: She has a strong face, but I am not sure if Naranjo's intent is to emphasize her commodification, or if she just has modest range (she is mostly a model). 
The references to the beauty contest interspersed with the vulgarity and lack of couth among the drug dealers is a brilliant idea. Even though she wins (from cartel bribes), she becomes more and more degraded, a microcosm of the disintegrating northern Mexican social order. Shootouts occur without high-gloss Hollywood backgrounds or effects, but instead crassly, on the street, often in shabby neighborhoods—in other words, as in life, without apology. Alliances between cops and criminals, as well as between gang members, constantly shift; treachery and betrayal are run-of-the-mill. The ambiguity of Laura as half-willing mule and committed survivor finally becomes more sharply defined, not by her, but by those in power, who ultimately determine her fate—but then, that ends up being ambiguous as well.  
More in the naturalistic mode is Dreileben, born of a discussion about film aesthetics five years ago by three German directors considered part of the Berlin School. Each of the resulting made-for-television movies is a separate entity, although there are connections and recurring characters, as in the Red Riding Trilogy. The filmmakers agreed upon a common topic: the escape of an accused murderer from police custody. All of the films take place near an isolated hospital in a beautiful, rather chilling forested area near the town of Dreileben in Thuringia, in the former East Germany. The German Romantic tradition, pathetic fallacy and all that, is well at work in the depiction of nature as a force, almost a character.
By far the best is the third, One Minute of Darkness, by Christoph Hochhausler. All of the pieces fall neatly into place in this complex jigsaw puzzle. The film focuses on the detective in charge of the case, the only person who thinks the escapee may be innocent. To prove it as well as to find him, he tries to get inside the head of the man, even breaking into the home of the suspect's late foster mother. This anticipates the hunted man's venturing there as well, and Hochhausler, in a brilliant Dreiserian sequence, has him pay not for the charged crime but for another one unknown to anyone else. Earlier, in a homage to Frankenstein, the hiding man had discovered a young girl, a runaway, and they played together the way children do. There is a density here you won't find in many TV dramas.
The first in the trilogy, Christian Petzold's Born Being Dead, is beautiful to look at, but its narrative thread runs out of steam. With the hunt for the escapee always in the background, a young male nurse at the hospital, clearly from the West, begins an affair with a local, underage immigrant from Eastern Europe. He seems to be a straight arrow, and the flighty girl the one with an agenda. Throughout most of the film, they run back and forth to each other through the forest following breakups and lovemaking. It becomes tedious. Ultimately, we see that neither is as we had assumed them to be. He is certainly no sweetheart.
In Dominik Graf's overly busy Don't Follow Me Around, the second film, a gorgeous police psychologist arrives from the West to work on the case and to interview a woman deemed mentally unstable. In fact, she is the only uncorrupt cop on the local police force. The psychologist stays in a large old house with a neurotic university friend and her cocky author husband. Graf, who way too transparently signals danger at all the wrong places, stretches things too much when he attempts to weave into the crime story a personal one about a lover that the two women shared and his impact on their present lives. He does effectively take repeated jabs at the bureaucracy that is a remnant of the Communist East and the provincialism of small-town Germany.
Tahrir, a fascinating documentary, was made almost singlehandedly by Stefano Savona. It gives us a look at the inside of the revolt in Cairo from an individual's point of view—a world apart from the footage we've seen on CNN or the BBC. Savona winds confidently with his camera through the throngs, especially considering the huge number of people in the square who  risk death or injury in a group effort to force the abdication of Mubarak.
Savona stops and records conversations or holds the camera in place for monologues, all addressing the political crisis. He films the anguish of the injured as well as the support they receive from sympathetic participants. We see that he is sometimes dangerously close to the soldiers who fire on the rock-throwing protesters. As a point of entry for the viewer, he follows one young man in particular, a photogenic intellectual and poet. This wise decision adds coherence to a presentation of a complicated issue being discussed and fought for by hundreds of thousands of persons of all ages and from all walks of life.
Few have applied a documentary-like aesthetic as adroitly as the Belgian brothers Jean-Pierre and Luc Dardenne. The Kid With a Bike is one of their most accomplished films. Eleven-year-old Cyril (newcomer Thomas Doret), confused and high-strung, is stuck in a children's home. He is delusional about his father: He searches for the man, whom he refuses to believe wants nothing to do with him. In the process, he finds his old bike, literally his vehicle for freedom. He hooks up with a hairdresser, Samantha (the great Belgian actress Cecile de France), with whom he is passive-aggressive. Desperate for a father figure, he lets an older robber and drug dealer mentor him in the art of violent theft. As in the films of Bresson, redemption is always around the corner.
One could mistake Italian director Alice Rohrwacher's sublime Corpo Celeste, a coming-of-age tale, for a poignant, moody documentary. It's a descendant of Italian Neo-realism: real, unglamorous locations (the ugly working-class suburbs of Reggio Calabria in the South of Italy); actors who are cast by type and face, although one might think they are nonprofessionals; and a handheld camera that follows one character, a 13-year-old pale blonde girl named Marta who stands out from her darker contemporaries, as she observes the urban waste and alienating institutions that are products of Italy's too-rapid growth.
Marta is our witness to the overreach of the influential Catholic Church (the priest tells parishioners how to vote, the Sunday school teacher is inflexible) and the mystification of theology in education. Many of those involved with the Church are hypocrites, but not in the predictable ways. Rohrwacher creates poetic images, most memorably a statue of Christ floating in the sea, but she also lends grace to waste dumps and other detritus. This is one of the real discoveries of the festival.
French director Mia Hansen-Love's powerful The Father of My Children had high highs and low lows (the sudden suicide of a high-energy family man). In Goodbye First Love, another coming-of-age film, she opts for a more casual, quietly observational effect, Stephan Fontaine's camera keeping on top of young Camille (Lola Creton) all through the film. It takes place in three different years: 1999, when she is 15, 2003, and 2007. Her obsession with boyfriend Sullivan (Sebastian Urzendowsky), 19 in the first section, sends her into a deep depression when he departs for South America. The cloud is finally lifted four years later by her much older Norwegian architecture professor and boss, Lorenz (Magne-Havard Brekke), with whom she moves in. Out of nowhere, Sullivan reappears and, in a reversal of all that precedes it, falls for her all over again.
The real stars here are the striking scenes of nature and Parisian cityscapes, shot, as is the whole film, fluidly and without pretense. Those images compensate for the lack of substance, of soul, in the two younger characters. Sullivan in part one has energy (it has dissipated by part three), but Camille is inert. (The strong-willed Lorenz, on the other hand, is curious and creative.) It's hard to tell when she's down or not, unless someone has put glycerine drops in her eyes. She walks through the film like a skinny model, never altering her expression. The film is French to the core, as smitten with the idea of love as Camille and Sullivan are with each other, though we never really understand why.
A delight, the quiet but soulful Le Havre is the second French production directed in his typically understated natural style by Finnish filmmaker Aki Kaurismaki. The seedy port city of the title is an ideal setting for his poor, deadpan, and often eccentric characters. Nodding to the current economic crisis, his protagonist, Marcel Marx (Andre Wilms), has the manner of a cultured gentleman, even though he shines shoes for a living. His sick wife, Arletty, is played by Kaurismaki staple Kati Outinen. Another nod, this one to Europe's immigration crisis: Marcel meets a young African boy, Idrissa (Blondin Miguel), who was smuggled into Franceand is now running from the immigration authorities. Marcel uses up favors and organizes a fund-raising rock concert (performed by the inimitable Little Bob) in order to pay for Idrissa to be illegally transported once again, this time to his mother in England.
Three of the festival's relatively unfamiliar selections opt for a naturalistic style, but they are uninspired choices. Reading the reviews, I seem to be the only critic who has any patience for German director Ulrich Kohler's Sleeping Sickness. A German doctor runs a program to combat sleeping sickness in a remote region of Africa. When the World Health Organization sends a representative to evaluate the program, it becomes clear that a there is no longer any need for it, that local government higher-ups are profiting from the funds, and that workers are getting paid to do almost nothing. When the film begins, the doctor's wife and daughter are present, but once they return to Germany, we discover that he has a parallel domestic life right there. I was intrigued by this observation of a man amoral on a personal level yet committed to good works. Minor, however, it is.
In Argentine director Santiago Mitre's The Student, Esteban Lemothe plays Roque, a newcomer to the University of Buenos Aires who gets involved in progressive campus politics almost by accident. Like many politicians, he learns not only to compromise but also to bend the rules. Ultimately, his idealism triumphs, so that the future may hold promise for constructive change. The problems with the film are that the complex politics of their educational system are difficult for outsiders to comprehend, and that it is at least a half-hour too long. It is also verbose and does not have any special cinematic qualities.
Israeli director Nadav Lapid's Policeman is irritating on several levels. The protagonist is a macho, cocky, and lying counter-terrorism operative. He is expert at playing sincere, but he's not above betraying his pregnant wife and terminally ill best friend. Watching him and his small gang of fellow cops bond over sports and at picnics is of no interest whatsoever, even if it is part of an bravely unflattering portrait of Israeli security forces. Most annoying, though, is the film's sudden shift to a story about a group of young bourgeois progressives who plot a violent act. These kids have crushes and parental and friendship issues, but again, none of this engages. The two strands come together when the policemen confront the Baader-Meinhof-inspired youths, with tragic results.
Hungarian director Bela Tarr's The Turin Horse is an excellent dystopic film, and arguably the bleakest work in a gray oeuvre. The dull daily routine of an elderly man and his daughter living in an isolated shack on the windy steppes is only occasionally interrupted by chance passersby. The fact that the film is inspired by the hypothetical fate of the beaten horse that caused Nietzsche to collapse and become an invalid is darkly comic, but everything else in this movie about the meaninglessness of life signifies despair. As usual Tarr deploys extremely long takes for heightened realism.
Tarr is a seminal filmmaker with many imitators. His technique is tightly intertwined with the subject matter. Among those who must think that successive long takes, a throwback to the pre-Griffith style of editing, are still a sign of rebellion is Ruben Ostlund, the Swedish director of Play. No, sir, very long takes have become a trope. So has redundancy, here in the form of the repeated harassment of inexperienced young white (and Asian) Swedes by more streetwise Afro-Swedish teens. How many times do we need to see and hear the replay of a cell-phone hoax? We have all the cliches of the style: nice framing, almost everything in long shot.
Ostlund must also think he is enhancing realism by showing one of the victimized teens defecating outdoors. Shot from, sorry, the rear, and (I think) unsimulated. Unless the barely pubescent kid needs storage space in which to hide his mobile, there seems to be no dramatic motivation for this sequence. Of that, however, I can't be sure: At that point I stopped watching. The question is: Why show this shocker wannabe—crap seems to be the appropriate word—in the coveted Main Slate, alongside works by some genuinely gifted directors? Only your selector knows for sure.