Back to selection
Take Shelter — A Hammer to Nail Review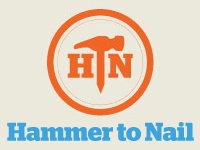 (Before world-premiering in the dramatic competition at the 2011 Sundance Film Festival, Take Shelter was picked up by Sony Classics. It went on to win the Grand Prize at Critics Week, as well as the FIPRESCI Prize, in Cannes. It opens theatrically in New York City and Los Angeles on Friday, September 30, 2011. Visit the official website to learn more.)
[DISCLAIMER: I am very good friends with several of the key collaborators involved with the Take Shelter production. Ordinarily, I would absolve myself from writing a review based on far more tenuous connections, but in this particular case, I can't help myself. I'm fully confident that I would feel the exact same way if I didn't know anyone associated with the making of this great movie—see: above awards; read: other glowing reactions.]
When it comes to the movies in 2011, the end of the world seems to be on everybody's mind. At the 49th New York Film Festival alone, at least three of the main slate selections are about the planet's last days: Lars von Trier's Melancholia, Bela Tarr's The Turin Horse, and Abel Ferrara's 4:44 Last Day On Earth. It's a shame, then, that the very best one of them all, Jeff Nichols' Take Shelter, wasn't included in the NYFF program. Perhaps its September 30th release date precluded it from making the cut? Let's just assume that's the reason and move on.
Take Shelter is a modern American masterpiece. Nichols' fusion of everyday, real world concerns with a classical approach to storytelling and cinema does more than just distinguish him from the rest of his peers. While he displayed a confidence and control in his pitch-perfect debut feature Shotgun Stories, Take Shelter finds Nichols working on an altogether more accomplished level. In light of Hurricane Irene—to name just one recent natural calamity—and the continually shrinking economy, this film couldn't be timelier. (On a sort of side note, distributor Sony Classics has proven to have trouble reaching mainstream audiences with the [non-Woody Allen] American narratives it has picked up in the past decade. One hopes that Take Shelter will break this spell.)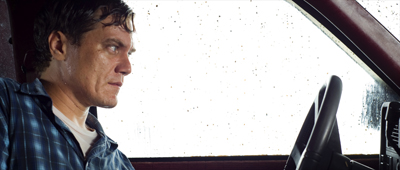 Curtis LaForche (Michael Shannon) is worried about the world. But he's also worried about himself. Lately, he's been having increasingly terrifying nightmares in which an apocalyptic storm is heading way. Each night brings a new vision of evil that first threatens the safety and well being of his wife and daughter, before these loved ones in turn begin to threaten him. There's nothing he can do to stop it. When Curtis wakes up one morning having soiled his sheets, he swallows his pride and visits the doctor (the only self-conscious bit of filmmaking to be found in the film is hearing Michael Shannon refer to his doctor as "Dr. Shannon"). What adds a perhaps sharper pang of worry to this broader external fear is Curtis's awareness that he is now the same age as his mother was when she experienced the first signs of schizophrenia. Which raises the obvious question: there's a storm on the horizon, but is the world really ending or is Curtis simply losing his mind?
It's difficult to discuss the film's bold answer to that question without spoiling Take Shelter's climactic surprise. I will simply say that a) yes, an answer is provided; and b) that answer casts the film's true purpose in an entirely new light. Without going into detail, the beauty of Take Shelter is that it's ultimately a love story about faith and trust between partners. At the same time, it remains as much of an end-of-the-world thriller as it does an insightful drama about the actual real-life struggles of middle/lower-class Americans in their quest to survive on a day-to-day basis (the subplot of Curtis trying to find proper psychiatric care is an especially astute critique of the system). It's the type of moviemaking that Hollywood should shut up and study.
As a screenwriter, Nichols harks back to an earlier, more classic era of cinema, in which every action and line of dialogue is chosen with the care of a father removing a splinter from his child's finger. He exhibits refreshing patience by introducing us to these characters, establishing their daily rhythms, and setting up the film's many dramatic conflicts: Curtis lives in small-town Ohio with his wife Samantha (Jessica Chastain) and young daughter Hannah (Tova Stewart), whose hearing loss makes his construction site job a life-or-death one, as his health insurance might enable her to receive an operation that could change her life. Inspired by his dreams and unsure what he's doing himself, Curtis becomes obsessed with the storm shelter in his backyard, restoring it to his wife's dismay and anger. As for those nightmares, Nichols teases them out, building in ferocity and intensity and horror to the extent that the Take Shelter threatens to become an outright thriller. To call it a slow burn doesn't seem entirely accurate. A cautious, penetrating tension is more like it.
As if the devastating emotional impact weren't enough, the actual production means with which this Hollywood-ready production was made truly boggles the mind. Adam Stone's typically excellent wide-screen 35mm cinematography, David Wingo's foreboding orchestral soundtrack, the CGI work by visual effects giants Colin and Greg Strause, the assured performances from outright movie stars Shannon and Chastain (as well as highest-bar supporting actors like Shea Whigham, Kathy Baker, and Robert Longstreet), all make Take Shelter more than just Spirit Awards ready. They make it Oscar worthy.
Though they are very different creatures, Take Shelter is the closest I've come in a movie theater to feeling the way Cormac McCarthy's The Road made me feel (in that regard, it stands right alongside Chris Smith's Collapse—what a crippling double-feature that would be). The credible state of terror Nichols and his team have achieved certainly impacted me more than John Hillcoat's big-screen adaptation of The Road (which I actually liked, mind you), not to mention the Von Trier, Tarr, and Ferrara combined. Its firm rooting in real world issues, mixed with the intense fragility of Shannon's expression and Wingo's creeping score, performed the sneaky trick of transferring this two-dimensional world into my own three-dimensional nightmares. As if I didn't have enough reasons to worry about the future already, Take Shelter made me afraid to walk back outside.
Having said that, for all the doom and gloom contained within this film's 120 minutes, Nichols ends his film on a subversively hopeful note (saying that doesn't give anything away—it's not what you're likely thinking). The reality is that Take Shelter is a story about hope, about faith, about trust. It's a love story—a masterfully realized, terrifying, emotionally gripping one. With three months to go, it's got my vote for the best American film of the year.
Filmmaker has partnered with our friends at Hammer to Nail for a weekly "Pick of the Week" post that will be exclusive to our newsletter and blog for a long weekend, at which point it will go live over at Hammer to Nail as well. In the meantime, be sure to visit www.hammertonail.com for more reviews and lots of other great editorial.