Back to selection
MOMA'S ANNUAL FESTIVAL OF FILM PRESERVATION LINEUP ANNOUNCED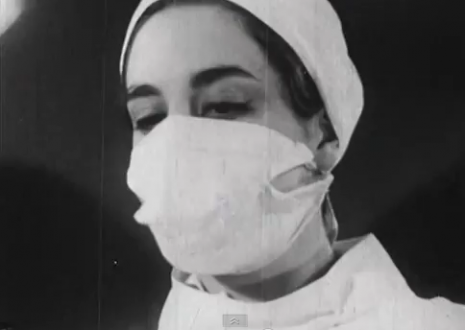 Looking for something to do in Manhattan over the next month?  MoMA has announced the slate for its 9th annual International Festival of Film Preservation, in which the museum presents preserved and restored films from archives, studios and distributors around the world.  This year's festival runs from October 14 through November 19, and the lineup looks like a pretty stellar way to spend an evening (or twenty).
One of the highlights is the focus on '70s genre-enthusiast and frequent Spielberg collaborator Joe Dante (Gremlins, Piranha).  The festival opens this Friday with a digital preservation of the original celluloid print of Dante's rarely screened 1968 debut, The Movie Orgy, a 4-hour barrage of B-movie trailers, '60s commercials and bizarre found footage. A trashy spectacle that more than lives up to its ever-growing cult status.
Then, on Saturday, Dante's Twilight Zone: The Movie segment, "It's a Good Life" (the one with the kid who controls the entire town) screens before a special showing of Roger Corman's 1962 Southern drama, The Intruder.  Dante will be on hand both nights for a special introduction.
If you're not a Dante-enthusiast, don't worry, there are screenings to please all types of film buffs.  Other October highlights include:
Calcutta (1969)
Louise Malle's impressionist exploration into the rampant poverty of the Indian city.  Screening on Friday, October 21 and Thursday, October 27.
Afraid to Talk (1933)
A new print of Edward L. Cahn's seminal noir.  The film stars George Sklar, Albert Maltz, and Edward Arnold, and tracks a complicated plot of murder, blackmail, and economic collapse.  Screening Sunday, October 23 and Thursday, November 10.
Niemandsland (1931)
German filmmaker Victor Trivas'  of World War 1, banned and ordered destroyed by Goebbels due to its even-handed portrayal of the war, and its strong pacifistic overtones.  Screening on Friday, October 21 and Monday, October 24.
Then in November, Martin Scorsese and Thelma Schoonmaker will introduce a newly restored print of Michael Powell and Emeric Pressburger's The Life and Death of Colonel Blimp (1942); the hand-painted color version of Georges Méliès' Le Voyage dans la lune (A Trip to the Moon) (1902), unseen for 109 years until its glorious new restoration, is presented together with the world premiere of Serge Bromberg and Eric Lange's documentary The Extraordinary Voyage (2011); there's also a special evening dedicated to Saul Bass featuring some of the designer's iconic title sequences and commercials, as well as the New York premiere of his newly preserved Academy Award-winning short Why Man Creates (1968).
And running concurrently with the festival is a retrospective of the films of early experimental auteur Jack Smith (Flaming Creatures, Normal Love, No President).
For the full MoMA International Festival of Film Preservation lineup, go here.
What other out of print films would you like to see screened at a festival like this?