Back to selection
THE EDISON CHEN SCANDAL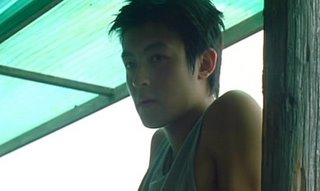 I try to keep up with celebrity scandal just as much as the next guy, so I was taken aback at the Spirit Award after party when a producer friend said, shocked, "You haven't heard about Edison Chen?" No, actually, I hadn't, but a few moments later, after he gave me an excited outline of the salient points, I had.
In short, while Western audiences have been crashing the New York magazine website to see the Lindsay Lohan as Marilyn shots, audiences in Hong Kong and throughout Asia have been riveted by an internet scandal featuring hardcore sex photos of a leading actor and a succession of comely — and equally famous — actresses.
In an article entitled "China riveted by stolen sex photos of Hong Kong stars," The Guardian fills in the details.
From the article by Jonathan Watts:
An unlikely coalition of pop idols, communist censors, Hong Kong police and a Catholic bishop are fighting to stifle the biggest celebrity sex scandal in the history of the Chinese internet.

They are struggling to halt the spread of thousands of lurid digital photographs apparently showing one of Hong Kong's most famous actors, Edison Chen, in bed with eight of the territory's top actresses and singers.

The images – illegally copied from the star's customised pink MacBook – have prompted a media frenzy here that has eclipsed the fixation about Britney Spears in the English-language web.

As well as crashing servers in celebrity-obsessed Hong Kong, the gossip has spread to the mainland, where one online discussion generated more than 25m page views and 140,000 comments.
Although the bulk of its article deals with the technological implications of the scandal, PC World offers an easier-to-understand synopsis of the affair for Western readers.
From PC World:
In late January, photos depicting Chen in the company of several famous Hong Kong actresses and singers began to surface on the Internet. Let me put this in context: Imagine photos of, say, Matthew McConaughey popping up on the Internet, showing him in various states of undress and sexual acts with, say, Alicia Keys, Kelly Clarkson and Kirsten Dunst.
The distribution path of the photos was apparently from Chen's hard drive (they were apparently copied when his computer was being serviced) to an anonymous uploader who has been teasing them out to various news outlets and message boards. In the process, careers are being ruined, marriages destroyed, and, some claim, violence is brewing (One blog post is titled "Edison Chen Will Die"). And, a police investigation is cracking down on those who are spreading and downloading the pictures.
More from The Guardian:
Hong Kong police have arrested eight suspects and warned that people may be prosecuted for sharing the images. This prompted a demonstration by several hundred activists, who believe the crackdown has gone too far. The daily leak of new images has continued on servers in the US and Australia, circulated through Flickr, by email and passed on by hand in the form of shared memory devices.

The gossip has spread rapidly to the mainland, even though censors remove the images almost as soon as they are put up. On the Tianya bulletin board, a single discussion string about the veracity of the pictures has attracted 25.8m page views. Visitors share tips on where to download the latest images and criticism about the behaviour of the stars.
In its piece, PC World has more about the damage:
The effect of the photos' release immediate, huge and devastating, and attempts to contain it were futile. Gillian Chung of the squeaky-clean singing duo Twins, a former girlfriend of Chen's, took the initial brunt of the media attention, as she was depicted in the early photo sets. She and Chen were also under contract to the same Hong Kong conglomerate, Emperor Entertainment Group. Twins' endorsement deals, including for a Spring Festival TV campaign for Hong Kong Disneyland, immediately came under review. It was particularly hard on Chung, who had been the focus of a nude photo scandal two years ago, when a long-lensed peeping Tom photographed her semi-nude as she changed costume at a concert in Malaysia.

Chen escaped the heat by flying to the U.S. and his native Canada, returning to Hong Kong late last week. At a news conference, he announced that he would step back from the Hong Kong entertainment industry indefinitely, although he said he would honor all of his existing commitments that list has certainly dwindled — at least five companies that use Chen in their ads have said they would not renew his contracts.
For those interested in more detailed coverage, this website has a chronology and some redacted photos from what the Chinese web world calls "Sexy Photos Gate," and Wikipedia has an extensive page. Meanwhile, the Global Voices site has been covering the free speech implications of the Hong Kong police crackdown.
The tech issues are also explored by a blogger called Imagethief:
Edison Chen had a customized pink Macbook that broke. He took it in for repairs. I don't know if you've ever had a computer repaired before, but certainly on the mainland many such repairs are handled by spotty young men who have never had sex and have no immediate prospects of having sex. A customized pink laptop might as well be stenciled, "raid me for porn". If you didn't know otherwise you'd probably think it belonged to a chick (or an incredibly flamboyant gay man, but odds favor a chick). And that's pure temptation, because the kind of girl who would have a customized pink Macbook would probably also have vanity lingerie shots somewhere on the hard drive. You might as well hand a mirror with six lines of primo Andean nostril icing and a rolled up twenty to a Hollywood agent and say, "Dude, I'm going out to have my ass waxed. For the love of god, whatever you do, don't snort this excellent coke!"

For people who must indulge in personal porn, Imagethief offers two words: encrypted + files. It just ain't that hard, even for troglodytes.
The actor (pictured above in Infernal Affairs 2) has his own blog, and he recently posted a public apology and a plea to "stop the downloading" which I am embedding below: