Back to selection
JOSS WHEDON MAKES A SECRET SHAKESPEARE ADAPTATION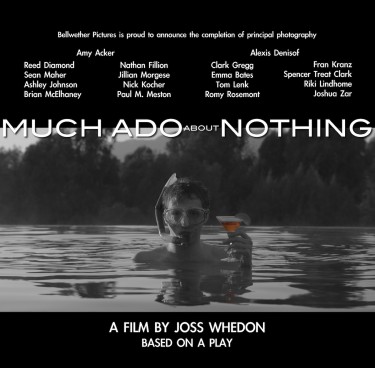 News broke earlier today over Twitter that Joss Whedon has finished principal photography on what may be a screen adaptation of Shakespeare's Much Ado About Nothing. The official website, appears to give little information on the project — just a cast list and a poster. According to the site, Whedon regulars Nathan Fillion, Amy Acker, and Alexis Denisof star. Clicking on the poster, however, reveals an official press release:
Bellwether Pictures proudly announces the completion of principal photography on MUCH ADO ABOUT NOTHING, a modern version of Shakespeare's classic comedy adapted and directed by Joss Whedon (Marvel's upcoming THE AVENGERS, "Dr. Horrible's Sing-Along Blog"). Filmed in just 12 days entirely on location in exotic SantaMonica, the film features a stellar cast of beloved (or soon to be beloved) actors – some of them veterans of Shakespearean theater, some completely new to the form. But all dedicated to the idea that this story bears retelling, that this dialogue is as fresh and intoxicating as any being written, and that the joy of working on a passion project surrounded by dear friends, admired colleagues and an atmosphere of unabashed rapture far outweighs their hilariously miniature paychecks.

MUCH ADO ABOUT NOTHING is the first feature from Bellwether, a micro-studio created by Joss Whedon and Kai Cole for the production of small, independent narratives for all media, embracing a DIY ethos and newer technologies for, in this particular case, a somewhat older story.
Whedon is quoted as saying, "The text is to me a deconstruction of the idea of love, which is ironic, since the entire production is a love letter – to the text, to the cast, even to the house it's shot in." (Click on the link above for all the details.)
How Whedon found time to put this project together in between production on his 150 million dollar superhero super-group movie The Avengers is unclear, but the film will be headed to festivals in the Spring. Meanwhile Whedon is clearly looking to capitalize on the viral buzz that his web musical, Dr. Horrible's Sing-Along Blog generated. That project, filmed during the 2007 writers' strike and released for free online, garnered a great deal of press for its unorthodox release strategy.
Whatever Whedon has in mind, it's bound to be interesting. And if it's got catchy songs about Freeze Rays, added bonus: