Back to selection
SXSW #1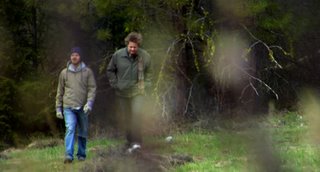 Here at Filmmaker you'll read about the films playing at the South by Southwest Film Festival (SXSW) at Austin, Texas, but to get the festival you need to understand that films aren't the only game in town. There's of course music — SXSW started as a music fest, and, mid-week, when it changes over, the crowded streets will really explode –- but there's also SXSW Interactive, which focuses on new media and gaming. And then there's the conference part of SXSW. In the huge Austin Conventional Center, which is the hub of the festival, panels and small group discussions with titles like "Filching Design: When the Shoe Fits" and "You Are Here: Gaming and User's Geolocation in Web 2.0" take place all day long. Upstairs companies ranging from Film Baby to Google man booths at a giant trade show while downstairs there is a large gaming show, with multi-player Dungeons and Dragons and World of Warcraft tournaments and the occasional mini-skirted booth babe.
All of this is to say that people come to SXSW to do many different things, only one of which is to watch films. I shared a cab with an employee of the Church of the Latter Day Saints who comes to the festival every year. He told me that outreach via the internet was a priority for the Mormons right now and that SXSW was a great place to network and catch up with trends in web design and marketing. Jane Minton, executive director of the IFP Minnesota told me that SXSW was her favorite festival: "There are no velvet ropes here. We all go to the same parties and panels and films, everyone can get as much out of it as the next guy." (More on that spirit of egalitarianism later). And then there are all the people who come to the festival to party, eat barbecue at places like Stubbs and the Salt Lick, see their friends and generally just soak up the scene.
As a journalist, it thus seems important to keep all of the above in mind and to realize that SXSW is not Sundance and shouldn't be covered as such. There are acquisitions people here — I saw folks from Magnolia, THINK, IFC, Netflix/Red Envelope and Focus along with many of the doc-oriented broadcasters –, but, as Minton alluded to, the festival doesn't have that fixation on dealmaking you'll find in Park City. (That said, IFC scored a quick theatrical pick-up by acquiring Night and Day, the Joe Swanberg/Greta Gerwig film that premiered on Sunday night.) Filmmakers seem more casual about things. I asked Lynne Shelton, director of My Effortless Brilliance, what was next for her film, and she rattled off a list of regional festivals she's already booked. And, at his Q&A, Jake Mahaffy, director of Wellness, thanked everyone for coming to see the film and noted, "This is where a film like this can be seen -– at festivals," gently noting that films like his have largely been abandoned by theatrical distributors.
For the record, there seems to be distributor interest for a few films here, mostly docs, and there was a huge crush to get into Mark Weber's directorial debut, Explicit Ills, which starred Rosario Dawson. I didn't get into that screening, the result of a what is a real capacity issue for SXSW Film. (Eric Snyder has more on that at Cinematical.) The downtown Alamo Drafthouse, where many films were screened last year, closed and many of the festival's films now premiere at the new two-screen Alamo Ritz; its theaters only seat 160 and 90 people – not nearly enough to handle the size of the crowds the festival attracts. Add to that the fact that there are no press or industry screenings at SXSW and you have a challenging environment for journalists desiring to knock off six screenings a day.
One interesting mini-trend I noticed this year was what we might call the influence of the paradigmatic indie. A number of films riffed on what are both new and old classic independent narratives and added their own distinctive shadings to them. For example, it's hard to talk about Shelton's film (above, right) without referencing Kelly Reichardt's Old Joy. Like Reichardt's much-lauded indie from last year, Shelton's film is a Pacific Northwest-set tale story of male friendship in which two old chums attempt to recapture something between them that may or may not have been lost forever. But, despite its many similarities, Shelton's film is more than capable of standing on its own. It's talkier, more comic in its intentions, and in Eric Lambert Jones, its unctuous, frizzy-haired, B-list literary novelist played by Harvey Danger singer Sean Nelson, My Effortless Brilliance has a unique and highly watchable protagonist. (In the film's opening, he establishes his character by offhandedly dismissing "the Eggers, the Franzens, the Foster Wallaces.") Working, like several other films at the festival, with a detailed story outline and improvised dialogue created by the actors, Shelton has created a funny examination of a relationship that the film's two characters probably don't even understand themselves.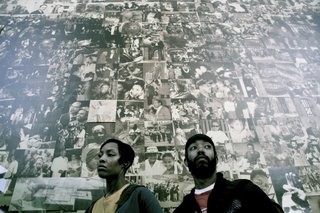 Barry Jenkins's beautifully titled Medicine for Melancholy is set firmly in the "two romantics/one city" genre previously explored by Rick Linklater in his Before Sunrise and Before Sunset as well as Alex Holdridge in his recent In Search of a Midnight Kiss. As in those films, two characters meet (in this case, the morning after a drunken one-night stand) and spent the day exploring both their city and each other. But instead of Linklater's soul-searching bohemians and Holdridge's struggling L.A. film industry artistes, Jenkins gives us two African-American lovers, Micah and Joanne, divided by class and urban geography. She's gorgeous, well-off, and is supported by her white boyfriend in an expensive and sparely designed apartment in a ritzy neighborhood. An aquarium installer, he lives downtown in the Mission in a tiny joint just big enough for his bed and a large fish-tank. Through the day and into the evening they traverse through a stunningly photographed, mostly black-and-white San Francisco all the while musing on – and arguing over – racial identity, gentrification and the changes in housing laws that are altering the character of a city that Micah says is comprised of only 7% black people. (I say "mostly black-and-white" because flashes of dark-hued color occasionally pop out, leading critic Karina Longworth to write that the video cinematography is, like the city, 93% desaturated, an interpretation Jenkins agreed with at the Q and A.) At one point midway through the film, the characters walk by a meeting of a public housing activist group and d.p. James Laxton's camera pops in, taking the film on a nice documentary detour for a moment. Medicine for Melancholy is an appealingly modest film with two strong lead performances (by Wyatt Cenac and, particularly, Tracey Heggins), and a beautiful sense of balance; it never presupposes that the romantic possibilities of its two illicit lovers are more important than the social reality Jenkins quite deftly embeds them in.