Back to selection
ALL EYES ON DOCS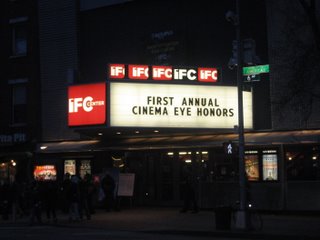 Let me start off by saying I'm not a fan of award shows. And in no way am I speaking for the magazine, I personally don't like them. How you can rate films (or music, or anything in the arts for that matter) is just beyond me. But there's one thing that an award show can do if done right and that's bring a community together. That's what the inaugural Cinema Eye Honors did last night in New York City.
Created by filmmaker AJ Schnack and Stranger Than Fiction founder Thom Powers (and sponsored by IndiePix), this celebration of non-fiction films, which was pulled off in the span of 3 months(!), will hopefully be the start of a much needed ceremony that will continue yearly. (If you're curious how this all began, check out my post on the announcement on the awards.)
Nine awards were handed out at a mostly packed IFC Center with Jason Kohn's Manda Bala (Send A Bullet) taking way the big prize of the evening, Outstanding Achievement in Nonfiction Filmmaking. Nominated for six awards, it won two others, Outstanding Editing and Outstanding Cinematography.
Alex Gibney walked away with the award for Outstanding Achievement in Direction for Taxi To The Dark Side, while the first prize of the night, Outstanding Debut Feature, went to one of our recent "25 New Faces of Independent Film" Jennifer Venditti for Billy The Kid.
The other winners included: Outstanding Achievement in Production (Ghosts of Cite Soleil), Outstanding International Feature (The Monastery-Mr. Vig and the Nun), Outstanding Graphic Design and Animation (Chicago 10) and the Audience Choice Prize went to The King of Kong: A Fistful of Quarters.
With a quick running time of two hours, the mood in the theater was light and in no way competitive. The one thing that may have slowed things down was a Director's Roundtable moderated by Powers in the middle of the awards, which I felt really killed the show's momentum. But that's just one example of how the creators were thinking outside the box. There was also a DJ in the corner spinning great songs in between awards and background music for the presenters. While Schnack and Powers were understandably nervous as hosts, they did an impressive job, with Schnack even doing a Billy Crystal-esque song of the nominees. There were also moving moments as well — a tribute to two filmmakers who recently passed away — Tony Silver, director of the groundbreaking doc, Style Wars and Nonso Christian Ugbode of the National Black Programming Consortium cut together a tribute to mentor St. Clair Bourne.
The evening ended with an after party at a plush bar in the Meatpacking District. Having said while accepting the award that he made Manda Bala "out of anger" towards how difficult it is to make a documentary, Kohn says he's currently working on a narrative script. While further down the bar, Barbara Kopple (who's got a few docs in the pipeline), the presenter of the final award, gushed to me about how much she loved the event. "But you know the one thing it was missing," she added. "There was no Best Character award. I would have loved to see that."
So there you go AJ and Thom. Another award to hand out for next year. I wonder who would have won it this year? My vote would be Billy Mitchell from King of Kong.