Back to selection
Reaction To The Canon C300 And Red Scarlet-X: Part One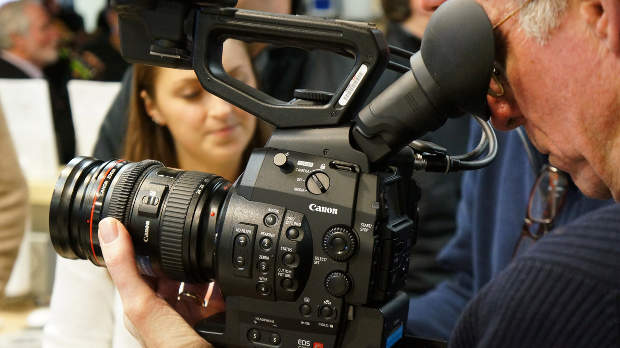 The dust is still settling from the recent announcements from Canon and RED, and many of us are trying to figure out what it all means: is the Canon too expensive? The Scarlet too complicated? Will they have a big impact, or are these cameras outside the reach of most indie filmmakers? Ultimately, we won't know their impact until these cameras start shipping in quantity, but I asked some DP/Editors to share their initial reactions to the cameras.
Max Esposito is a DSLR shooter who is looking to upgrade from the Canon 5D Mark II, but says he doesn't think he really needs 4K.
"Everything I currently produce is advertising/documentary web content, so there's really no need for more than 1080p because it's all getting compressed to be streamed to an average consumer or viewer. But sure, the tech geek inside of me would love to use one of these if the opportunity presented itself–if I knew it was going to be screened and viewed in all it's 4K dynamic range glory."
Max does see the announcement of the C300 as a promising sign of Canon's commitment to the film/video industry, and while he thinks that these cameras are still expensive, they are bringing capabilities to shooters that weren't previously available at these prices:
"I believe that creative competition within the industry, coupled with the release of this caliber of cameras at this price range, represents a strong growth in the filmmaking world, and that's what's most important–whether the cameras were what you were expecting or not."
DP/Editor Rick Macomber has also been shooting with Canon DSLRs for the last two years, but says he hasn't had much chance to read up on the C300. He thinks that at this price point it won't be accessible to many indie filmmakers:
"I feel it will be a tremendous tool for Hollywood and prime time TV shows. Those cine primes and especially the new cinematic zoom lens Canon used for the Vincent Laforet short are priced extremely high. But for network TV shows and Hollywood production it's an exciting time in the world of digital cinema!"
Brandon Vincent, shoots primarily with a Sony NEX-FS100, and says he was surprised at the price of the Canon, expecting it to be more along the lines of the Panasonic AG-AF100 and Sony NEX-FS100.
"Instead we were given a $20,000 "Cinema" camera. I'm excited to see what kind of results the camera can produce and it has a lot of great features, but I think Canon may have missed the mark on this one."
He added that he hasn't been following the RED announcement's closely because RED has in the past been well outside his budget, but he is intrigued, even though he thinks their release dates have to be taken with a grain of salt:
"The price point is…interesting…but people need to remember how much it will cost to build up any RED product. You can't just buy a brain and expect to shoot with it out of the box."
Brandon went on to say that while the Canon looks a little weird in design, it's still promising and could be a good competitor to the PMW-F3.
"I'm not sure I'll ever own the C300 as I do not own any Canon glass – but it can only be good for the industry to have options available and bring prices down. It's hard to say I would recommend either camera at this point, but if I did I would probably recommend the C300. I'm not familiar with RED or its complicated workflow. Unless we were shooting with an Epic as an A cam and maybe needed a B cam in which case I'd suggest the Scarlet."
Benjamin Eckstein currently shoots with a Panasonic AG-AF100, and says that he had been expecting the C300 to be closer to 10K than 20K. He was also surprised that the Scarlet was cheaper than the Canon, and while he has reservations about RED's ability to deliver on time, he is intrigued:
"The Scarlet was the first RED camera, that made me think "hmmm, maybe that is what I want to own for my next camera". I imagine it will have a great image, and I like the idea of the RAW format (although I've never worked with REDRAW). For the work I do it's not really a suitable choice though, because I often hand off footage to a number of other editors and post-houses, and I really appreciate more "standard" video camera features like built-in ND filters and audio that is built in from the get-go."
Ben is also planning to upgrade his camera this winter, and had been thinking that one of these cameras would be the one. But with the price of the Canon, and questions about Scarlet workflow, he may ultimately end up going with another camera entirely.
"I regret not buying the Sony PMW-F3 last year (which came out after my AF100), but I think I am going to correct that "mistake". The Scarlet is not ideal for my shooting/post workflow, and the Canon might be on the money, but it comes down to price compared with the F3. I don't LOVE the idea of buying a camera that's already been out for a year (due to the rate that things change) but I think the F3 suits me a little better, and may have more expandability options. I am hoping to try the Canon before making a decision, but I may want to decide before the end of the year."
Michael Sutton is a freelance DP and Account Manager at Rule Boston Camera, and has been shooting recently with a variety of high-end cameras, including the Arri Alexa and Phantom Flex. He's impressed by the Canon announcement as he feels they are delivering on what users have been asking for:
"The camera is more money than I expected however, which will prevent the camera from reaching the hands of most users (the very people who were clamoring for it). Their other announcement of a 4K DSLR in the works peaks my interest a bit more, as I am curious if it will make its way into a video camera style form factor."
Michael says the Scarlet was pretty much what he expected; a no frills RED that's more affordable. He too warns that once you start adding additional components, the price of the RED could end up rivaling or even surpassing the Canon.
Saying that he may be biased because Rule is a distributor for the Canon, he adds that their rental office will be offering both cameras.
"Right camera for the right job. 4k may be needed for some jobs that require VFX, etc., where as the Canon might make more sense for the data conscious user."
Ultimately, Michael thinks these cameras will push others to deliver better products.