Back to selection
PRIDE OF PLACE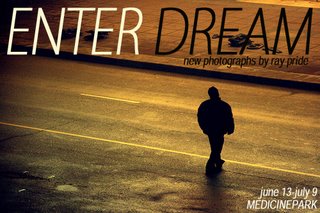 If you are in Chicago this next month — or, perhaps, if you've got frequent flier miles or simple wanderlust — then I highly recommend checking out Enter Dream, a photo show by writer, photographer and critic Ray Pride, whose work is well known to readers of Filmmaker as well as those of his own Movie City Indie blog. Ray's evocative photos are visually stunning and haunted by the idea of cinema — they contain potent traces of storytelling, whiffs of dramatic atmosphere, and suggestions of character.
Here's the official spam:
The photographs in "Enter Dream" anatomize the geography of Chicago night, forbidding and delicious as these streets might be to a runaway child. Things left behind. Escape routes. Mute facades. Fearful horizons. Landscapes both bright and dark. The creatures that populate threatening places and moments familiar to ghosts, insomniacs and those who fear sleep and dreams to come. A city that does not know you, glimpsed in shards and captured in telling tableaus. The images, large and small, capture specific moments, but also intimately specific moods. William S. Burroughs wrote, "The important fact about urban living: the continued stream of second attention awareness. Every license plate, street sign, passing strangers, are saying something to you." There are messages in "Enter Dream," if you were to recognize them, if you were there to decipher them.

Ray's work has been exhibited in group shows at the Cultural Center and Zolla-Lieberman Gallery and site-specific solo shows at Rainbo Club and Atomix Café. His portraits have been published in Newcity and Cinema Scope, among other places, and he contributes photo essays to Sharkforum and Variety. He is also a writer, film editor of Newcity and an editor of Filmmaker, Movie City News and Movie City Indie.
The show runs from June 13 through July 9 at Medicine Park. The opening reception is tomorrow night (June 13) at 8 p.m. Click on the link for more info.