Back to selection
48 HOURS ONLY!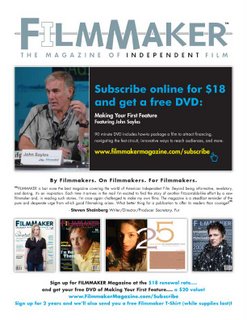 You may have noticed that there hasn't been a ton of blogging here lately, and that's because we've been working hard on the Summer issue of Filmmaker. It's our "25 New Faces" issue, and the workload on that one is particularly heavy because we look at a ton of work before making our selections. Anyway, the issue shipped to the printer today, so we'll try to get back into the swing of regular blog postings.
I'm also going to take this opportunity to announce a special subscription offer. If you subscribe online here during the next 48 hours for our low price of $18, your subscription will start with this "25 New Faces" issue, and we'll also throw in free a special bonus: our first custom DVD, "Making your First Film with John Sayles." It's a video of Sayles's talk at last year's IFP Filmmaker Conference in which Sayles offers a veritable master class for new filmmakers on the subject.
And for those who subscribed earlier when this DVD was first announced, we really appreciate your patience. The replication process took a bit longer than expected, but the DVDS have been pressed and packaged and all existing orders were mailed out this week first class. If you've been waiting for one, you should have it in the next few days. If you haven't subscribed to Filmmaker yet and have been thinking about it, subscribe now and the DVD will go out immediately and the magazine will arrive mid-July.
Here's the official spam:
For a limited time, subscribe online for a year of FILMMAKER Magazine at $18 and get a free DVD:

Making Your First Feature
Featuring Director, John Sayles

This exclusive 90 minute DVD includes tips on:

How to package a film to attract financing,
How to Navigate the festival circuit,
Innovative ways to reach audiences, and more.

Added Bonus:

Sign up for two years and we'll send you a free FILMMAKER T-shirt (while supplies last)