Back to selection
The Blue Velvet Project, #53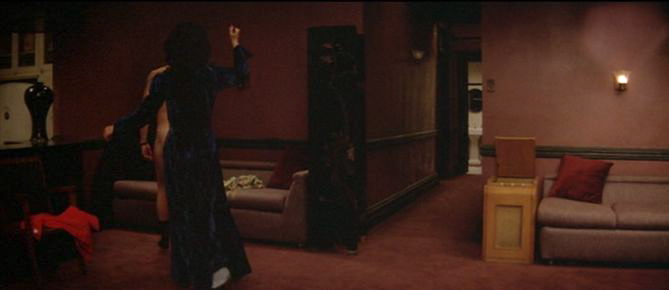 Second #2491, 41:31
"Get over there on that couch," Dorothy says, and then follows Jeffrey (naked except for his black socks), knife raised, as if she would plunge it into his back were he to hesitate. The frame practically vibrates in anticipation of the coming of some dark force against which this tableau is nothing but a pale rehearsal. In Cinema 1: The Movement-Image, Gilles Deleuze writes that
the frame is related to an angle of framing. This is because the closed set is itself an optical system which refers to a point of view on the set of parts. Of course the point of view can be—or appear to be—bizarre or paradoxical: the cinema shows extraordinary points of view—at ground level, or from high to low, from low to high, etc. But they seem to be subject to a pragmatic rule which is not just valid for the narrative cinema: to avoid falling into an empty aestheticism they must be explained, they must be revealed as normal and regular.
In this regard, is there any such thing as an "unmotivated" camera point of view in narrative cinema? (If anything, the freer the camera in the digital age, the more locked it is in the prison-house of signs, relentlessly first person.) And yet, even within the contours and limits of the frame there is freedom in the illusion of depth and space. In this frame, the floor model record player, its top open like a secret signal or warning, flanks the hallway that leads to the bathroom, its narrow space set off in vertical lines that confound depth perception. The hallway is a space the camera is reluctant to enter, like the hidden dimension of The Black Lodge in Twin Peaks.
If, as Deleuze suggests, the movie set is an "optical system" in its own right, then in this frame the system collapses somewhere just beyond the record player. Indeed, that's the space where the action in the frame is really happening; we just can't see it.
Over the period of one full year — three days per week — The Blue Velvet Project will seize a frame every 47 seconds of David Lynch's classic to explore. These posts will run until second 7,200 in August 2012. For a complete archive of the project, click here. And here is the introduction to the project.