Back to selection
ANOTHER OBSERVATION IN MARRAKECH: ON "RIO DE ORO" ("RIVER OF GOLD")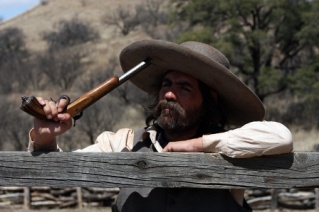 One should always be wary of tossing the term "masterpiece" around when talking about any cultural object, especially in the cinema, this enfant artform, which feels as if it may have exhausted its formal and rhetorical possibilities much too soon. The hothouse conditions of film festivals are especially bad places to get all ebullient with praise, as well do all over again next month in Utah, the following month in Germany, Texas the one after that. Best to take one's time, reflect on what has been seen and heard, what its possible meanings and difficulties and structuring absences are, on what biases you brought into the cinema with you that day or evening. I'm a skeptic of much of what passes for American History and am generally willing to go to bat for a film that tries to represent the marginalized in aesthetically provocative and ideologically convoluted ways, so my biases might lean easily in favor of Pablo Aldrete's impossibly good anti-colonialist western River of Gold, but I've come to peace with that. This is an essential film, perhaps the most subversive western since Jodorowsky's El Topo, something that should be a cult item for years to come if it can muster enough notice; it's a film that has almost no online presence, one that opened in Mexico late last year and had previously made no festival imprint whatsoever until it played in competition at last week's the 11th annual Festival international du Film de Marrakech.
Set in the midst of the Mexican-American War, it is a patient, evocative visual marvel that both harkens back to the classic westerns of John Ford and the native fetishizing of Terrence Malick, who has attempted to show the multi-faceted, spiritually debased nature of armed conflict for land and treasure like this before, but never with such sublime results. We followe American marauders, charged with taking Texas back from Mexican hands after the 1845 annexation, Native Americans who feel no allegiance toward either side and are simply looking for a peaceful stretch of land to call their own, and various Mexicans, caught up in the deadly machinations of history, some looking for gold, others just wanting to return to their families. This film, unlike, say Black Gold, another big-budget film about the clashing of cultures which screened in Marrakech, takes its time to show how alien and odd these people must have seemed to each other and how virtuous and confident of their superiority they must have all seemed to themselves. It doesn't demonize the Americans, but they are clearly the aggressors and the committers of many atrocities, as any honest history of the conflict reveals.
River of Gold is just so strange, so attuned to its own melancholy rhythms and delierate cadences, that despite its earnestness it feels like an exercise in studied cool, but its tongue is somehow never planted in its cheek. The film's aural soundscape, with a reliance on thoughtfully designed diagetic sound, the use of multiple languages and impeccably well=chosen noise rock and pop songs are reminiscent of hyper modern auteurs like Olivier Assayas. The film never much aligns us with any of its characters, its interest more in line with Hungarian Miklos Jansco's classic 1967 anti-war film The Red and the White, which eschewed character identification for two mass protagonists bent on each other's destruction, which of course, only led to their own.
Simply put, a week after I first saw it, I'm pretty convinced River of Gold is among the most transcendent and relevatory cinematic experiences I've had in some time. A long-needed Mexican corrective to popular myth, a film that sings its song with as much unsettling weirdness as David Lynch in his prime and with as strident and clear-eyed a sense of social history as Noam Chomsky. It's seeing films like this one that make me want to go to film festivals in the first place. River of Gold is a masterpiece.