Back to selection
The Blue Velvet Project, #57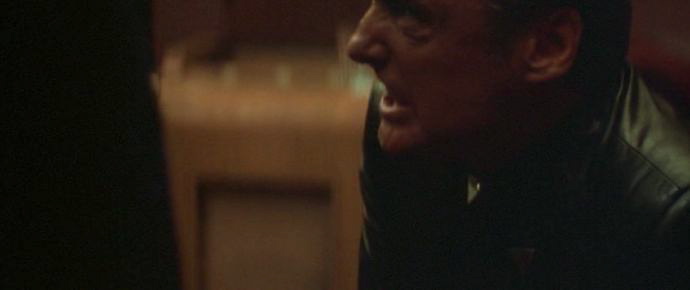 Second #2679, 44:39
The full and furious roar of Frank. The camera has just completed a somehow menacing lateral tracking shot passing very close behind Dorothy's back. Frank, having deeply inhaled from the mask (as if to prepare himself for the performance that he—Dennis Hopper, not Frank—is about to deliver) is now contorted with fury and sorrow. And something else: terror. Terror, perhaps, for something he has summoned.
Poem #259, stanzas two and three, from The Dream Songs, by John Berryman, goes like this:
When worst it got, you went away I charge you
and we will wonder over this in Hell
if the circles communicate.
I stayed here. It's changing from blue to blue
but you would be rapt with the gold hues, well,
you went like Pier to another fate,

I never changed. My desire for death was strong
but not strong enough. I thought: this is my chance,
I can bear it.
I'm not a Buddhist. I studied the systems long,
the High Systems. Come hunt me, ancient friend,
and tell me I am wrong.
The fact that John Berryman killed himself by jumping from a bridge in Minneapolis in 1972 (the same year that David Lynch began working seriously on Eraserhead and also the year that he began to meditate in a way that made his rage "evaporate") is probably as irrelevant to understanding The Dream Songs as this photograph (by Helmut Newton) of Lynch and Rossellini on the set of Blue Velvet in 1986 is to understanding the frame from second #2679.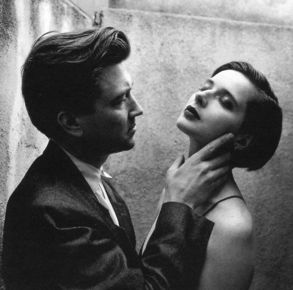 Perhaps Frank, having somehow caused things to change from "blue to blue," has re-activated the fifth circle of hell, which now slowly, eternally moves upward, upward, passing through the clayness of this earth, and through Frank himself. The monster, the ancient friend that Frank has unleashed, is something that no thought—and certainly no High Systems—can stop.
Over the period of one full year — three days per week — The Blue Velvet Project will seize a frame every 47 seconds of David Lynch's classic to explore. These posts will run until second 7,200 in August 2012. For a complete archive of the project, click here. And here is the introduction to the project.