Back to selection
The Blue Velvet Project, #59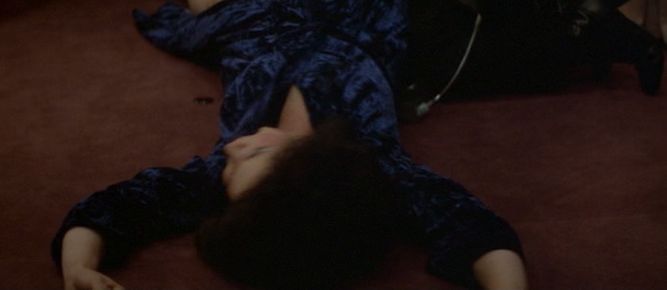 Second #2773, 46:13
There is a tendency, with the passage of time, to soften the edges. If Blue Velvet is remembered as notorious, it is notorious in a faintly wholesome, Frank Capra, nostalgic way. The danger of nostalgia is that it drains away the extremes, and leaves you with a comfortable—but inauthentic—middle ground. Blue Velvet earns its tender glow only because that glow has had its origins in the black evil furnace of Frank.
The frame brings to mind Walton Ford's painting Malmaison (2008), and the momentary gap it suggests between victim and prey.


That gap, that space . . . it somehow means everything. For in this terrifying moment there is always the chance of reversal, the chance that the victim will rise up suddenly and strike back, that the defensive claws will come out, from the bird on the ground, or Dorothy on the floor, on her back, her arms above her head, upside down in the frame, the space around her empty, no weapons at hand, and Frank momentarily outside the frame, so that Dorothy seems almost at peace, in repose, and we could almost be lulled into thinking this was an image of a willing victim, if only we could ignore Frank's repurposed oxygen mask and its slender plastic tube leading up and out of the frame, a simple prop in a movie that has somehow dropped itself so deeply into our minds, as if we ourselves, like deep sea divers, had followed that plastic tube down and down, to the very bottom of the ocean floor, to the very basement of our imagination.
Over the period of one full year — three days per week — The Blue Velvet Project will seize a frame every 47 seconds of David Lynch's classic to explore. These posts will run until second 7,200 in August 2012. For a complete archive of the project, click here. And here is the introduction to the project.