Back to selection
ONLY CONNECT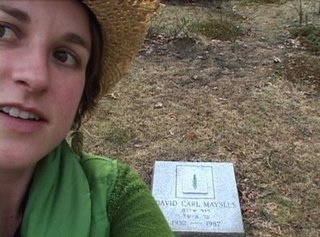 Over at Cinema Echo Chamber, Evan Louis interviews filmmaker Celia Maysles, whose debut, Wild Blue Yonder, deals with her father, documentary filmmaker David Maysles, and her relationship to him.
The whole idea behind Blue Yonder [for David] was trying to figure out who his greatest influences were in his life, and who he was, through making a film. He was closest with his father and his cousin Alan, who was a real risk taker, a fighter pilot. But his father never missed a day of work for thirty years. He worked in a dayjob, postal service, in the dead-letter dept. My dad was obsessed with these two extremes and who he was in relation to them both. In Grey Gardens, in all his films, he was trying to look at who he leaned towards and where the characters had come from in terms of his own life, why he was drawn to them. The drudgery of work for Paul in Salesman [who David connected with his own father], Mrs Beale in Grey Gardens as his mother, having had a very co-dependent, typically difficult relationship with her child, and Mick Jagger [from Gimme Shelter] of course was a risk taker, like his cousin Alan. It wasn't so much I was looking for that type of connection with myself in his films, it was just that I was looking for any information about him, any connection with him, from Edie flirting with him in Grey Gardens, to any of the other parts where he crept into frame, you get a really good idea about who's behind the camera and on the sidelines.
For more, including a discussion of the controversy surrounding the film and Albert Maysles reaction to it, click on the link above.