Back to selection
The Blue Velvet Project, #69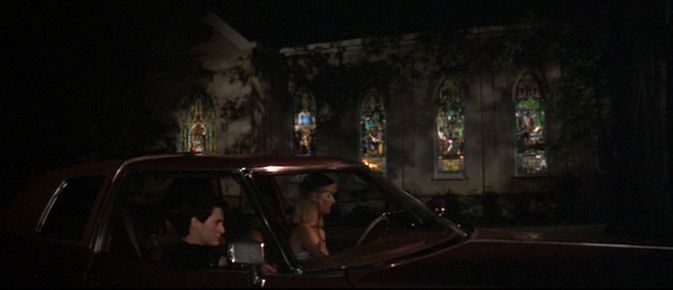 Second #3243, 54:03
"It's a strange world, Sandy."
***
"Frank is a . . . a very dangerous man."
***
"You saw a lot in one night."
***
"It is a strange world."
These lines from around the moment of this frame collapse into one meaning, one meaning obvious to Sandy: that Jeffrey has fallen in love with Dorothy. Outside the church, Sandy is about to deliver her "robins" monologue, a monologue that securely nails Blue Velvet to the wall of sincerity. The shot itself is full of menace and beauty: the night, the soft illumination of the car's interior, the troubling tree shadows on the church walls, the light coming through the stained glass windows.
In Roberto Bolaño's The Savage Detectives, a character named Arturo (a stand-in for Bolaño) describes The Shining to another character:
Do you remember the novel that Torrance was writing? Arturo said suddenly. Torrance who? I said. The guy in the movie, The Shining, Jack Nicholson . . . He'd written more than five hundred pages and all he'd done was endlessly copy a single sentence, in every possible way: capitalized, lowercase, double-columned, underlined, always the same sentence, nothing else. . . . It might have been a good novel.
There's a truth here, in the absurd way that only truth can be: what if Torrance's manuscript pages in The Shining really were a novel, and not just pages with repeated lines? What if the meaning was embodied in the repetition, so that the manuscript became a sort of minimalist, experimental novel? And what if in Blue Velvet, this moment outside the church wasn't just one singular instance of an event, but in fact the event that constitutes the whole of the movie? All the petty and mammoth fixations of the movie are right here on the screen at this very moment, contained in the double-framing (framed by the car windows, and framed by the screen frame) of Sandy and Jeffrey. The vertical lines of the church windows, and the horizontal lines of the car. The way that the light on their faces (neither of them looking at each other) suggests an affinity from the light inside the church, a place where they have found temporary sanctuary from the evil that Jeffrey has witnessed.
Over the period of one full year — three days per week — The Blue Velvet Project will seize a frame every 47 seconds of David Lynch's classic to explore. These posts will run until second 7,200 in August 2012. For a complete archive of the project, click here. And here is the introduction to the project.