Back to selection
Five Questions with I Am Not a Hipster Director Destin Daniel Cretton
A dubious term to be sure, it seems that one of the pre-reqs for hipster certification is denying that you actually are one. Based on this criterion, Brook, the main character in Destin Daniel Cretton's feature debut, definitely qualifies. But I Am Not a Hipster is not so much concerned with labels as it is with crafting an intimate, small-scale character portrait. Adrift in San Diego's music scene, Brook's lackadaisical lifestyle is interrupted when his family visits with the intention of spreading his late mother's ashes. Cretton, who made a splash at Sundance in 2009 with his Grand Jury Prize winning short Short Term 12, has employed the musical talents of singer-songwriter Joel P. West to help bring to life this introspective exploration of a character, a music scene, and a subculture.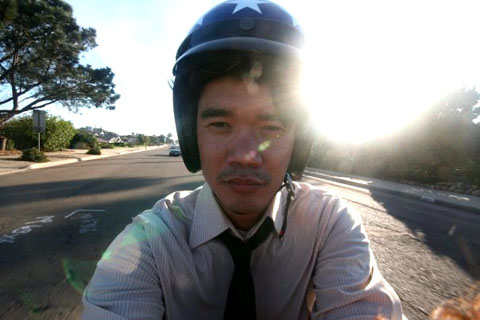 Filmmaker: How long have you been involved in the San Diego music scene? How did your experiences within it influence this story?
Cretton: I lived in San Diego for 10 years and fell in love with a lot of local bands there. I can't really say I was heavily involved in the music scene, because I'm not a musician (more of a groupie). But being a part of the creative community in that city was a constant source of inspiration for me. It's just a really great group of down-to-earth people who love to get together and do creative things, whether that's music or art or building a mini golf course in someone's living room. But the movie isn't just inspired by that community; it's literally made by them. We shot most of the film in San Diego at a lot of the same venues we hang out at (The Casbah, Habitat, San Diego Velodrome). We basically rallied all our friends there to help make the movie. There was absolutely no way we could have done it without them.
Filmmaker: How did you conceive of Brook, the film's main character? Was his backstory developed from personal experience?
 Cretton: Brook's backstory is fictional, but still based on emotions that are close to me. I'm not a musician, but I find a lot of parallels in filmmaking. Both of my parents are still alive and I have a great relationship with them, but I still understand loss and how difficult it can be to move on. I also have three sisters, just like Brook. Any time I'm going through a dark time in life, no matter how much I want to sulk and brood, it's impossible not to smile when my sisters are around. They're all really fun and silly and do weird things that are impossible not to laugh at no matter how depressed I may be. Writing a script can get a bit lonely, so I named my main characters after them to keep me company. Brook is my younger brother. Joy, Spring, and Merrily are my three sisters. So, even though it's a fictional story, it's still something I'm very connected to.
Filmmaker: This is a film about a musician, so the soundtrack is crucial to the plot. When in the process did you start working with Joel P West?
Cretton: I talked to Joel about this project before I started writing the script. If he didn't get onboard, I probably wouldn't have tried to do it. The music was always intended to play a very crucial role in the story. We didn't want to just throw in random songs behind transitional scenes (I'm usually not a big fan of music montages). We wanted each song to be woven into the story, to tell us something new about the characters.
Once Joel wrote all the songs that would be featured in the film, Dominic Bogart (who plays Brook) had to learn how to play and sing them. Dominic is a musician himself and did a lot of musical theater (Jersey Boys, Rent), so he picked it up pretty fast. Together, he and Joel created a voice and style for Brook Hyde.
Joel not only wrote the score and most of the music in the film, he also wrote a full-length album (Canines) written from the perspective of the main character (Brook Hyde). Together, Joel and Dominic recorded the album in a small studio in San Diego, and I must say, it's pretty damn good. You can stream or download it at caninesmusic.com. We also featured a handful of great San Diego bands in the film (Black Mamba, Cuckoo Chaos, The Donkeys, Jamuel Saxon, John Meeks, Pebaluna, and The Tree Ring). You can check it all out at iamnotahipster.com.
Filmmaker: Was there a lot of improvising on set? How did your vision for the movie change as you began production?
Cretton: I love being surprised while the camera is rolling, but I also like to have a solid base to start from. On some scenes, we stayed pretty close to the words on the page. On other scenes, we ran two cameras, threw the script out the window, and let the actors go with their gut. Throughout the entire shoot, we were all creating an environment where everyone felt free to take chances. And that went for the actors as well. Every take was so exciting, since I never knew when they may jump off script and find a new gem that wasn't there before. Some of the best lines and scenes in the film just happened on the fly. Those are the magical moments that are almost impossible to write.
Filmmaker: What did you learn from your first Park City experience that's helped prepare you for this go-around?
Cretton: I was in Sundance with my short, Short Term 12, back in 2009. Aside from that, I've been there 3 other times just to watch movies (including the last two years). Every year I'm there, whether or not I have a film in the festival, I always leave inspired. There's just nothing more energizing than being trapped in the snow for a week with other people who have gone through or are going through the same thing as you. I always learn so much from everyone I meet there. I don't exactly know why it is, but everyone up there is always so friendly and helpful. It's like a yearly reminder of why we wanted to do this stuff when we were kids.
I've also been looking at the line-up of other films this year, and cannot wait to get in the theaters. So, even though I'm extremely excited to be coming back with my first feature, I'm just as pumped to have an excuse to watch 4 movies a day for an entire week.