Back to selection
SUNDANCE QUICK TAKES: THE MESSENGER AND MORE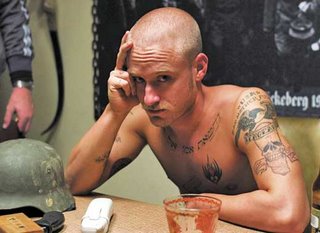 If you've taken a look around the blogosphere you'll notice that — and on not just this site — postings have slowed from the avalanche of early interviews and features. That's for a couple of reasons. First, some of us pre-screened films, allowing us to get a jump on coverage; and second, for each day that goes by we see more and more films, and there are only so many hours in the day to compose thoughtful coverage. For me, that means I'll be trying to write up my take on some of the more complicated films here after tomorrow, when I head back to New York. (James Ponsoldt will be here until the end of the fest covering the second half films and filmmakers.) I like Dana Perry's Boy Interrupted, for example, but there's no way I can lay down my thoughts about it in a twenty-word blog bite. Ditto Sophie Barthes' elegant Cold Souls, which plays like Woody Allen's Sleeper crossed with the recent globalist thrillers of Olivier Assayas. So expect more on these films and others later in the week, but, for the moment, here are the equivalent of my reporters' notes on a few premiering titles.
I was knocked out last night by Oren Moverman's tough, tough-minded, and enormously powerful The Messenger. It's both moving and intellectually ambitious as it unpredictably refracts the violence of the Iraq war through language, relationships, and belief systems, and it boasts riveting performances by Woody Harrelson and, particularly, Ben Foster (pictured). Lone Scherfig's An Education, from a script by Nick Hornby, is solidly entertaining with a justifiably lauded lead performance by Carey Mulligan, who smoothly moves this initially light-hearted '60s-set take on a relationship between a teen schoolgirl and a callow rogue into deeper emotional waters as the film progresses. I thought Emily Abt brought a fresh energy to Toe to Toe, her story of the friendship between two teenage girls that stretches across Washington, D.C.'s racial divide. The two lead performances by Sonequa Martin and Louisa Krause are excellent, and I wouldn't be surprised to see these actresses noticed here at awards time.
In terms of their emotional register, independent films do love, grief, melancholy and disaffection quite well, but you rarely see anger. I'm not talking about "mad" but instead deep, soul-corroding rage. Lee Toland Krieger's The Vicious Kind may have a familiar set-up — family wounds re-open when an outsider enters the mix — but Adam Scott's misanthropic insomniac is an original, a man whipsawed by and struggling through his own hate and insecurities. Krieger's direction is strong, and Brittany Snow is affecting as the catalyzing, goth-y girlfriend character. Tze Chun's Children of Invention also deserves more notice — if you aren't reading more on this title it's probably because it had the misfortune to press screen opposite the inauguration. In short, though, Chun's film has a real insight into the lives of children buffeted by the economic strains of today's world. Referencing both the mortgage meltdown and Ponzi schemes, the film finds delicate moments of beauty and grace as its child heroes are forced to make their own way. As for Cary Joji Fukunaga's Sin Nombre, because I co-edit the FilmInFocus site we've downplayed that title here… but because Fukunaga was one of our "25 New Faces" in 2005 and I covered the development of the film in a 2006 article on the Sundance Labs, I'll simply point you to the Variety review, which I complete agree with. This is a riveting, astonishing debut film — suspenseful, emotional and incredibly skillful in the way it ushers the audience into its violent world. Fukunaga has a big future ahead of him.
Visit the rest of Filmmaker's 2009 Sundance coverage.