Back to selection
PANASONIC'S NEW 24P-HD STILL/VIDEO CAMERA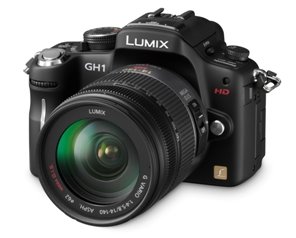 Via the PrepShootPost blog comes news of the Panasonic new Lumix DMC-GH1, which is the latest in the new still cameras that have great video recording capabilities. From the blog's Eric Escobar:
Pretty awesome next generation HDSLR hybrid still/ video camera from Panasonic (f' yeah Panasonic!). Shoots 1080P/24 and 720P/60, if it's priced like it's predecessor expect it to be for around US$1200 with a standard zoom lens. And it's got way more options for manual controls in video mode than the Canon or the Nikon.
Click to his blog post for an update with a few relevant details (like the fact that the camera writes its files as 60i).
Panasonic's press release is here, and the original Engadget post is here. From Engadget:
Not even a year after its Lumix DMC-G1 got all the glory as the first Micro Four Thirds camera on the market, Panasonic is back with a slightly tweaked version in the DMC-GH1. We say slightly tweaked since the exterior is more or less the same, but under the hood the camera has 1080p recording at 24 frames per second, or 720p recording at 60 fps, which the camera stores to AVCHD format. Panasonic has also included continuos auto focus, something lacking from most DSLRs with video capability. Users can set the shutter speed and aperture manually, and record stereo audio — with an optional external mic if they so choose. The camera shoots 12.1 megapixel stills just like the G1, and now offers iPhoto-style Face Recognition in addition to Face Detection to make sure particular people are well exposed and in focus. No word yet on price or availability.