Back to selection
Jess + Moss — A Hammer to Nail Review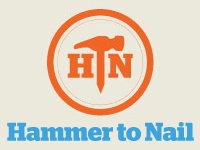 (Jess + Moss world premiered at the 2011 Sundance Film Festival. It opens theatrically at the reRun Gastropub in New York City on Friday, February 17, 2012. If you are not in NYC, don't worry, as it is now available on VOD at the following outlets: YouTube, iTunes, Sundance Now, and Amazon. Visit the film's official website to learn more.)
While there are many pressing existential questions, to my mind, this is one of the most significant: can one make a truly effective film about aimlessness and boredom without that film becoming excruciatingly aimless and boring in its own right? At first glance, Clay Jeter's Jess + Moss might seem to confront that issue head on, and if you aren't in the right frame of mood, your opinion might be a less than favorable one. But if you go into it understanding that this is sensory-based—as opposed to plot-driven—cinema, you'll immediately recognize that Jess + Moss is about something completely different. It's about the memory of aimlessness and boredom. In a larger way, it concerns the ineffable, mysterious power of memory itself, how it can cause us to feel so deeply when we aren't even able to pinpoint what it is that's making us feel so lonely and sad.
Jess + Moss is most certainly not from the Super 8 school of nostalgia cinema (if anything, we're in George Washington country here, though even that feels like an unnecessary stretch of a comparison). Shot in and around Murray, Kentucky, where Jeter himself was raised—most of the film takes place on his family's actual land—this is actually an experimental tone poem of a feature, which moves to the dreamy, meandering rhythm of summertime itself. Which isn't to say that there isn't a compelling or dramatic incident that propels the story forward. Jess (Sarah Hagan) and Moss (Austin Vickers), seemingly the only inhabitants on this old, forgotten land, no longer have parents. As the 18-year-old Jess tells Moss repeatedly, her story soothing his 12-year-old soul, their parents were best friends who used to play pitch together, until one night a car accident took them away forever.
The recurring appearance of this story not only gives a the film a musical structure and grounding (it has been wonderfully assembled by editor/producer Isaac Hagy), but it affords Jeter the opportunity to not be beholden to narrative and to instead focus on presenting a bountiful amount of nostalgic childhood artifacts and scenarios: a boombox strapped to a bicycle; cassette tapes; an old cassette recorder; a record player; riding in the back of a pickup truck, staring at the clouds in the sky; fireworks at dusk; bouncing and lounging on a trampoline; swaying on a front porch swing; playing an old piano in an abandoned church; shooting BB guns; summer thunderstorms; microscopes; bonfires; and the list goes on. There is an ending to all of this aimless reverie, though, and it delivers some bittersweet finality to Jess and Moss's current situation. Yes, the time has come for them to grow up and leave these lazy days behind.
Without getting too curmudgeonly about things, a film about 20th century childhood cannot and should not be shot on a Canon 5D. Not only did Jeter shoot his film on celluloid, he and his head cinematographer Will Basanta incorporated a wide variety of film stocks. And while it would be silly not to acknowledge that this was likely a practical production decision—short ends are dramatically cheaper than fresh new rolls of film—it is also quite clear that Jeter has chosen each stock for a very specific purpose (for instance, the grainiest and foggiest ones are used during dream sequences and/or flashbacks). A cinematographer by trade, Jeter realizes that the texture of a film's image can do more than simply provide stylistic flair. It can become an unexpectedly powerful tool for eliciting emotion.
Jess + Moss addresses a particularly acute type of nostalgia. Yet even if you don't come from a rural backdrop like this one, Jeter and his collaborators nonetheless create a mood in which you have the time and space to reflect upon your own childhood, wherever and whenever that may have been. Like an unearthed lunchbox stuffed with trinkets and photographs, Jess + Moss is a tiny backyard treasure.
Filmmaker has partnered with our friends at Hammer to Nail for a weekly "Pick of the Week" post that will be exclusive to our newsletter and blog for a long weekend, at which point it will go live over at Hammer to Nail as well. In the meantime, be sure to visit www.hammertonail.com for more reviews and lots of other great editorial.