Back to selection
RECAPPING THE 27TH ANNUAL FILM INDEPENDENT SPIRIT AWARDS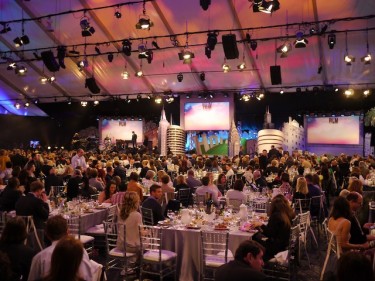 Actress Penelope Ann Miller took the stage early at the 27th Film Independent Spirit Awards to accept the first of four awards Michel Hazanavicius's The Artist would receive Saturday afternoon. It was for cinematography, and when it was announced d.p. Guillaume Schiffman was on a plane to Los Angeles along with the rest of the film's contingent following their wins (six awards, including French Film of the Year) at France's Cesars just a night before. (Befitting a movie that traffics in self-aware nostalgia, The Artist was shot on film, not digitally, although it was lensed in color and converted to black-and-white in post.) The Artist co-star was prepped for this one, thanking all the right people, but Miller winged it the second time she took the stage, accepting for actor Jean Dujardin, who was also on that plane. Dujardin's brother was apparently at the event to accept the prize but had stepped out for "le cigarette," as Miller said, when his name was called.
By the time Hazanavicius was given the Best Director Award by Kirsten Dunst and Jonah Hill (who, after fumbling his name, simply said, "the guy who directed The Artist) the director had arrived, having received a police escort from LAX to Santa Monica. "It was like a scene from Drive," he quipped. And while it might have seemed that The Artist was a lock for the Best Picture prize to be awarded moments later, there was a feeling in the room that another film, most likely The Descendents, would come from behind and assert itself as the standard bearer for what we still like to, call, perhaps quixotically, "independent film."
Indeed, by that point the afternoon had produced few surprises. Beginners' Christopher Plummer took Best Supporting Actor; The Descendents' Alexander Payne, Nat Faxon and Jim Rash Best Screenplay; and A Separation Best Foreign Film — all awards repeated at the Oscars the next night. The Interrupters, snubbed at the Oscars, took Best Documentary, while the relative upsets were Michelle Williams' Best Actress win (over Martha Marcy May Marlene's Elisabeth Olsen) for My Week with Marilyn; Shailene Woodley's Best Supporting Actress win (over Take Shelter's Jessica Chastain) for the The Descendents; and J.C. Chandor's Margin Call (over Sean Durkin's Martha Marcy May Marlene) for Best First Feature. (Note to filmmakers: Woodley commented that she has no movies lined up and is looking for something "dark and small.") But when Ben Kingsley opened the envelope and announced The Artist as Best Feature, a prize it would score again a day later at the Academy Awards, this charming shapeshifter of a film had succeeded in truly being all things to all people.
"The nominating committees can be as bold as they want," an industry colleague said to me. "But ultimately the broader membership of Film Independent has as broad taste as everyone else." Which is not to denigrate The Artist, but what does it mean when the same film can receive Best Picture awards by the American film industry, the French film industry, and the American independent film industry? Shot entirely in L.A., with its only lines of dialogue in English, this essentially French film succeeds in defying its own ironic conclusion, that "twist" noting the demarcation of the film business by territory and Hollywood's values becoming its lingua franca. (Hazanavicius is, apparently, a U.S. resident, allowing the film to qualify for the Spirits; I've also read claim of partial U.S. financing, but it's not apparent from the film's iMDB page.)
Seth Rogen hosted the Spirits this year, doing that "I'm not really one of you guys" thing that seems to work best when hosting independent awards shows. (I wouldn't have thought I'd have come to that conclusion, but after attending some when the hosts truly are some of us, I think I prefer the edgy put-downs of a Rogen.) Jokes — and acceptance speeches — mentioning the tent were de rigeur. "You know you're at a pretty awesome awards show when you have to use a Porta Potty," Rogen said. He added that to prep for the gig he watched the first five minutes of every film. "Some of them are pretty fucking slow."
There were no malfunctions, wardrobe or otherwise, at the Spirits this year, no tremulous on-stage meltdowns or crazy moments. The most emotional of the winners was Michelle Williams, an indie favorite who said afterwards that she had felt like "the Susan Lucci of the Spirits" for always being nominated but never winning. (Ironically, she won not for an American indie like Blue Valentine or Meek's Cutoff but for playing an American movie star in a "U.S./U.K. co-production" helmed by that symbol of mainstream British filmmaking, Simon Curtis.) Still, she claimed the Spirits' community as her own, hailing "a room full of misfits, outcasts, loners, dreamers, mumblers, delinquents, dropouts, just like me."
Among my personal highlights were seeing writer/director Dee Rees (one of our "25 New Faces") and producer Nekisa Cooper win the John Cassavetes Award for Pariah, and Patricia Clarkson's classy, low-key toast to the late Bingham Ray, a simple gesture that resonated well in the room. And new Film Independent executive directors Josh Welsh and Sean McManus used their five minutes for a winningly humble call-out to a number of folks who have aided the organization and the event over the years.
Of course, for those who attend, the Spirits are as much about the community as the films. It's always a great afternoon, studiedly casual (I was dressed down by one colleague for wearing all black), and, by virtue of the inclusive nomination process, always with a good audience mix. Broadcast in the evening by IFC, the Spirits are one thing on television and quite a different thing when attended in person — a distinction brought home to me by one polite Twitter follower, who informed me that he'd be temporarily unfollowing me because he wanted to be surprised when he watched the evening broadcast. In the room, it's as much about drifting from table to table, talking to friends, and stepping out for "le cigarette," even if one doesn't smoke, as it is keeping an awards scorecard. At the beginning of the day, everyone I talked to was "good," "busy," and "working on things." Guards were dropped a bit as the afternoon went on. "Did you read that New York Times piece?" one veteran producer asked me. The one by Hilary De Vries, about the home foreclosures in the L.A. entertainment industry? I had. "In the industry's perverse social code, where appearances are everything, such private struggles are kept well hidden not only from public view but also within the industry itself," De Vries wrote. "Failure is an affront to the accepted logic that, no matter what, Hollywood remains a lodestar of self-invention." "That's really what it's like out here," my friend said, describing his struggles to adapt to a new business model that has downsized independent films, the American kind, to budgets under $1 million.
There was less of opportunity for producers to hunt for those six figures at the Spirits this year due to a lack of an afterparty. The tradition of strolling over to Shutters for the IFC soiree ended a couple of years ago. (Sponsors! Please step up next year!) This year, some folks headed to the bar at the Viceroy, while others received a forwarded email announcing an informal gathering at the Basement Tavern on Main. That quickly packed out, though, and after 6 p.m. most people strolled in and back out just moments later. An informal Santa Monica pub crawl followed, and the Spirits 2012 were a wrap.
A complete list of winners follows:
BEST FEATURE (Award given to the Producer)
"The Artist"

BEST DIRECTOR
Michel Hazanavicius, "The Artist"

BEST FIRST FEATURE (Award given to the director and producer)
"Margin Call"

JOHN CASSAVETES AWARD
(Given to the best feature made for under $500,000; award given to the writer, director, and producer)
"Pariah"

Alexander Payne's "The Descendants." BEST SCREENPLAY
"The Descendants"
BEST FIRST SCREENPLAY
"50/50"

BEST FEMALE LEAD
Michelle Williams, "My Week With Marilyn"

BEST MALE LEAD
Jean Dujardin, "The Artist"

BEST SUPPORTING FEMALE
Shailene Woodley, "The Descendants"

BEST SUPPORTING MALE
Christopher Plummer, "Beginners"

BEST CINEMATOGRAPHY
"The Artist"

BEST DOCUMENTARY (Award given to the director)
"The Interrupters"

BEST FOREIGN FILM (Award given to the director)
"A Separation"

"Margin Call." MROBERT ALTMAN AWARD
(Given to one film's director, casting director, and its ensemble cast)
"Margin Call"

PIAGET PRODUCERS AWARD
Sophia Linn – "Take Shelter"

SOMEONE TO WATCH AWARD
Mark Jackson – "Without"

TRUER THAN FICTION AWARD
Heather Courtney – "Where Soldiers Come From"