Back to selection
The Blue Velvet Project, #86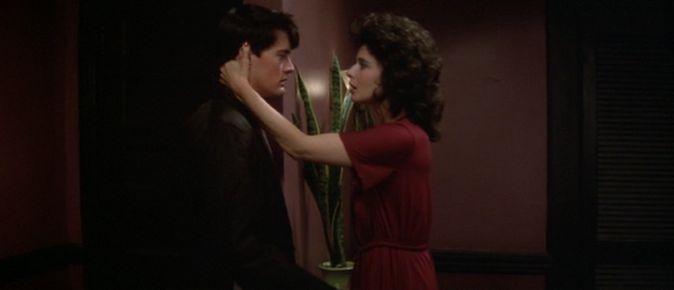 Second #4042, 67:22
In a 1964 interview Orson Welles talked about the relationship between the visual and the spoken word in film. He said that
I couldn't arrive at [the visual] without the solidity of the word taken as a basic for constructing the images. What happens is that when the visual components are shot the words are obscured. The most classical example is Lady from Shanghai. The scene in the aquarium was so gripping visually that no one heard what was being said. And what was said was, for all that, the marrow of the film.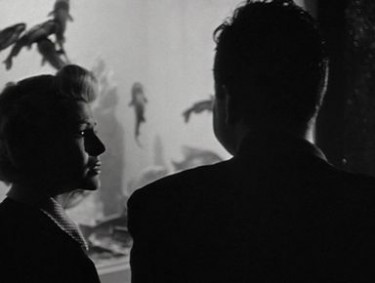 Could Lady from Shanghai have been a silent film? Could Blue Velvet? This swirl of Hayworths. Dorothy in her own aquarium, the walls of her apartment painted-over glass, as The Yellow Man and Frank and the other sharks swim outside. She meets Jeffrey, who in cinematic time has just kissed Sandy. "Come to my bedroom," she will say. Jeffrey trails darkness behind him—big, inky blocks of it. It's as if, at this moment, Dorothy and Jeffrey were photographed in front of an incomplete Francis Bacon painting, waiting for it to come alive. This frame at second #4042 is a trigger-hair away from becoming a "moving painting," the kind that sweeps you into its silent, hinted-at narrative that shifts with a sort of immaculate precision between depictions of innocence and experience.
In his State of the Union speech delivered the year Blue Velvet was released, Ronald Reagan said that "Americans are striving forward to embrace the future. We see it not only in our recovery but in three straight years of falling crime rates, as families and communities band together to fight pornography, drugs, and lawlessness and to give back to their children the safe and, yes, innocent childhood they deserve." Was Reagan the first and only president to use the words "pornography" and "innocent" in the same sentence? Perhaps. As an actor, maybe Reagan could have identified with Kyle MacLachlan's performance on the screen, a performance whose achievement lies in letting go of this terrible secret: that innocence only has meaning in relation to its opposite.
Over the period of one full year — three days per week — The Blue Velvet Project will seize a frame every 47 seconds of David Lynch's classic to explore. These posts will run until second 7,200 in August 2012. For a complete archive of the project, click here. And here is the introduction to the project.