Back to selection
Keith Gordon, During The Sundance Directors' Lab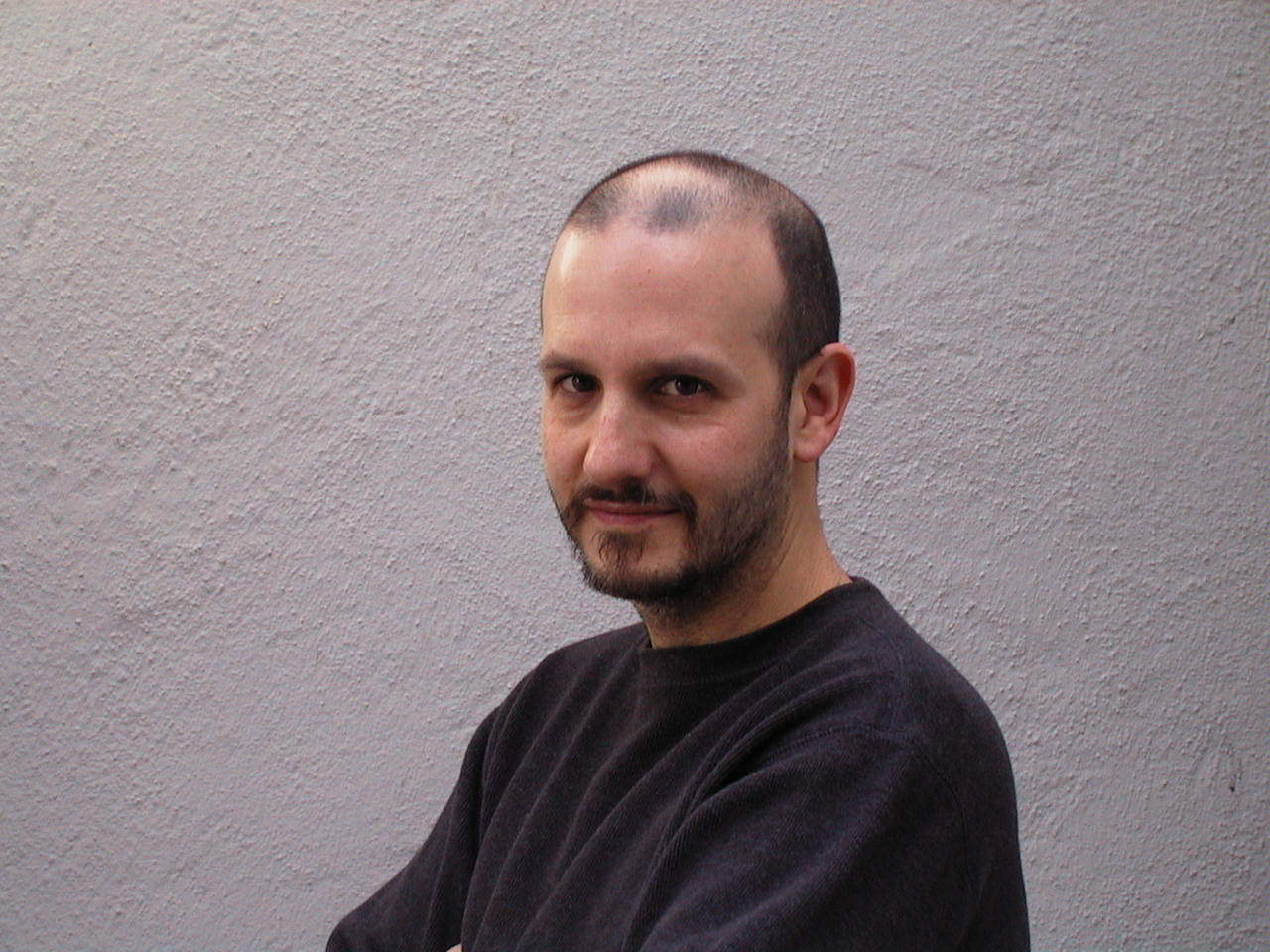 Here's actor, writer and director Keith Gordon's (pictured) second post from the Sundance Directors' Lab. For his first post, click here.
OK, so the weather isn't great so far (lots of rain), and the food is, well, it's kinda like being at summer camp. (That's why I always bring some cereal and cans of soup from home). And that's all I can come up with to complain about. This place is magic, and I'm thrilled to be back in it's grip.
I unpacked in my cozy little condo, and headed down to the Sunday reception for us "new folk." I was very happy to see lots of old friends among the staff and my fellow advisors.
The next morning we saw the scenes from the first week (all of which show talent, but also the work left to be done), and got the update from Gyula, Michelle, and the wonderful Joan Darling who comes up every year before the production week's start, to work with the fellows on acting, becomes an advisor for the first production week, and then stays to fill in the 2nd week advisors on what she's seeing with each of the fellows and what she thinks they could use from us.
Joan is quite an amazing teacher — warm, loving, inspiring, and endlessly enthusiastic. She's able to be critical when needed, but in a way that never could be misinterpreted as belittling or hurtful. Over a couple of weeks she becomes every fellow's wise mother.
The scripts this year range from very good to VERY, VERY good. And no, I'm not saying which I think is which. All were written by their director, except one. In alphabetical project order;
All Fall Down – Jonathan Wysocki. (USA) Thank god I really liked this script, since Jonathan is good friends with a close friend of mine, and we live about two blocks from each other (in spread out LA, that's like living in the same apartment building in NYC). It's a bittersweet look at how 9/11 effects a family in a small town, the Halloween right after the attacks. It has a gently satirical eye for small town life, without ever being condescending or judgmental. It's also very touching, sad and real about family dynamics and national fears.
Beasts of the Southern Wild — Behn Zeitlin (co-writer/director), Lucy Alibar (co-writer). (USA) I guess one could call this alternately hysterically funny, and tragic film "magical realism," but that's somehow too simplistic. This is one of those unique scripts that's not like anything else I've come across. A portrait of a bayou town slowly sinking into the water, it deftly combines poetry in it's language, fantasy elements, subtle politics, Beckett-like absurdity, and deep humanity. It's a fairy tale meeting the earthiness of Mardi Gras.
Goodnight Moon — Elgin James. (USA) A carefully observed, sometimes terrifying view of adolescence, as two 14 year old girls escape their poor, but sheltered existence near California's Salton Sea for a couple of stolen days in L.A., where they end up getting into events way over their heads. A bracing and moving in its portrait of teens growing up, and apart, in the modern world.
My Brother the Devil — Sally El Hosaini. (UK/Egypt) We've all seen gang-related dramas, but this portrait of two brothers of Arab descent growing up on the tough streets of London transcends cliché into something deeper, richer, and more emotional. One of those rare scripts where I literally had no idea how things would work out, which puts it ahead of 99% of what I read in Hollywood. Again, great attention to the details of life, something that gratifyingly runs through many of the scripts here.
The Narrow Frame of Midnight — Tala Hadid (Morocco/USA). This tremendously affecting script about the human search for connection, follows two separate stories that intersect, a young girl kidnapped to be sold into slavery, and a man searching for his disappeared brother. It reminded me (favorably) of one of my favorite films of the last few years The Edge of Heaven by Fatih Akin.
Porfirio — Alejandro Landes(Brazil/Ecuador). The is true story of a wheelchair bound man,; living in poverty, waiting for government help, trying to raise his son, maintain his love relationship and keep his dignity, who finally explodes. Deeply moving and disturbing, like many of the scripts here, it takes you inside the mind of someone you never thought you'd be able to identify with, across barriers of culture and class.
On the Ice — Andrew Okpeaha MacLean (USA). This is a deceptively simple (but emotionally complex) tale of two Inuit best teen-age best friends who end up in deep trouble. It captures a culture foreign in it's details, but familiar in it's humanity, and in its themes of guilt, loyalty and responsibility. This script will be a challenge at Sundance — it's so much about the visually icy world of the far north. But seeing Andrew's amazingly shot short film, it's clear that he can handle that element, and his work at Sundance can focus on bringing the richness of his script to his actors' performances.
The Story of Ram — Ritesh Barta (USA/India). Another hard to classify but easy to love script, this, like the totally different Beasts of the Southern Wild combines elements of magical realism, and fantasy with deeply rooted realism. A young, poor Indian man makes a powerful friend on his ham radio, changing his life, and the life of his town. It made me smile a lot, and kept me wondering what would happen next.
While I'm doing lists, here are this years advisors. Week one was (I think) Michael Almereyda, Joan Darling, Caleb Deschanel, Suzy Elmiger, Ed Harris, Peter Medak and Joan Tewksbury (our week 2 group arrived just after group 1 left, so I'm going off hastily scribbled notes… hope they're right).
My group has Lisa Fruchtman, Randa Haines, Catherine Hardwicke, Michael Lehmann, Rogier Stoffers and Alfre Woodard. I know almost all of them, having either spent previous labs together and/or actually working on a film as I did with Alfre. It's a great bunch. Funny, insightful, eclectic. We're all over the map in terms of energies and style, but we quickly bond.
One of the interesting new challenges this year is that a couple of projects are not being shot in English. And indeed, my first "assignment" is to work with Alejandro while he's rehearsing a scene for Porfirio. When I get to rehearsal I find that not only is the scene being played in Spanish, but his leading man speaks no English, so all directions are given in Spanish as well.
This makes for an interesting quandary. Not only do I not know exactly what the actors are saying (although I do have a translated script), but I have no idea how Alejandro is communicating with his actors, how he's translating his ideas to them, etc.
It makes for an exercise in Zen. I find that if I stop telling myself "I don't understand," I can get much more than I expected by watching people's eyes and body language during the scene. I'm able to see whether it seems "alive," and follow the arcs of each characters' emotions. It's a powerful reminder of how universal human experience is.
On the other hand, when Alejandro is quietly directing them, I really can't tell what's going on. He could be calling me "the idiot in the corner" for all I know. ? But I am able to see the effect that his direction has, and that's what matters.
I come in mid-rehearsal and watch. The scene is the father and son silently eating, when the father's girlfriend returns home late, quietly stoking the father's sense of impotence and jealousy, and the son's anger.
I point out to him that the way the scene is playing there's no real turning point. The mood is so somber from the start, that there's no room for the energy to change when the girlfriend walks in late, so we don't really get the dynamics of the scene.
Alejandro is going for a minimalist, understated style with his actors, and he's afraid of too much emotion being displayed, but I reassure him he can keep it as 'small' as he wants, but still have real behavior in the silences, real relationships and change, even if it's only a small nod, or moment of eye contact.
He speaks quietly in Spanish to his actors for a few moments, and when they do the scene again it's immediately very different. Now the father and son look at each other, there's a sense of ease between them, even if no words are spoken. So when Vicki the girlfriend enters, you can feel the tension suddenly rise, and the room get chilly, well before anything is said.
I encourage him to keep experimenting in that direction, and over the next few times through a world of life, all in tiny moments, opens up between the father and son; a little smile at a burp, a nod of thanks, to the son having made the food. This connection in turn, sets up a father-and-son versus the intruder dynamic when the girlfriend becomes part of the scene. It's all still very quiet and underplayed as per Alejandro's style, but now it feels like life, with something at stake, and situations evolving for everyone involved.
With the scene playing well, we take a break and play some basketball. I immediately tweak my knee. It's official, I'm getting old. (sigh…)
At night we see a screening of Catherine Hardwick's amazing Thirteen, and afterwards she answers lots of questions about how she was able to do such an terrific job, with so little time, so little, money, and one of her three leading actresses having never acted before. She talks about her careful preparation, her getting the house they were going to shoot in early, so the actors could work in, and even sleep in the place they'd be using as "home," etc. She speaks with such enthusiasm and excitement that it's impossible not to caught up in the joy of her process, and ends the long day with a jolt of energy.
So far, so good… — Keith Gordon