Back to selection
TRUE/FALSE DISPATCH, PART 2
In its ninth year, the True/False Film Festival sold over 37,000 tickets. This is my third year attending, but no serious growing pains have been felt with the increasing numbers of first-time attendees: screenings start on time, it's not overwhelmingly difficult to get into anything if you have an advance ticket, and the programming is unusually trustworthy. (If anything, True/False has a terrific track record of exhuming gems lost in the festival cycle; it's a good doc fest-of-fests, but a great festival for discovery.) The festival encourages/lubricates sociability without distracting from daily film-watching.
This year seemed special even by the standards set in previous years. The main reason I attend is to see major films that won't get their due in New York, and True/False keeps delivering in optimal environments. One of last year's discoveries was At The Edge Of Russia, a equally formally-accomplished counterpart to Alexei Popogrebsky's How I Ended This Summer with a slier sense of humor. It's great filmmaking that only received outdoor exhibition in New York. True/False's commitment to stellar, bright projection and loud, clear sound in all of its (indoor!) venues (most of them non-theaters converted for the fest, all within close walking distance of each other) presents its curated line-up in the best possible conditions. On Sunday, I came out of an auditorium from a movie that ended at 5:13 and went right back in for a 5:30 show, and both films could have been part of a conventionally "major" festival's competition slate. The True/False Weekend is, invariably, one of the year's highlights; this installment was no exception.
A "sneak preview" is a premiere that declines the term, allowing other festivals to pounce on the distinction. Elizabeth Mims and Jason Tippet's Only The Young is a major feature debut, an unostentiously accomplished teen not-really-coming-of-age tale that's great to find unveiled in such relaxed circumstances.
No shot composition is repeated even in the most returned-to houses and bedrooms; the whole film wears its formal deftness lightly, disposing of any portentousness in quick cuts. Teens Garrison and Kevin are skateboarders introduced slo-mo tunnel action, bathed in white light. When not skating, they're amiable doofuses with no delusions of grandeur, who dress up as Gandalf for fun and wander the desolate neighborhoods. Typical suburban skaters, they're familiar with abandoned buildings and make-shift skate parks, and there's plenty in the economically depressed area. But they're not breaking into people's backyards; they're more likely to clean the neighbors' pool for cash. It's casually revealed that Garrison and Kevin are also devoutly laid-back Christians who evangelize skate park kids with free Del Taco.
Garrison's best gal pal Skye has a thing for him and is shocked when conservative punk Garrison starts dating Kirsten, who she describes as a "crazy liberal with short hair." Skye has a way with pithy heart-of-the-matter evaluations, as when she declines her long-absent mom's decision to break her silence with a Facebook friend request: "No matter how much technology progresses, it's not going to be OK to do personal things impersonally."
Garrison means well but is — as a high school boy — often self-absorbed and insensitive to Skye. Regardless, all three are obviously conventionally "nice kids": they skate for the Lord, they like to go on road trips, and they don't seem to get drunk too often.The most manipulated images come during the skateboarding sequences, so beautiful they should make Stacy Peralta feel ashamed of himself. Beautifully shot and affectionate without turning cute or coddling, it's the best possible kind of crowdpleaser.
Alessandro Comodin's Summer of Giacomo can be roughly slotted alongside the Apichatpong Weerasethakul-influenced wave of recent ambient arthouse cinema prone to natural-light nature romps. The opening titles unfold over black with various chirping sounds; the first shot — behind the ear of 16-year-old Giacomo Zulian's ear, where his recently-implanted cochlear implant rests — reveals that the very act of perceiving those tiny noises is a recently acquired pleasure on their own. The film's scrupulously shot on 16mm, with Giacomo and his female friend Stefi's summer idyll a natural outgrowth of rural life: the countryside is sonically gentle enough for someone just getting used to hearing. Even sitting indoors, the doors are open, their glass panes reflecting the verdant countryside. The ambiguously charged nature idylls recall a rowdier Blissfully Yours.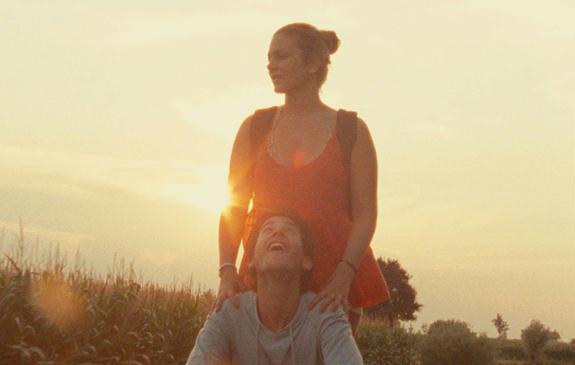 Giovanni tentatively slur-shouts the chorus of "We Will Rock You" while tramping through trees with Stefi in search of a summertime river, and in the first 10 minutes it seems like they might have gerry'd the rendezvous. "Lousy nature," Giacomo grumbles. They finally find the water, the camera anchoring itself in carefully composed long-shot in the first of many sequences of the flirty-but-only-friends teens splashing and throwing mud at each other.
Experientially, Comodin's vision of a pre-sexual/-lapsarian summer is a delight; conceptually, I'm not sure it adds up to something longer-lasting. Sex rears its ugly head in the last 10 minutes, but the last-minute developments don't complicate matters, coming off as a not-so-deeply felt, dutiful corrective to a potentially implausibly sexless summer. Ending aside, Comodin displays a sure hand in recording rather than hyperbolically magnifying a shared season.
In the opening shot of Wojciech Staron's Argentinian Lesson, 16mm grain and rain are equally shimmering presences. One subject is a Polish teacher sent to Argentina to teach her language, but the film remains pre-verbal as long as possible: the opening sequences are a riot of sensations, bombarding her transplanted kids with impressionistic, over-the-top images of their new surroundings. Staron's film is constantly gorgeous, and so determined not to manipulate viewers with cute small children that no one speaks at all for a considerable amount of time. I felt nothing, but it's a satisfyingly rich use of the last days of celluloid,
A special shout-out should go to the most formally demanding film I saw at the fest, Jose Alvarez's Canicula. An impressionistic look at the hard physical work of maintaining cultural continuity, this is a mostly wordless portrait of a Totonac village. Cuts between clay and tortillas being similarly smacked into shape demonstrate two domestic activity's common background. Elsewhere, full-dress dance rehearsals for an upcoming ceremony get as much attention as the impressively large assortment of stray dogs seen in passing. Occasionally, lens flare fills the screen to the accompaniment of a high-pitched hum, a recurring invitation to enter a sort of cinematic trance state. The next-to-last film I saw at the festival, I found it hard to acclimate to its dreamy rhythms; every shot's a cultural monument, but the people are an undifferentiated blur. The climax, though, demonstrates the mechanics of the "flying" the tribe patriarchs keep mentioning; the result is a palpitation-inducing set piece demonstrating exactly how much the Totonac are willing to physically lay on the line to maintain 2,000 years of tradition.