Back to selection
MUST SEE IN CHICAGO: RAY PRIDE PHOTO EXHIBITIONS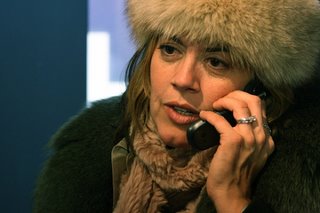 If you are a regular reader of this site and occasionally venture into areas other than this blog, then you will have seen Filmmaker contributor Ray Pride's gorgeous photographs in our Festival Ambassador section. In addition to his work at Movie City News and Movie City Indie, Ray has been a contributor to Filmmaker for years, and over that time I've watched as his photography has gotten stronger and stronger. There's stunning work in two new shows that are up in Chicago, and Windy City residents are urged to check them out. The first show is titled you want to travel blind (visit Ray's blog of the same name here and see some of the photographs), which is taking place at the Rainbo Club until July 26. Pictured here is director Marina Zenovich from this series.
The important fact about urban living: the continued stream of second attention awareness. Every license plate, street sign, passing strangers, are saying something to you.

The second show is this is 606 (again, visit the blog), which is at the Architrouve and consists of landscapes, other photographs and text (like the William Burroughs quotation, above) that are offshoots of the aforementioned "Chicagoesque" text/photo blog. This show closes August 2, and there is a special evening event on July 17. Attendees are welcome to represent Filmmaker by raising a glass and then snapping some shots of Ray and emailing them here.