Back to selection
SXSW INTERACTIVE: RAIN, SPEED EDITING AND COOLHUNTING BY SARA KIENER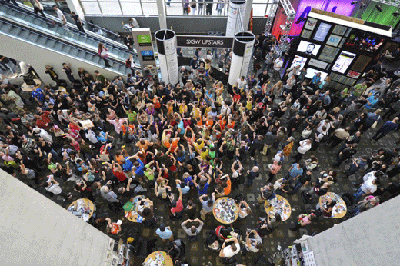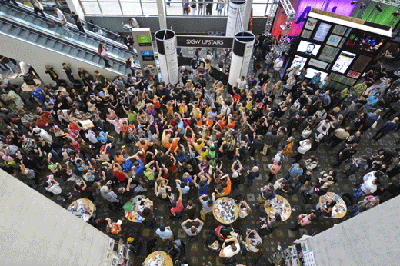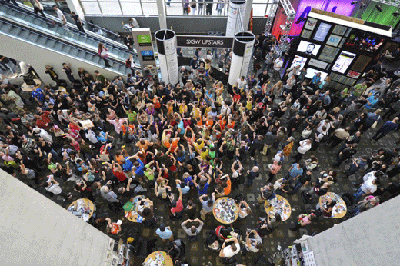 Just hours before the SXSW Interactive Festival began, I found myself stuck in the rain 6 blocks east of the Austin Convention Center in search of Austin's finest breakfast taco, wearing 3 layers of wet clothing, lugging my laptop on my back, and toting an umbrella that wasn't doing me any good. As I finally and begrudgingly ate an empanada, because that was all I could find in the midst of a torrential downpour, the restaurant ceiling began to leak and a massive water drop fell on my head, forcing me to rethink everything I've ever thought about Austin weather.
This drop of water foreshadowed the next few days of the festival. Drowning in a sea of panels, mentors, keynotes, gadgets and Jeffrey Tambor's Acting Class, it was hard to find the breakfast taco of panels. I often found myself stumbling upon a panel out of convenience ("No, I will not walk 3 blocks to another venue, it's POURING out and I am DRY for the first time in 8 hours!"), when all of a sudden, a giant raindrop of awesome tech jargon would fall on my head, forcing me to rethink everything I ever thought about [social media, crowdsourcing, crowdfunding, data, the future, robots, eternal life, etc.]. Below are a few of those rain drops:
On the topic of social media, in general, I found myself underwhelmed by the panelists who gave lackluster and repetitive advice regarding Facebook and Twitter. Still I managed to find a handful of valuable tips:
— Researchers who are studying best practices of social media have found that even when impeccable strategy is applied, results vary and are often disappointing. Solution? Forget the "best practices" and rely on your gut instinct and more cooperative models.
— Outsource your content by inviting volunteers, interns, staff and your community at large to contribute to your feeds. This not only reduces the pressure on you to constantly come up with interesting content, it also directly engages your community.
— Have some component of your project be easily sharable in the hopes that it could go viral. If it doesn't take, try something else. Keep feeding the machine until something clicks. There's no harm in trying and it forces you to rethink/refresh/reenergize your film's assets over time. This way, your Facebook feed or YouTube channel will never get old and — who knows? — you might go viral.
In one particularly mind-blowing panel called Speed Tweaks: How Fast Can Audiences Drive Edits?, panelists weighed the pros and cons of taking live editing cues from the audience via Twitter. All the panelists agreed that this novel use of Twitter was a great way to figure out which moments of an event were "sticking out" and, thus, deserved to be highlighted in the final video. I couldn't help but wonder how this model might apply to filmmaking. Could a documentary filmmaker shooting a live event be cued to relocate the shoot based on trending hashtags about an event across the street? And taking this all a step further, could an editing assistant be replaced by 1,000 tweets of feedback about how a certain scene is coming together? I'm not saying this should happen, but I am saying it's happening all around us, particularly in the branding and gaming worlds, so it may not be as far fetched as it sounds.
The most fascinating panel so far was about the notion of "coolhunting," which was conceived by the author/futurist William Gibson in his novel Pattern Recognition. Researchers are able to track online mentions about politicians, start ups, musicians — basically anything — to determine the collective consciousness about a particular topic and determine if it will be successful in the long run or not. Peter Gloor, a researcher at the MIT Center for Collective Intelligence, implements this type of research and prediction model, tracking what he calls "creative swarms" — when a number of developers and revered members of a particular community constellate around a particular idea. These clusters are often the next biggest trend and Gloor claims he can identify such a cluster sometimes years before a new "big thing" goes mainstream. How does he do this? Simple: By following developers and revered members of a particular community on Twitter. Gloor also boasted that he used to predict the Dow Jones accurately 80% of the time by tracking emotions on Twitter. He said this approach worked until Justin Beiber joined Twitter and threw off his data. This all got me to thinking, maybe we should stop thinking of social media's primary function as a communication and marketing tool for films and look at it, instead, as a barometer of a film's future success. No matter how many people you retweet, follow, "like" or engage, if you haven't got a "creative swarm" flocking around your idea from the get go, it may never work.

Sara Kiener is the co-founder an marketing director at Film Presence. You can follow her at @SaraKiener.