Back to selection
CHARLES DARWIN BIOPIC TO OPEN TORONTO '09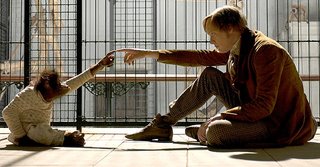 Announced this morning, the Toronto International Film Festival will open its 34th edition Sept. 10 with Creation, starring Paul Bettany as Charles Darwin and Jennifer Connelly playing his wife. Director is Joe Amiel.
The festival describes the film as "part ghost story, part psychological thriller, part heart-wrenching love story. Torn between his love for his deeply religious wife and his own growing belief in a world where God has no place, Darwin finds himself caught in a struggle between faith and reason, love and truth."
TIFF also announced the four Gala Presentations and eighteen Special Presentations.
The Boys are Back, Scott Hicks (Australia/U.K.)
Bright Star, Jane Campion (U.K./Australia)
City of Life and Death, Lu Chuan (China)
Cracks, Jordan Scott (Ireland)
Get Low, Aaron Schneider, (U.S.) (Gala)
Hadewijch, Bruno Dumont (France)
The Informant, Steven Soderbergh (U.S.)
The Invention of Lying, Ricky Gervais and Matthew Robinson (U.S.) (Gala)
Leaves of Grass, Tim Blake Nelson (U.S.)
London River, Rachid Bouchareb (U.K./France/Algeria)
Mao's Last Dance, Bruce Beresford (Australia/U.S./China)
Max Manus, Joachim Ronning and Espen Sandberg, (Norway/Denmark/Germany) (Gala)
Moloch Tropical, Raoul Peck (Haiti/France)
Mother, Bong Joon-ho (South Korea)
Ondine, Neil Jordan (Ireland/U.S.)
Partir, Catherine Corsini (France)
Precious, Based on the Novel Push by Sapphire, Lee Daniels (U.S.) (Gala)
Scheherazade Tell Me a Story, Yousry Nasrallah (Egypt)
Solitary Man, Brian Koppelman and David Levien (U.S.)
Valhalla Rising, Nicolas Vinding Refn (Denmark/U.K.)
Vengeance, Johnnie To (Hong Kong/France).
The Vintner's Luck, Niki Caro (New Zealand/France)