Back to selection
BLOGGING FROM THE SUNDANCE CREATIVE PRODUCING LAB: MYNETTE LOUIE
Over the next few days we'll have blogs from participants of both the Sundance Documentary and Creative Producing Labs. Up first is producer Mynette Louie.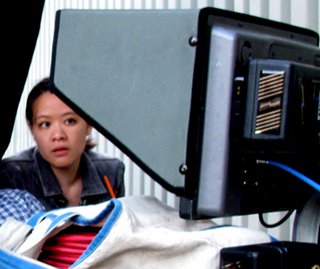 Hello! I'll try my best to sound coherent here… I'm kinda going nuts right now because I'm packing for the Lab (I leave for it in a few days), prepping for a short film shoot in August, prepping for a feature film shoot starting in October, shepherding a feature through the film festival circuit (and trying to figure out distribution for it), doing post-production duties on another feature, and developing three other features, including my Lab project, Tze Chun's You're a Big Girl Now.
I almost forgot about the 20 scripts on my desk that I should read, and the 20 screeners I should watch, and uh…the fact that I have to do laundry, buy groceries, clean my bathroom, pay my bills, eat…sleep…
I'm not rattling off this list to brag, I'm just freaking out a little, and letting the curious among you know: this is what being an indie film producer is like — CRIZZAZY! I'm warning you, really.
As one of the fellows in the second year of the Sundance Creative Producing Lab, and the first (along with my fellow fellow, Thomas Woodrow, upcoming) to blog about it, I suspect that some of you might be wondering not just what happens at the Lab (as I'm wondering myself), but what, exactly, a producer's role is these days, and why Sundance decided just last year to start a lab for us producers. Well, preferring not to hear myself answer this question for, like, the 1,876th time this year, here's a link to my answer.
Having run nearly on empty lately, I'm really excited about being sequestered at the Sundance Resort for seven days — for both the Lab and subsequent Creative Producing Summit — focusing on nothing but the craft of holistic, creative producing. I expect it to be something like the peer counseling retreats I went on in high school — full of laughter, tears, examinination, reflection (and hopefully, buffets!). It probably won't be as emotionally intense as the Screenwriters and Directors Labs (you know how hypersensitive and nutty those people can be!), but certainly, it'll be an opportunity to unearth our weaknesses as producers, ask ourselves why we choose the projects we do, and validate some of the tough calls we've had to make. Producing is such a unique animal that it's hard to really know what producers go through unless you've been through it yourself. So at the Producing Lab, I hope to see all the heads in the room nodding when I air out my producery gripes.
Most of all, I hope that the Lab will remind me why producing the kinds of films I love to produce is still worth doing — the ones that people like to call "arthouse" or "dramas" or "character-driven," the ones that distributors say they enjoy but are afraid to touch. I hope to get some sort of clarity in this unclear time for independent films, to find at least the beginnings of a satisfying solution to the problem of distribution (and in turn, financing) — one that's fair to directors and producers, working actors and crew, investors and audiences, and ultimately, culture and civilization at large!
If I sound demoralized, it's because (a) I've spent the past six months since the '09 Sundance fest trying to find a decent distribution deal for Children of Invention (another Tze Chun joint), a well-reviewed film that has won seven festival awards and sold out multiple screenings, and (b) I just got back from Film Independent's Fast Track program, where I pitched Eric Lin's Why We Pull the Trigger to 60 different people, many of whom dispensed nuggets of wisdom such as "Put some stars in it first, then we'll talk — but make sure they can sell tickets in Europe!" and "Triple the budget!" and "Make the Asian guy white. And maybe the black guy too."
Yes, yes, we all like to make fun of Hollywoodisms and Hollywoodese, but I actually don't begrudge these people their opinions. In fact, I agree with a lot of what they had to say. They're not story-haters nor are they against pushing creative boundaries; they're just being practical — realists in an uncertain film economy.
And this, ultimately, is the essence of what producers have to do: be realists and dreamers at the same time. I've tried my best to balance practical concerns and creative aspirations on every film I've produced. And I plan to do the same on You're a Big Girl Now, a moving "character-driven" "drama" with "arthouse" leanings (yikes!) — the true life story of Tze's mother, an orphaned child who was purchased by a Singaporean brothel and narrowly escaped a life of forced prostitution.
Here's hoping the Lab will help me figure out how to keep making films like this, and how to better strike a balance between the practical and the creative. Wish me luck!
New York-based independent film producer Mynette Louie produced Tze Chun's award-winning Sundance feature, Children of Invention, co-produced Andrew Bujalski's critically acclaimed Mutual Appreciation, and was selected by IFP in 2008 as one of two emerging American independent producers to participate in Cinemart's Rotterdam Producers Lab. She is currently in post-production on P. Benoit's Ayiti, Ayiti, a Sundance Lab project and winner of the inaugural Time Warner Storytelling Award. She previously worked at the Hawaii Film Office, where she authored the state's production tax credit, and in business development and marketing at SportsIllustrated.com, Jupiter Research, and Time Magazine. She received a bachelor's degree in East Asian Studies, focusing on Chinese literature and film, from Harvard University.