Back to selection
IS YOUR SOUL WEIGHING YOU DOWN?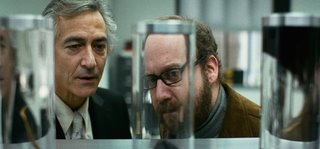 In preparation for this weekend's opening of Sophie Barthes' philosophical sci-fi dramedy, Cold Souls, go and check out the faux Website for The Soul Storage Company (thanks to Barthes for sending the link).
If you don't know the premise already, the film follows Paul Giamatti (playing Paul Giamatti) who while struggling to tap into the part of Chekhov's Uncle Vanya decides to have his soul removed by The Soul Storage Company.
The site includes an introductory video from Dr. David Flinstein (David Strathairn), a FAQ page, an office tour, a phone number (where "operators are standing by") and you can even store your own soul online.
Samuel Goldwyn Films is taking a page from the marketing playbook of Eternal Sunshine of the Spotless Mind, which also had a Website created for the memory erasing doctor in that film.
Head on over and have a good laugh. Or store your soul. (It can be stored at their office, or if you'd rather avoid sales tax, it can be shipped to their New Jersey warehouse.)