Back to selection
Production Portal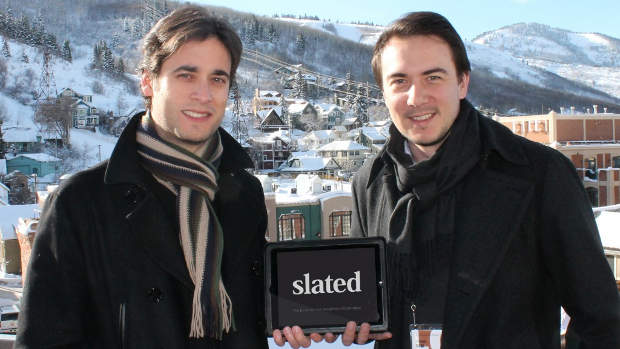 If you're a plugged-in, 21st-century producer, you probably have a Facebook account and a Twitter feed too. Definitely a LinkedIn account, and maybe even Pinterest, BranchOut and Google+ — all sites offering you ways to connect with friends and colleagues. So why do you need another? Because, argues Slated co-founder and Chairman Stephan Paternot, none of those other platforms offer the specific features needed by producers seeking production and financing partners for their projects.
Paternot, co-founder and chairman of the production company PalmStar, says the seeds of Slated — the "film finance marketplace" he launched this year with its CEO and co-founder Duncan Cork — were planted eight years ago when he discovered how cumbersome the independent financing process can be. "It's painful," he says. "People email one-sheets as PDFs, you don't know who's really attached, or what information is up to date. There's a lot of communication inefficiency. If it could be eliminated, it would help films get made faster."
Paternot's background in technology — in 1994 he founded the online community theGlobe.com and has been an angel investor through various tech funds — made it natural for him to think about using the Internet to streamline the film financing process. [Full disclosure: Paternot is also on the board of IFP, the publisher of Filmmaker.] As an investor, Paternot says he's most recently been interested in "crowd-funding, peer to peer lending, and the movement of capital through social networks." He's invested in the crowd-funding site Indiegogo as well as SecondMarket, a secondary market for alternative assets. After meeting Cork, Paternot sat down with him and wrote the business plan for Slated, taking "a page from [tech-funding platform] AngelList by making it easy for producers, investors and industry people to track films and each other."
Slated has a simple, clean interface that will be familiar to anyone with a social network account. Two existing members must vouch for new users. According to the site's FAQ, Slated is aimed at "eligible individual and institutional investors both new to, and experienced in, film investing; experienced producers and directors with proven track records; and industry professionals such as sales agents, distributors, talent agents and notable talent." Prospective investors must prove "financial sophistication" and accredited status.
After creating a profile, Slated members have the option of tracking both films and other people. New developments or announcements about those people and films appear in a user's activity stream. For more direct communication, like LinkedIn one must request an introduction to another user through a mutual connection. Projects can be searched through tags that progressively filter by genre, budget, country of origin, language or stage of production. Paternot says even more tags are coming. "We've asked [our users] to give us the tags they are most interested in, and soon you'll be able to search with them too. And if you are an accredited investor, you can compare financials on films. You can easily do 'apples to apples' comparison."
Uploaded projects must be approved and, for fiction features, have budgets of at least $500,000. They must also be packaged with "known" or "bankable" actors, be partially financed, or have a sales agent or other notable elements attached. These requirements are intended to establish Slated as "a platinum service," says Paternot. "If you're established, there's an embarrassment factor [about publicizing films seeking financing.] So we're only going to take an exclusive approach. We're seeking the best-quality independent filmmakers and want to see some transactions occur before we decide to go further down the long trail [by opening up the service to a broader user base]."
Appealing to established producers is the "granularity" that Paternot says is built into Slated's privacy settings. "The filmmaker has the control," he states. Actor attachments can be revealed confidentially to select other users, as can financiers. Updates can be streamed to your Facebook or LinkedIn communities or remain private on Slated.
Among others, Slated has so far attracted producer Lawrence Bender (Inglourious Basterds), IM Global's David Jourdan and actress/director Shannyn Sossamon to its community. (I also joined Slated and can attest to the site's promise and ease of use.) Director Marina Zenovich is currently seeking financing on Slated for Roman Polanski: Odd Man Out, a sequel to her Emmy Award-winning Roman Polanski: Wanted and Desired. She says, "As a working parent, who is either in the edit room or at school functions, it's another way to meet people. It's a lot like Facebook. If it wasn't pleasing, and if it was complicated, I wouldn't be as positive about it. But it feels like it's becoming something. I think in the end, we will get something from it."
In its current 1.0 phase, Slated, says Paternot, "is focusing on its most valuable component, the network." Accordingly, "all deals happen offline," and users should vet Slated financiers just as they'd vet anyone else. The next version will expand Slated's range of services. "Legal and accounting services are disproportionately expensive for indie films — our goal is to bring that cost to zero. We'll have fully automated escrow capabilities and will hold money until the full raise. You'll be able to do an offline deal or one completely online tied to an optional, gold-standard Slated contract that will use best practices to protect investor and industry. And you can customize contracts allowing for different rates of return and equity shares." As for its own monetization, Paternot says, "If we can facilitate financing through escrow, we'll become a broker dealer and take a handling fee. Other ways we can make money are through market research and developing tools for figuring out [a project's] audience."
(Photo Courtesy of Stephan Paternot)