Back to selection
Five Questions with Free Samples Director Jay Gammill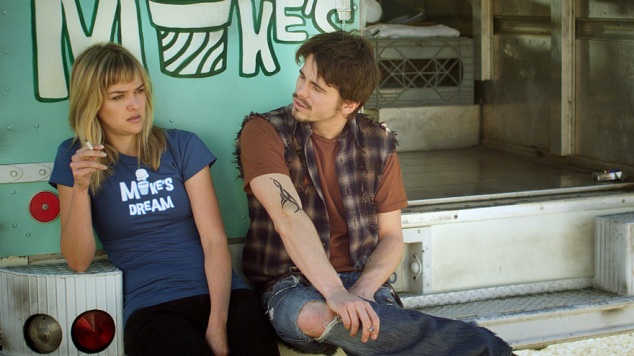 Watching the trailer for Jay Gammill's new comedy Free Samples, one can almost hear the ghost of Clerks' Dante Hicks echoing in the distance – complaining, "I'm not even supposed to be here today." The latest in a long line of dead-end job dramedies, Free Samples follows slacker twenty-something Jillian (Jess Wexler) as she fills in for her friend handing out free samples all day from inside an ice cream truck. Premiering this week in Tribeca's Spotlight section, Gammill's film aligns an impressive ensemble of indie notables, including Wexler, Jesse Eisenberg, and Jason Ritter.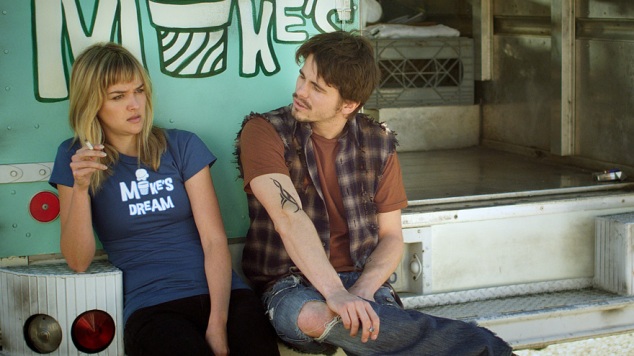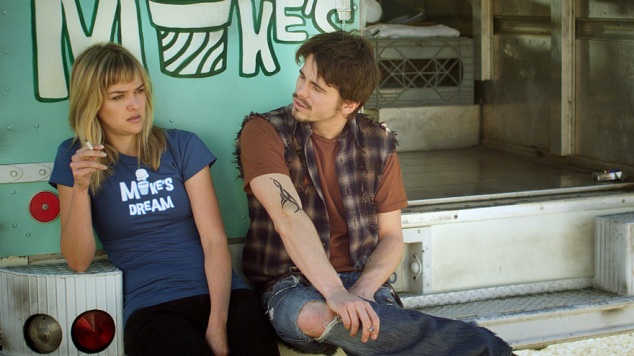 Filmmaker: Can you talk a bit about Free Samples' gensis? How did you first get involved with the project? And what was the collaborative process like with writer Jim Beggarly?
Gammill: Jim Beggarly the idea of Free Samples in the spring of 2008 soon after we'd met and knew we wanted to work together. I was just coming out grad school at USC School of Cinematic Arts and was looking to direct a first feature, and I connected instantly with Jim's writing and the types of stories he wanted to tell. But knowing this would be my first feature, I decided to take a feasible approach and find a project that could be produced on an indie budget. And so Free Samples was designed to be just that, and I was hooked on the script even from the very first draft.
Jim was also important throughout the pre-production process, and what I enjoyed about having him on set was the opportunity to share my creative process. After all, he created these characters, and I was always interested in his intent in writing the script, and I drew upon that in my role as director. I could go and ask him questions. And also, he came up some new bits and ideas on set that we played around with. He offered not only his standpoint as a writer, but I came to consider him my partner in crime through the entire process.
Filmmaker: Why did you decide to set the film within such a collapsed time frame? Did this lead to any challenges on set?
Gammill: Having the film take place over the course of one day was always a part of the story, and yes, we did have our fair share of challenges on set–certainly the logistics of shooting a film where the majority was day exterior–and that was all supposed to take place in only one day in the story itself.
We were also shooting in December, and only had eight hours of light, not to mention a twelve day shooting schedule. It was an incredible challenge, and we made it work, but there were certainly days where we were up against the sun setting and it was very tight. Our director of photography Reed Morano and our gangbusters crew deserve a lot of credit for taking this challenge head on. Reed also was integral in selecting the best option for our main location, where we were to shoot with the ice cream truck. For me, that location is a character in the film, and so it was crucial to make sure it was somewhere that was a crossroads of sorts.
There was also the challenge to ensure that the film had variety in the visuals – to take that one location and make it feel like multiple locations. So part of that search was finding nearby areas that could be used as mini-locations. It was one of the biggest challenges of pre-production, and in fact, we only secured our shooting location three days before we began filming.
Filmmaker: You've got a great ensemble – what do you think it is about this film that attracted such a high level of cast?
Gammill: First and foremost: the script and story– without question. The characters that Jim Beggarly wrote come alive and read as very authentic, and the dialogue is always organic to the scenes and each character– which is in part why I initially fell in love with the script too. It read like real life, not a movie. And I think Jim and I sharing that sensibility was an important part of our collaboration. We both wanted to make a naturalistic, slice-of-life film, and the combination of comedic and dramatic moments was never in question.
Secondly, after a couple cast members expressed interest– specifically Jess Weixler and Jesse Eisenberg– the project began to attract other key cast members, specifically those who each had worked with before (including Jason Ritter and Halley Feiffer). What I draw from this is that beyond the material itself, talented actors really do want to work with other talented actors, especially when they have working relationships to build upon. One other example of this was Keir O'Donnell, who plays Jillian's (Jess Weixler) fiance. We were late in pre-production and had yet to cast the part, and Jess told me about this short film she had done with Keir, and suggested him for the role. I saw the chemistry they shared in that film and knew he would be great, and thankfully Keir was interested as well. The day he came in to shoot their scene together was one of the best surprises of the entire production process– Jess and Keir each added a great depth to those characters and that scene came to life even better than I had hoped. So it would seem there is an aspect of freedom that arises out of these past experiences that is of great benefit.
Filmmaker: I wanted to ask about the soundtrack – how did Say Hi get involved? What did they bring to the film?
Gammill: When we were in post on the film, Franklin Peterson, our lead editor, who has a very good sense of music- was cutting in our temp music, and I think one our rough cuts had three Say Hi tracks temped in. All during this time, the film was finding itself in the edit (I'm generally very minimalist with use of score and music), and we were also considering different composers at the time. But I was just very inspired by the idea of having one central voice for our soundtrack (somewhat similar to the way I understand how the score and soundtrack of Juno was put together), so the challenge really appealed to me.
I wanted a dissonant but heartfelt vibe that really paired well with the story and the characters. So whenever we couldn't quite find a song for a particular scene, we always looked to Say Hi first. I put together a small promotional trailer for the film, and I contacted Eric Elbogen (the be-all, end-all brainchild behind Say Hi) and showed him that trailer and told him about film. He was interested, but at the time he was in the middle of touring, as his latest album, "Um, Uh Oh" had just been released. Then I saw he was coming to Los Angeles, so Franklin and I went to his show and introduced ourselves afterwards. We later sent him a rough cut of the film, and he was into it and came on board.
Eric was so fun to work with, and what he brought to the soundtrack was certainly his signature 'Say Hi' style. It stands out so much from a lot of the indie-rock world, and I was excited that his work became the sound of the film.
Filmmaker: What's the worst job you've ever worked? And did you borrow anything from that experience for Free Samples?
Gammill: I've had good and bad times at all of the jobs I've ever worked, but I don't think there is one job that trumps them all. For me, what has made it bad are the times when you feel like you know more than the people above you or the people below you (even if they're customers). And if anything not so great was happening on top of that in my personal life, the joy was completely sucked out of any work I was doing. Then it's completely miserable and I want to die.
It was on that level that I related to Jillian and the story of Free Samples. Yeah, sure, she's just doing a favor for her friend, but she's certainly overqualified for the job at hand. And on top of that, she's hungover, can't find a phone to call her law school fiance to tell him happy birthday, and all the while, she's dealing with some annoying customers and her oddball friends. Now, that's a fun day.