Back to selection
Story Hack: Beta, Part 1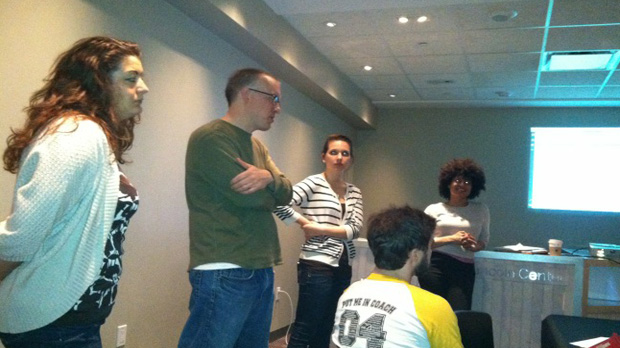 Anyone interested in transmedia in New York City needs to know about StoryCode. Mike Knowlton and Aina Abiodun, seen below with their team, originally founded it as a transmedia Meetup group, and then last year transformed it into a nonprofit dedicated to cross-platform storytelling–the first such organization in the world. They continue to sponsor monthly meetings to discuss recent transmedia projects, and now for the first time they're sponsoring a narrative transmedia hackathon. Hackathons, which come from tech culture, have become a popular venue for transmedia designers to develop their work, but this is the first hackathon to explicitly showcase narrative transmedia–and it's moving StoryCode past the realm of pure discussion and into action, hopefully pushing the state of the art of transmedia in the process.
It's being co-sponsored by the Film Society of Lincoln Center, which is hosting the event in its Elinor Bunin Munroe Film Center. FSLC began sponsoring all of StoryCode's events last year, the next step for them after including transmedia sessions at last year's New York Film Festival. The Mayor's Office of Film, Theatre and Broadcasting is also coming onboard, giving all the productions its 'Made in NY' label. This is the first time the Mayor's Office has done this for transmedia projects, and it represents a major development for cross-platform storytelling in the city. You can read the full press release, about all the organizations involved, here.
So what's the challenge? A few dozen of StoryCode's 700 members, including myself, were placed into teams of four and met yesterday for a brief orientation. This week is given to prepare assets such as video, and then the 24-hour hackathon begins in earnest next Saturday morning (when a wild card variable will be introduced to prevent teams from doing their full hacks during the week). Teams will write, edit, design, and code through the night and into Sunday morning, with livestreamed presentations that afternoon. The theme of the productions is courage, and teams must design a narrative experience that spans three platforms, fully executing it in at least one. Obviously there are issues of semantics and bleeding over from one platform to another, but options roughly include mobile, social, live, web, and gaming. Individual sponsors include the open source video platform Kaltura, the cloud hosting service Logicworks, the scripted social networking service Social Samba, the web- and SMS-based API Twilio, and even the clothing boutique Free People–representing a non-tech sponsor who's really forward thinking in how their products will be presented in the future; the Miles of Lace dress from Free People is the one common prop/costume all the teams are required to include (a criterion meant to inspire creativity in a Five Obstructions kind of way–not to turn the hacks into marketing tools).
I didn't come into the event with a team so I was paired up with Team U.S. Maple, presumably named in honor of the 90's rock band (but probably so called because we're the only team with a Canadian on board). I'll periodically write about our progress throughout the week, but you can also like us on Facebook or follow us on Twitter. We hope that through these platforms we can give a bit of insight into the creative process. Here are our other team members:
CARRIE-CUTFORTH YOUNG is a transmedia artist, writer and producer. A recent graduate of OCAD University, Carrie has a BFA with a double minor in Digital Media Studies and English. She won several awards during her academic career and was a runner-up in the 401 Richmond Prize for 2008. Recently, she has collaborated with the renowned artist Lillian Allen to produce two locative-media pieces for Poetry Village: Ripple and Textapublication, and is currently developing The Karada with Conspiracy for Good ARG producer Tom Liljeholm of Tea4Two Entertainment and NBC Heroes Writer Jim Martin. She is the co-organizer of Transmedia Toronto. Her company Queen Spade Creative is set to launch Work With No Pants, an Alternate Reality Game, May 15th of this year.
JAMES CARTER is a dramatist and transmedia artist. He was a founding member of terraNOVA Collective and served as its associate artistic director for eight years. He discovered transmedia storytelling when he created FEEDER: A Love Story (HERE, NYC), a transmedia play spanning blogs, video and stage. In July 2012, James launches his newest transmedia venture with NY_Hearts: LES, a location-based geo-tagged love story taking users on an a journey through New York's Lower East Side neighborhood. Other plays include: Reaching Outpost (Kaneland High School, Elburn, IL), and Baby Steps (The Lion, Theatre Row). Producer/Curator – Artists' Night, dancelikeforever (CSNY), Baby Steps, Buck Fever (Blue Heron), terraNOVA's soloNOVA Arts Festival (2004-2011), Subterranean (D-Lounge). Season Producer for The Ensemble Studio Theatre's 2007/2008 season, including: Lucy (William Carden, dir.), On The Way To Timbuktu (written & performed by Petronia Paley, Talvin Wilks, dir.), Thicker Than Water 2008 (Youngblood), Marathon 2008 (playwrights – Auburn, LaBute, Mac, Rivera) and Close Ties (Pamela Berlin, dir).
SHIFAT SALIM is a current student in Brooklyn College as a multimedia computing major. He has background in interactive web development particularly content management integration. His latest projects include cair-ny.org a non-profit organizational advocacy group for Muslim Americans and http://pakistanrelations.org/ a non-profit organization bettering the relationship between Pakistan and the US. He is currently working to start a business that helps small and nonprofit organizations have better internet presence.
After learning the hack's specific parameters at the orientation, we decided to adapt an existing public domain property. For an hour yesterday afternoon we went through various narrative memes as diverse as Macbeth and Occupy Wall Street, eventually deciding the Orpheus myth might offer us the best opportunities. We're now individually studying up on that and brainstorming how it could integrate into a cross-platform experience. Production's going to start by Wednesday, so we're out of the gate! More to come.