Back to selection
Lady Vengeance: Hungering for the Release of Battle Royale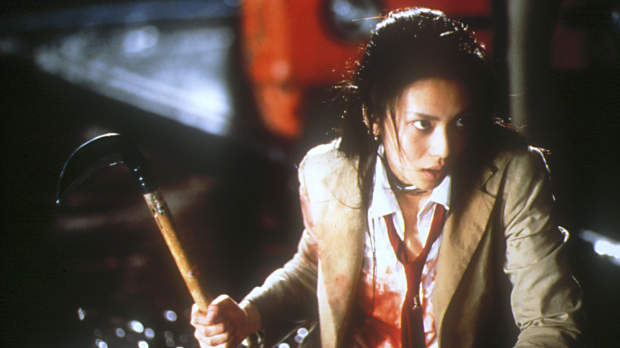 Although I've been recently reminded of the fact repeatedly, it always shocks me anew to hear that Battle Royale, Kinji Fukasaku's stunning, blood-soaked film adaptation of the novel by Koushun Takami, has never officially had U.S. distribution. After a spate of festival bookings, a 3D release of the film in honor of its 10-year anniversary, and a DVD and Blu-ray release from Anchor Bay, Battle Royale, original flavor, is starting to see theatrical premieres in the U.S., like the one at the Cinefamily Theater in Los Angeles in December 2011, and the New York premiere starting at the IFC Center today, a mere 12 years after the film was made. Luckily Fukasaku and his epic satire's themes of love, war, and rebelling against authority have aged well.
I first saw the film just over 10 years ago, when I helped bring it to my college as a member of the (nerd alert) Asian Film Club, and became instantly and enduringly obsessed with its deceptively simple condemnation of unchecked government authority and insidious clamps on individual freedoms. For the uninitiated, the story follows a middle school class in modern-day Tokyo forced to fight each other to the death as a means of entertaining the nation's people as well as reminding them of their government's total and absolute power over their lives.
Considering the overwhelming box office success of the similarly plotted Hunger Games, avoiding comparison at this time is futile. The basic concepts are so similar that Hunger creator Suzanne Collins was often accused of full-on plagiarism, which Takami graciously responded to by saying, "If readers find value in either book, that's all an author can ask for." Both stories place teenagers in a complex, nationally televised gladiator-style battle as an allegory for the perversion of innocence in times of war and under totalitarian regimes, and both adaptations straddle an uncomfortable line between the indictment of youth killing each other for entertainment's sake and taking advantage of it to entertain audiences themselves. The moments of humor (such as the infamously upbeat, kawaii instructional video that greets the newly minted soldiers when they arrive on the island) and melodramatic performances of Battle Royale, however, suggest it is more self-aware and reflective on this point, even while leaving it vulnerable to criticism for the grotesquerie of such lightness in a gory pitch-black narrative. If anything, that contrast of light and dark and its suggestion that for some life continues unchanged while others suffer, or that systematic violence can become quotidien and commonplace, makes Battle Royale more accurately disturbing and ultimately more meaningful than The Hunger Games. It also makes the film a lot more fun.
There are other differences, especially tonally, that give Battle Royale the clear intellectual advantage. Where Hunger Games ultimately blunts its own message through an ultimately soft depiction of teen-on-teen brutality, Battle Royale is unflinching; where the former is self-serious throughout, the latter fluctuates between grief and humor in a way that is more realistic and heightens the satire. Gary Ross' film immediately turns his characters into adults as a result of their hardship, Fukasaku's children never quite lose their vulnerability, even a kind of immaturity, making their suffering and psychological damage that much more heartbreaking. Finally, on a basic aesthetic note, Battle Royale is a beautifully shot movie with a particular eye for a cinematic, expertly choreographed death, while Hunger Games often looks as though it was shot on a boat during a squall and ascribes to the shoot-so-close-no-one-can-see-what's-happening school of action so popular these days.
Battle Royale has plenty to say about war, enemies, and the fact that human beings are the building blocks of warfare, but also imparts a simpler, more superficial message: Love is a battlefield. Crushes, gossip, competition, rivalry, bullying, all hallmarks of adolescent life, are indicators of the deeper violence that every child is born capable of, violence we only recognize as such when the seemingly petty arguments and harmless banter between middle schoolers turns deadly. Even as it paints a larger picture of this fictional Japan and, in fact, all oppressive social and political regimes, the film also never stops working on the level of sympathetic teen drama.
While Battle Royale is not quite as perfect as I remember — how could it be? — it remains deeply disturbing, inspiring, and effective, providing both immediate enjoyment and lingering unease. Its flaws are forgivable, and even add to an appropriate sense of fragility about the film's young heroes. The New York leg of what I hope will be a kind of slowly rolling U.S. theatrical release is wedged strangely between that of The Hunger Games, the simplistic, watered-down version of itself it eventually spawned, and an even less promising American remake set for release in 2015. I entreat you to see this film in the theater or watch it at home during this golden moment, a valley of achievement between two peaks of mediocrity.
FARIHAH ZAMAN began working in film as a Programmer for Film South Asia documentary film festival before moving to New York in 2005, where she was the Acquisitions Manager at independent film distribution company Magnolia Pictures. In 2008 she coordinated IFP's No Borders program, the only international co-production market in the U.S., before becoming Program Manager of The Flaherty Seminar until 2010. Farihah currently writes for The Huffington Post, as well as online film journal Reverse Shot, among others. She is co-directing a documentary, REMOTE AREA MEDICAL, shooting in April 2012.